Monoclonal antibody treatment Evusheld has shown it could help prevent a COVID-19 infection before it ever happens, but supplies are extremely limited and it's only available for a specific demographic.
The Food and Drug Administration (FDA) authorized Evusheld earlier in December in the hopes that it could prevent infection in some of the highest risk patients. A monoclonal antibody treatment similar to Regeneron, it's designed to be taken proactively to help boost antibody responses in high-risk individuals, helping to protect them for up to six months.
Evusheld is only available for people over the age of 12 who are moderately or severely immunocompromised due to a medical condition or because of medication they're taking that suppresses their immune response. This means they may not mount an adequate immune response after being vaccinated against COVID-19, putting them at a greater risk of developing serious illness or dying.
Patients who are at least 12 years old are also eligible if it's recommended they don't get vaccinated because of a history of a severe adverse reaction, such as an allergic reaction.
A clinical trial showed Evusheld reduced a person's risk of developing COVID-19 by about 77 percent.
Florida Governor Ron DeSantis praised the monoclonal antibody therapy as another tool America can use to help protect its most vulnerable population. He announced on December 17 that Florida secured 3,100 doses of the therapy, enough to help protect about 1,600 Floridians.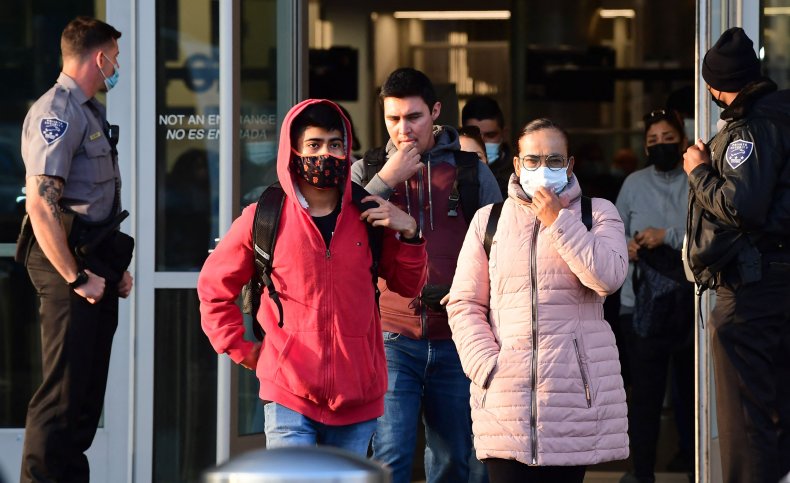 Caroline Davis, who was the first recipient at Vanderbilt University to receive the therapy, told WTVC it was a "very, very exciting day." She's being treated for cancer and said the therapy gives her a "little bit of confidence" that she can go out after being home-bound for the bulk of the past year.
Tennessee has only received about 1,000 doses of Evusheld and Dr. Robert Carnahan, of the Vanderbilt University Medical Center, is hoping supplies will increase so everyone who needs it can receive it.
The federal government has only secured enough doses to treat 700,000 people, a Department of Health and Human Services spokesperson told Newsweek and CNN reported there are about 7 million immune-compromised people. Unlike vaccines, which require a person to develop their own antibodies, Evusheld delivered antibodies directly to a person through a shot or infusion, which could be key to helping protect some high-risk people.
Evusheld is administered in a two-dose regimen that's administered by way of a shot and isn't intended to be used in lieu of vaccinations. Vaccines are still believed to be a person's best chance at reducing their risk of being hospitalized because of COVID-19, but the strength of vaccination varies based on a person's ability to mount their own immune response.
Those who are undergoing cancer treatments, recently had an organ transplant or advanced HIV infection are among those who may get vaccinated but still be susceptible to COVID-19.
Just as is the case with all therapeutics for COVID-19, Evusheld has its own limitations. It can't be administered to anyone who had their COVID-19 vaccine less than two weeks prior or who has been exposed to someone infected with COVID-19. It also isn't intended to be used to treat COVID-19, so it can't be administered to anyone who is currently infected.
Another limitation is that America's current supply isn't enough to cover all of the people who would be eligible.
America's secured enough of the treatment to cover less than one-tenth the number of eligible people, according to CNN, and Dr. Camille Kotton, an infectious disease expert at Mass General Brigham, said they expect to receive enough to treat 1 percent of their immunocompromised patients.
"I am very concerned about the immune-compromised population," Kotton told CNN. "I'm disappointed we don't have better access, and I hope we have better access very soon so we can prevent as much illness and potentially death in this population as possible."
Update 12/30/2021 4:12 PM ET - This story has been updated with additional information.