What to Know About Bulgaria's Snap Election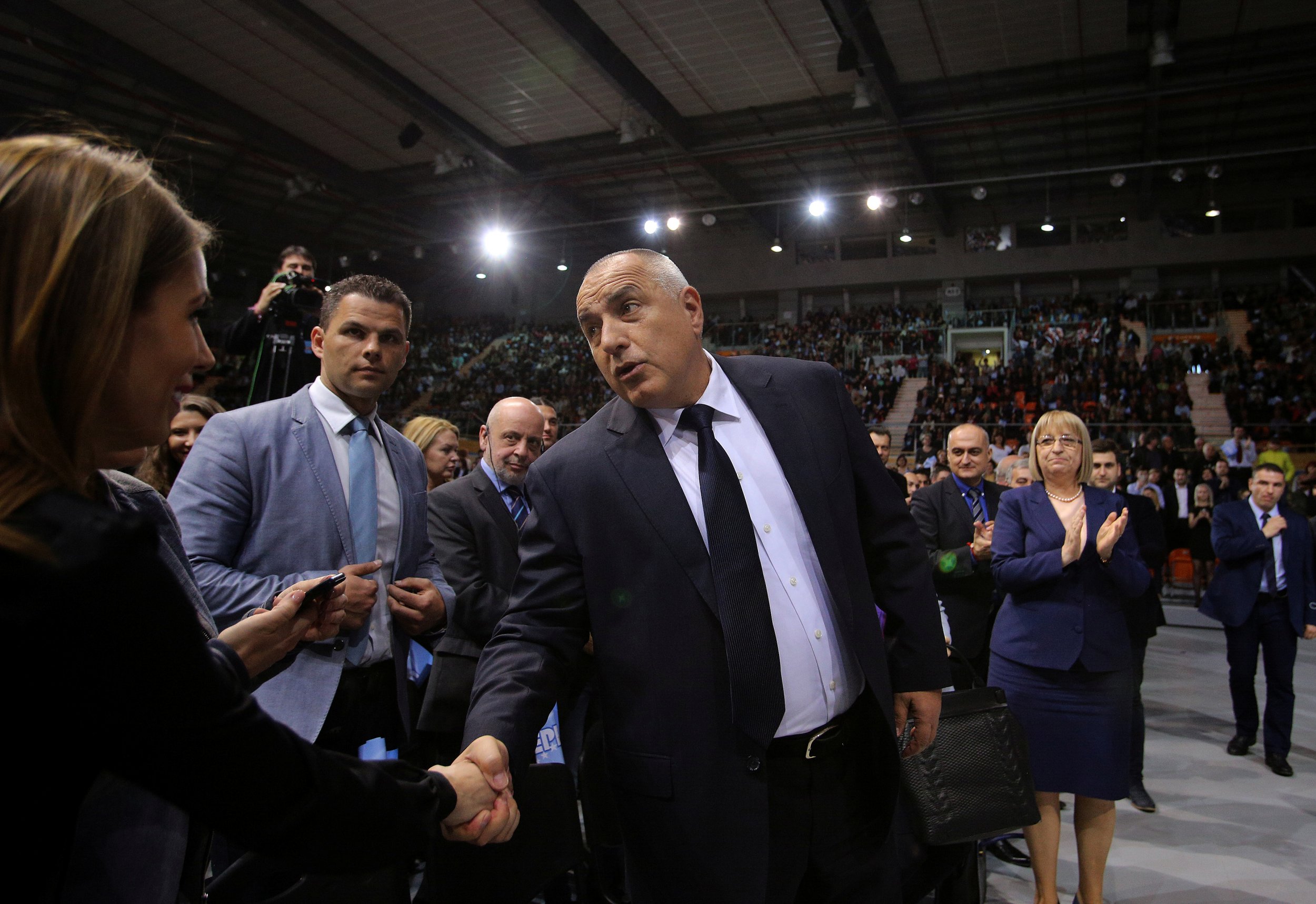 "People shouldn't forget kind words," Bulgaria's interim Prime Minister Ognyan Gerdzhikov announced in his final public appearance ahead of the country's snap Sunday election. His timely, if benign advice, at a church hall opening on Saturday, comes after a fractious campaign dogged by charges of slander between the country's main parties, a resurgent nationalist alliance taking border patrol into its own hands and an obscuring relationship with Brussels and Moscow.
Here are the most important things to know about Bulgaria's upcoming parliamentary election:
Fourth Government in Four Years
Since centre-right Prime Minister Boyko Borisov resigned amid anti-government and anti-corruption protests in 2013, Sofia has been rudderless. Not counting interim cabinets, the parliamentary republic has had two more, both of which ended in resignations. This means that after Sunday's vote the country is seeking its fourth government in as many years. Borisov's GERB party and the left-wing Socialist Party (BSP) split almost two-thirds of the vote evenly and polls show neither will win a majority outright.
Newsweek subscription offers >
The latest Market Links poll shows GERB edging out the BSP with 30.4 percent to 28.6 percent. Should this result materialise, the two main parties will be locked in a struggle to form a government, as they have done over the last four years.
Teneo Intelligence has both main parties tied at 35 percent probability to be able to form a government. The odds of either a new round of elections or a technocratic government of experts is at 30 percent.
Between Nationalists, Populists and Also-Rans
The two political forces set for the biggest wins are the nationalist United Patriots and the newly-formed, populist brainchild of businessman Valentin Mareshky—Volya. The pro-Russian, anti-Turkish and controversial United Patriots are polling as the country's third biggest political force. They have dominated a disproportionate amount of international attention for their 8-10 percent of the projected vote, though their eurosceptic policies and their supporters' decision to block traffic from Turkey all week, in a bid to hold off incoming voters from Bulgaria's southern neighbor, are among the most extreme choices in the campaign.
Newsweek subscription offers >
"They have been employing similar tactics as nationalist parties in Europe but there is in Bulgarian society the idea that being pro-Russian is becoming more and more fashionable anyway, because for the last 25 years the pro-EU and pro-American approach has not really payed off for them," says Cristian Nitoiu, Eastern European policy expert at the London School of Economics. Ironically, the nationalists will likely be in the race against the traditional party for Turkish voters—the movement for Rights and Freedoms—for the third spot. Yet neither may be kingmakers.
"But (the United Patriots) don't really want to be in government. They don't have the expertise, and they don't have the solutions. Their agenda in society is conservative, xenophobic, about the church. For many people in Bulgaria these aspects may be viewed as part of Bulgarian national identity but they are not day to day aspects that influence their lives. Corruption and inequality are issues that are pressing on people's minds," Nitoiu says.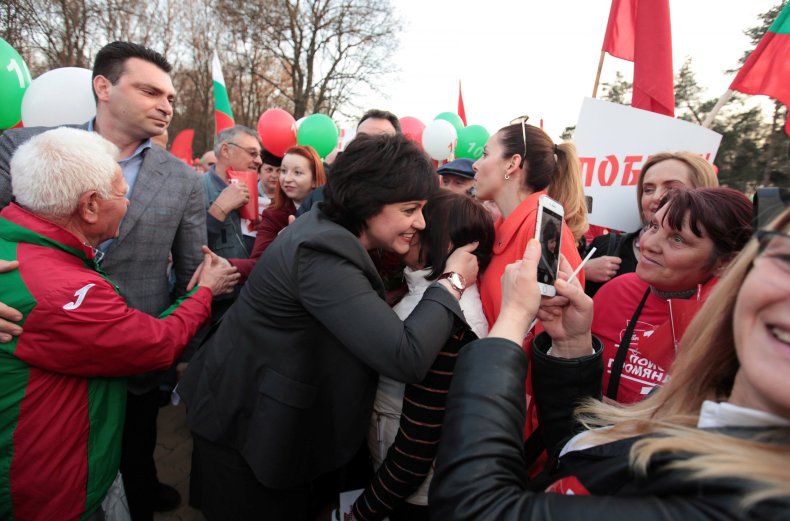 At the same time, the Movement For Rights and Freedoms was much maligned by its coalition with socialists over the previous decade, and the two are not natural bedfellows. The socialists are the successor of Bulgaria's once all powerful Communist Party that renamed and exiled communities of Turkish origin.
Meanwhile Volya is a "one-man party" according to Nitoiu, interested in forming a coalition but still polling at just over the 4 percent threshold so it is unlikely to suffice as a sole coalition partner.
The Russia and Turkey Factors
Turkey is a popular historic target for the tirades of Bulgarian nationalists. It is a hot topic in the election, given the Turkish government's increased friction with the EU and threat to let migrants flood the bloc, partly through Bulgaria's border. Besides United Patriots, another party has stirred the government of Recep Tayyip Erdogan in Bulgaria's election spectacle—Dost. Bulgaria summoned Turkey's ambassador and recalled its own ambassador to Turkey after a Turkish diplomat appeared campaigning for Dost.
Erdogan has himself accused Bulgaria of turning its back on its Turkish-speaking citizens, while Bulgaria's interim Prime Minister and President Rumen Radev issued rare statements against Turkey, including a swipe on Turkey's own poor record at maintaining a democracy.
Just as Turkey has long been a folk devil in nationalists' eyes, Russia has been viewed as the saviour. The Socialists, says Vessela Tcherneva, Bulgarian politics expert at the European Council for Foreign Relations, are showing bold signs of a stronger alignment with Russia and United Patriots.
"We have for the first time one major party announcing they want to veto the Russia sanctions," she says, referring to U.S. and EU sanctions on Russia over the conflict in Ukraine. A Bulgarian cabinet backing the dropping of sanctions may be even more awkward, considering it hosts the EU presidency next year.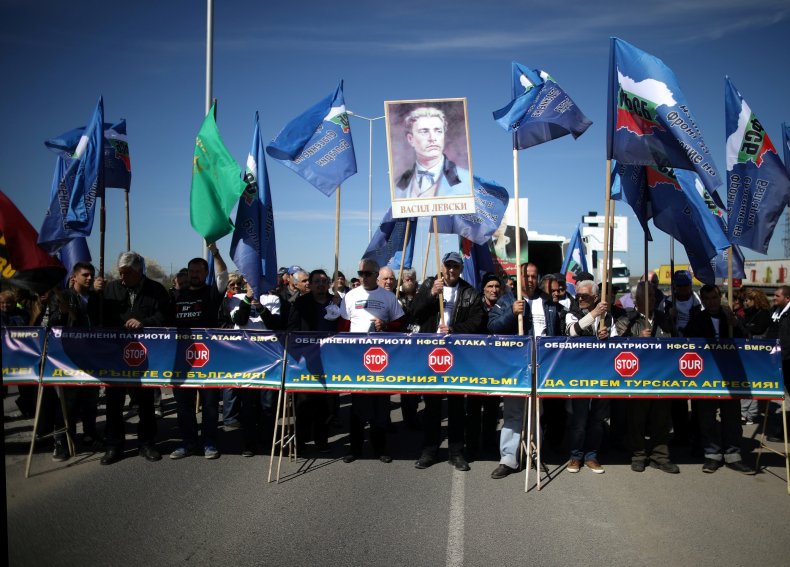 "While we don't know how they will vote if they are a formal government, as this may be just posturing and governments produced from those political circles have supported the sanctions, the presidency is supposed to create topics to unite as many members as possible, and Russia above all has the power to divide as a topic," she adds.
Slinging Mud
Just as politics has turned more personally aggressive elsewhere in the world, Bulgaria is not "immune" to the trend, Nitoiu says. Movement of Rights and Freedoms and Dost are locked in a classic argument about what is true and what is an "alternate fact," as Dost brandished a compromising pro-Turkish letter, addressed from the movement's leader to Erdogan. The Movement of Rights and Freedoms has dismissed the letter as a fabrication.
In a case of literal courtly love triangle, without the love, Borisov is taking BSP leader Cornelia Ninova to court for slander, calling him a thief on national television, while he is personally being called to court by BSP candidate and journalist Elena Yoncheva, who took strong offense to his offhand remark on air that the country paid "millions" for her reporting.
One of the country's most controversial businessmen and ex-MPs and newspaper tycoons is also facing backlash for adding a free book as a gift with his daily Telegraf newspaper, in which a handful of politicians are labelled "thieves of democracy." The book's content fell afoul of the electoral commission's rules, which asked it be recalled. One of the candidates, Hristo Ivanov, whose party was subject to the campaign, estimated the publishing of the book likely cost three times his own small party's campaign budget. Shortly afterwards, the same newspaper went on sale with another book, targeting the same politicians under a different title.
What to Know About Bulgaria's Snap Election | World