What is Kratom? Herbal Supplement Linked to Numerous Deaths in U.S.
A Friday report from the CDC claimed the herbal supplement kratom has caused nearly 100 overdose deaths across the United States.
Kratom is a plant that grows in Southeast Asian countries Thailand, Malaysia, Indonesia and Papua New Guinea. It's been used under the name "Mitragyna speciosa" as an herbal supplement and pain reliever, and has recently grown in popularity among American consumers. Drugs.com claims that it is used in the U.S. to help opiate addiction and withdrawal, muscle pain and diarrhea.
The Centers for Disease Control and Prevention (CDC) report released Friday examined 27,338 overdose deaths. The toxicology reports of these overdose-related deaths indicated that 152 people—or 0.56 percent—had tested positive for kratom. Most of the individuals who died of a kratom overdose had a history of substance abuse.
"Kratom was determined to be a cause of death by a medical examiner or coroner for 91 of the 152 kratom-positive decedents, including seven for whom kratom was the only substance to test positive on postmortem toxicology, although the presence of additional substances cannot be ruled out," the CDC's statement read.
"In approximately 80 percent of kratom-positive and kratom-involved deaths in this analysis, the decedents had a history of substance misuse, and approximately 90 percent had no evidence that they were currently receiving medically supervised treatment for pain," the statement continued. "Postmortem toxicology testing detected multiple substances for almost all decedents. Fentanyl and fentanyl analogs were the most frequently identified co-occurring substances; any fentanyl was listed as a cause of death for 65.1 percent of kratom-positive decedents and 56 percent of kratom-involved decedents."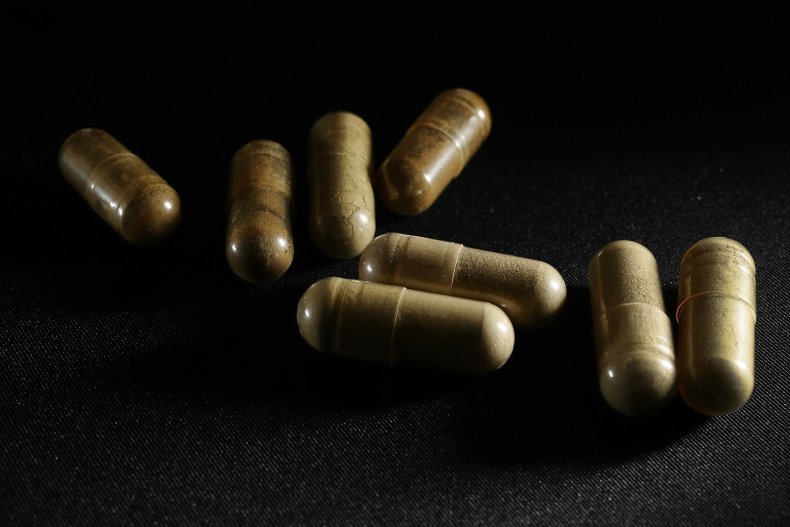 After Fentanyl, Heroin was listed as the second leading cause of overdose-related death at 32.9 percent. This was followed by benzodiazepines at 22.4 percent, prescription opioids at 19.7 percent and cocaine at 18.4 percent.
The U.S. Food and Drug Administration (FDA) issued a warning to consumers against taking kratom in November 2017. There aren't any FDA-approved uses for kratom as the government agency say its resulted in a spike in calls to U.S. poison control centers.
"At a time when we have hit a critical point in the opioid epidemic, the increasing use of kratom as an alternative or adjunct to opioid use is extremely concerning," a statement from FDA Commissioner Scott Gottlieb, M.D. read. "It's very troubling to the FDA that patients believe they can use kratom to treat opioid withdrawal symptoms. The FDA is devoted to expanding the development and use of medical therapy to assist in the treatment of opioid use disorder."
"An important part of our commitment to this effort means making sure patients have access to treatments that are proven to be safe and effective. There is no reliable evidence to support the use of kratom as a treatment for opioid use disorder," the statement continued.
Mayo Clinic reported that exposure to kratom can lead to weight loss, muscle pain, liver damage and vomiting, among other symptoms. More serious health complications can include a seizure, a coma or death.