What LAPD Chief Has Said About Echo Park Homeless Camp Protests
Michel Moore, the chief of the Los Angeles Police Department (LAPD), said that homeless residents inside Echo Park can remain overnight after protesters clashed with police officers moving to clear a large encampment.
More than 200 protesters gathered on Wednesday night to oppose the temporary closure of the park for repairs, which would displace the residents of a homeless encampment that has grown during the coronavirus pandemic, The Los Angeles Times reported.
Park rangers taped notices onto tent poles and trees that said the park will close Thursday, according to the newspaper. The signs added that all personal property must be removed from the park, including tents, chairs and tables.
At around 10 p.m., police issued a dispersal order and then declared an unlawful assembly. Videos posted on social media showed officers in riot gear moving protesters out of an area of the park, with some seen pushing people.
At around 11 p.m., the LAPD on Twitter called for "calm and cooperation," saying fencing was being installed to support the Echo Park "rehabilitation effort."
The department said people had thrown projectiles at officers and blocked streets in the area.
In subsequent tweets, police said multiple dispersal orders had been issued and two unlawful assemblies had been declared because officers had been "assaulted with rocks, bottles and smoke bombs."
It was not immediately clear if any arrests had been made. Newsweek has contacted the LAPD for comment.
Several people took to Twitter to say police had deployed tear gas against protesters, but the LAPD denied the claims.
"There is NO tear gas being used," the department said on Twitter, adding that reports saying otherwise were "completely inaccurate."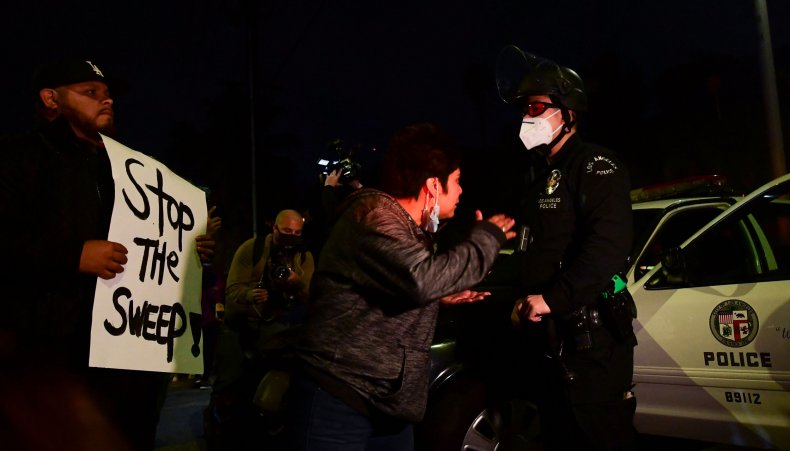 Shortly before midnight, Moore took to Twitter to say those who are already inside the park can remain overnight, but must leave within 24 hours.
"Our people remain in the area around Echo Park tonight as fencing is installed," he wrote. "Those already inside the park in tents will be allowed to remain overnight. No one else may enter. 24 hr notice for those in the park to leave. Housing resources are being provided to everyone."
In another tweet, Moore said "a designated protest zone has been established for the Echo Park incident as well as media access."
Some of the protesters viewed Moore's statement as a victory. Ayman Ahmed, who lives in the park, told a reporter: "Tomorrow is a new day to fight, but tonight we won."
The demonstration at Echo Park Lake began early Wednesday morning. Protesters carried signs that said "people are not pests," "services not sweeps" and "don't evict my neighbors."
Some protesters then headed to the nearby office of City Councilmember Mitch O'Farrell, who represents the area.
The Echo Park Tent Community argued that the encampment has given homeless people a safe place to stay during the pandemic.
"The biggest pandemic in years actually turned out to be a blessing for us," the group said in a statement, according to The Associated Press. "Without the constant LAPD and city harassment uprooting our lives we've been able to grow... to come together as a community, not just unhoused but housed as well and work together for the mutual aid and benefit of each other."
On Wednesday, Farrell said that more than 120 homeless residents have been moved from encampments into transitional housing before the park's closure.
"If you share our goal of providing housing, supportive case services & medical care to LA's most vulnerable residents, I urge people gathered at the Lake to be a partner in these efforts & allow this ongoing work of housing our most vulnerable to continue without interruption," he added.
In a video shared by reporter Kate Cagle on Wednesday, he declined to say when the park would close and pushed back on criticism that the plans had been cloaked in secrecy.
Late on Wednesday night, Farrell said the LAPD had been asked to support "community safety efforts."
"Our homeless service providers will return tomorrow morning to continue their work with the park's unhoused residents to offer shelter and services to anyone who wants and needs the assistance," he added.