What the Latest Polls Say About Donald Trump vs. Joe Biden in the 2020 Election
Presumptive Democratic presidential nominee Joe Biden continues to lead President Donald Trump in national polling as well as polling conducted in key battleground states, with Trump campaign officials reportedly growing worried about their candidate's viability in November.
Three recent national polls show Biden as the clear frontrunner among likely voters, with more than 50 percent of respondents saying they plan to back the former vice president come November. In an Emerson survey conducted from June 2 to 3, Biden was ahead of Trump by 6 points, with 53 percent support compared to the president's 47 percent.
Similarly, a Monmouth poll, conducted from May 28 to June 1, showed Biden with the backing of 52 percent of voters. But in that survey, the Democratic contender was even further ahead of his Republican rival, leading by 11 points. That aligned with polling by The Washington Post and ABC News, conducted from May 25 to 28, which showed Biden ahead by 10 points, with the backing of 53 percent of voters compared to Trump's 43 percent.
Even the most recent Fox News poll, which was conducted from May 17 to 20, showed Biden ahead of Trump by 8 points. The former vice president was backed by 48 percent of respondents while Trump was supported by just 40 percent. The current average of national polls compiled by Real Clear Politics also shows Biden ahead of Trump by about 7.8 points.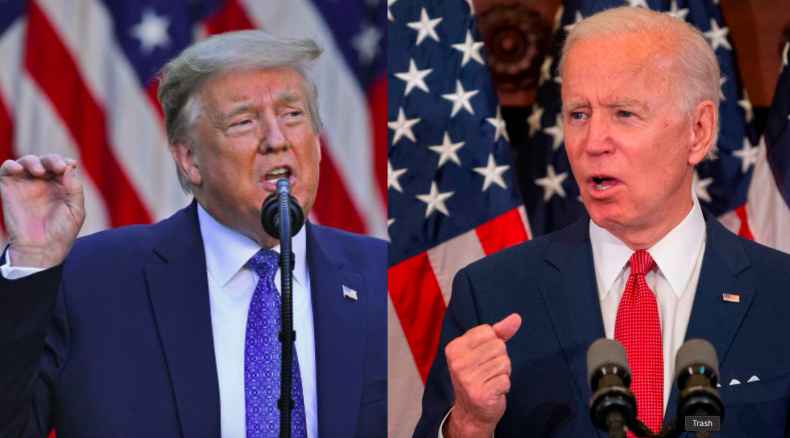 Meanwhile, The New York Times reported on Wednesday that Trump campaign officials have become increasingly concerned about their candidate's ability to win in November. In recent weeks, the campaign has shifted to increase ad spending in Ohio, Arizona and Iowa, states that Trump won in 2016 and that they previously did not believe would be competitive in the upcoming presidential election.
Newsweek has reached out to the Trump and Biden campaigns for comment, but they had not responded as of the time of publication.
Biden already has been leading Trump in polling in key battleground states, including Wisconsin, Pennsylvania, Michigan and Florida. These four states were won in 2008 and 2012 by former President Barack Obama, but flipped red in 2016 to back Trump over former Democratic presidential candidate Hillary Clinton.
The Real Clear Politics average of state polls in Wisconsin currently shows Biden ahead by an average of 3.4 points. The most recent state poll, which was conducted by Fox News from May 30 to June 2, shows Biden 9 points ahead of Trump, with 49 percent of voters backing the former vice president compared to 40 percent supporting the president.
In Michigan, Biden appears to have a similar lead, with the Real Clear Politics average showing him ahead by about 4.2 points. However, the most recent poll conducted by CNBC/Change Research, which was conducted from May 29 to 31, shows him with 48 percent support compared to Trump's 46 percent, a difference of just 2 points.
The situation in Florida doesn't look any better for Trump, as Biden leads by an average of 3.4 points. The recent CNBC/Change Research poll in the state showed that the former vice president was backed by 48 percent of the southern state's voters, while the president was supported by 45 percent.
Pennsylvania could be more competitive, however. Although multiple polls have shown Biden ahead, and the average of recent survey data shows him in the lead by 4 points, the most recent polling there actually shows Trump winning. The CNBC/Change Research data shows Trump with the support of 50 percent of voters, compared to just 46 percent that back Biden.
Despite The Times reporting and the public polling numbers, Trump campaign officials have expressed confidence that their candidate can win.
"Our internal data consistently shows the president running strong against a defined Joe Biden in all of our key states," Tim Murtaugh, a spokesperson for Trump's campaign, told The Times.
In previous statements to Newsweek, Ken Farnaso, the campaign's deputy press secretary, has dismissed polling data.
"Polling has consistently proved that the mainstream media, Democrats, and so-called political consultants will always underestimate President Trump's ability to connect with the American people," Farnaso told Newsweek on May 28.
The election is still months away, and Clinton was also significantly ahead of Trump, according to polls, at this point in the 2016 presidential campaign. Even days ahead of the election, most Democrats were confident that their candidate would win, due to positive polling numbers. But Trump managed a series of wins in key swing states, propelling him to victory in the Electoral College, despite Clinton winning nearly 3 million more individual votes nationwide.