What the Latest Polls Say About Joe Biden vs. Donald Trump in 2020 Election
As a number of national surveys show decreasing approval for President Donald Trump, recent polling data indicate Joe Biden's lead over the president remains steady, with some polls revealing an increase in support for the Democrat.
An ongoing election forecast report by The Economist, which uses state and national polling figures to determine its latest estimates, showed Biden's likelihood of winning the election was 85 percent on Monday morning. In addition, its data put the presumptive Democratic nominee's chances of winning the popular vote at 97 percent.
By comparison, the forecast model estimated the probability of Trump's re-election was 14 percent as of Monday and gave him a 3 percent chance of gaining the majority of popular votes.
The Economist's latest numbers pointed to a marginally smaller gap in support for the two candidates, compared with figures released last week. This past Friday, it estimated Biden's and Trump's chances of winning the election were 88 and 12 percent, respectively, the most substantial disparity in its forecast so far this year.
Results of an Ipsos/Reuters poll released last Wednesday showed 48 percent of registered voters supported Biden, while 35 percent backed Trump. In a review of the poll's findings published Sunday, CNN noted that the numbers marked Biden's most significant edge over Trump since the beginning of the year.
Polling data released by Fox News last Thursday showed similar results, with 50 percent of registered voters saying they planned to vote for Biden, compared with 38 percent for Trump.
An analysis of state and national polling averages updated by FiveThirtyEight on Monday afternoon placed Biden ahead of Trump by 8.9 points, with roughly 50 percent of U.S. voters supporting the former vice president, compared with roughly 41 percent favoring the president. Previous daily polling averages published by the site showed a gradual rise in Biden's favorability rating among voters throughout June, as well as a gradual decline in Trump's rating.
Additional data collected from FiveThirtyEight, which it aggregated from a number of different surveys, showed Trump's approval ratings among voters throughout the month were below 42 percent, trailing a sharp decline recorded since the beginning of April.
Newsweek reached out to representatives from the Trump and Biden campaigns for comment regarding the recent polling data but did not hear back before publication.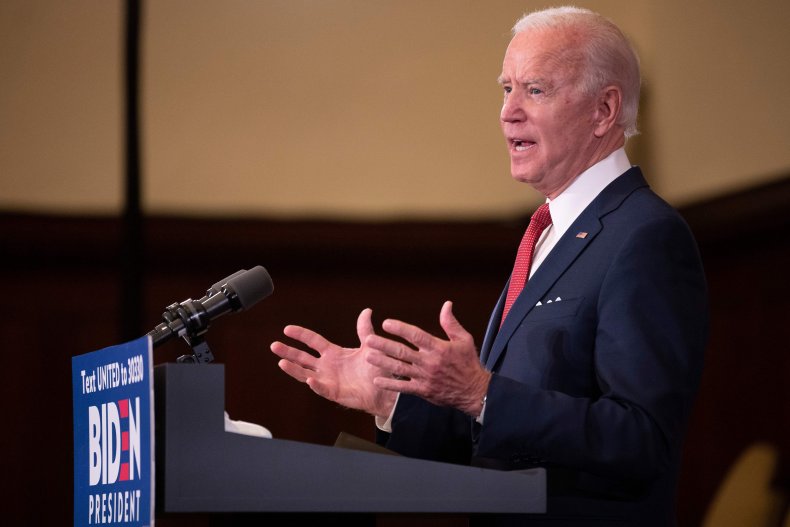 Trump's approach to managing the coronavirus pandemic over the past months has garnered considerable criticism from politicians and others, as did his militant response to the protests that erupted across the country following George Floyd's death in Minneapolis police custody in May. Polls have reflected disapproval for his actions in both areas.
Trump has discounted the legitimacy of polls that predict Biden will win in November. After Fox News published the results of its survey last week, Trump called the poll "phony" and the news outlet "terrible" in a message posted to Twitter.
"@FoxNews is out with another of their phony polls, done by the same group of haters that got it even more wrong in 2016," he wrote. "Watch what happens in November. Fox is terrible!"