What the Latest Polls Say About a Joe Biden vs Donald Trump Presidential Matchup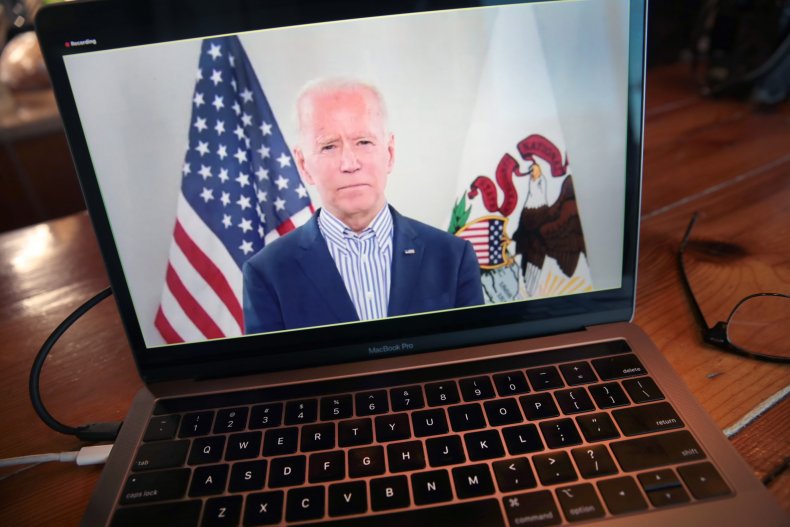 Vermont Senator Bernie Sanders' decision to exit the Democratic presidential primary means former Vice President Joe Biden is, barring anything unforeseen, the candidate who will square off against President Donald Trump in November's general election.
If recent polling is any indication, Trump has an uphill climb ahead of him if he wants to remain in the White House after January 20, 2021.
According to polling aggregator Real Clear Politics, Biden holds an average lead of 6.1 points over Trump in national polls conducted between March 11 and Tuesday, April 7.
Biden's lead across various national polls ranges from a 10-point margin over Trump in a Harvard-Harris poll conducted between March 24 and March 26, to just three points separating the two in a Monmouth University poll from the week before.
A more recent national poll, which was commissioned by The Economist and conducted between April 5 and April 7 by YouGov, shows the former vice president beating Trump by a margin of 48 percent to 42 percent among registered voters.
Of the same group of voters, 51 percent reported disapproving of the way Trump is handling his job as president, with 45 responding that they at least somewhat approved of his performance. As for whether respondents had a favorable or unfavorable opinion of Trump himself, their responses broke down largely along the same lines, with 51 percent viewing him unfavorably and 44 percent having a favorable opinion of him.
Biden also holds narrow leads over Trump in several of the key states whose electoral votes won Trump the presidency in 2016.
In Wisconsin, where the state Supreme Court stopped an attempt by Democratic Governor Tony Evers to spare voters potential exposure to COVID-19 by moving Tuesday's primary, Biden leads Trump by a narrow margin of just three percent, according to a Marquette University Law School poll conducted from March 24 to March 29.
Biden even leads Trump by a six-point margin in the president's recently-adopted home state of Florida, according to a University of North Florida Public Opinion Research Lab poll, which surveyed 3244 registered voters between March 31 and April 4.
The president's handling of the COVID-19 pandemic appears to be a factor in why voters in Florida, a state he carried in 2016, do not appear to be keen on giving him a second term in the White House.
Of the voters surveyed, 53 percent disapprove of Trump's performance while addressing the threat of the novel coronavirus.
Another national poll, conducted between April 2 and April 7 by Navigator Research, shows that voters across the country have similar views on Trump's performance to Florida voters.
While the percentage of voters reporting approval of his handling of the pandemic was the same as those disapproving — 48 percent — his overall approval mirrors results in Florida, with 54 percent disapproving and 44 percent approving.