What Lena Dunham Has Said About Her Relationship with Luis Felber
It appears that congratulations are in order for Lena Dunham, after it was reported that she tied the knot with her partner, Luis Felber, over the weekend.
According to People, the lovebirds—both aged 35—recently said "I do," but have so far refrained from confirming the news on their social media accounts.
However, it would appear that musician Felber, professionally known as Attawalpa, alluded to celebratory times on Sunday, when he shared The Zombies' song "This Will Be Our Year" on his Instagram Story, along with two purple hearts and an alien emoji.
Newsweek has contacted a representative of Dunham for comment.
While they have yet to publicly share their reported good news, Girls star Dunham has openly expressed her fondness for the English-Peruvian musician Felber since going public with their romance earlier this year.
In an interview with The New York Times, published in April, the actress and filmmaker revealed that she had a new boyfriend, whom she met in London.
"It's been a few months. I feel really lucky," she said, before going on to describe her beau—who was raised in England and Peru—as "the greatest person I've ever met."
In June, as Felber celebrated his birthday, New York native Dunham, who appears to have been based in the U.K. for much of the year, marked the occasion by sharing a slideshow of photos of them together.
Captioning the post, she wrote: "Feliz Cumpleanos Luis 💕 When I was 3 weeks old in downtown Manhattan, I had no idea a baby was being born in England (Winchester, no less!) who would rocket into my life - wearing a lime green polar fleece snood - and challenge so many of my beliefs about myself and the world with magical abandon.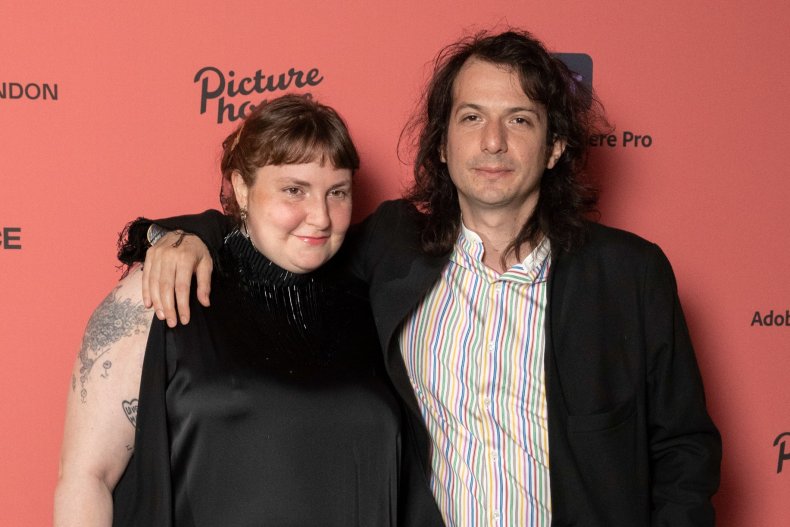 "Everyone who comes into contact with you- creatively, emotionally, accidentally- is lucky. But I am the luckiest, because that snood is now in our shared chest of drawers."
Showing the couple's appreciation for The Zombies' track "This Will Be Our Year" runs deep, Dunham concluded with the lyrics, as she added: "'The warmth of your love is like the warmth of the sun and this will be our year, took a long time to come..' Happy Birthday, Lulu @attawalpa 🎈🎂 😌🦝 ♾."
Two days earlier, on June 7, Dunham expressed her appreciation for her partner on Twitter, writing: "When I feel sick, my boyfriend makes delicious pasta & rewatches as much BoJack as I want, walks the dog & makes up songs about her face.
"In January, all I Tweeted about was how men are basically refried beans in human form. What I'm saying is, don't quit before the miracle, kids."
The public declarations of adoration continued, this time in the form of the obligatory red carpet debut, when Dunham and Felber were photographed together at a Zola screening at the Sundance Film Festival in London.
Coordinating with his partner's black dress, Felber was photographed gently kissing Dunham on the forehead as she smiled.
Screen star Dunham stated in an interview published in January 2020 that she was "totally single," after breaking off her engagement to an unnamed partner.
Speaking to Cosmopolitan UK, she revealed that her ex had popped the big question with the lace of a Timberland boot while they were snowed in.
"I'd just had a hysterectomy, I'd broken up with my boyfriend, I was in the process of breaking up with my business partner—I had no business buying a pair of shoes, [let alone] getting engaged," she said.
Dunham was previously in a relationship with musician Jack Antonoff. It was confirmed in January 2018 that they had split after more than five years together.