What Is Mac Miller's Cause of Death? Rapper, Ariana Grande's Ex Dies At Age 26
The news of rapper Mac Miller's death hit Hollywood, particularly the music industry, hard Friday. The rapper, born Malcolm McCormick, died of a suspected overdose. He was 26.
TMZ was the first to report the news, which was later confirmed by Variety as well. Miller, a Pittsburgh native, was found at his residence in the Los Angeles, California, neighborhood of Studio City at roughly noon Friday. A spokesperson for the Los Angeles paramedics responded to call at 11600 block of Valleycrest Road, according to the Los Angeles Times. He was pronounced dead on arrival.
Representatives for the Los Angeles Police Department and the Los Angeles County Department of Medical Examiner-Coroner did not immediately return Newsweek's request for comments regarding said reports.
Celebrities hit social media on Friday to share their condolences for the loss. Chance the Rapper took to Twitter to speak on the fellow rapper's sudden death. "I don't know what to say Mac Miller took me on my second tour ever," he wrote. "But beyond helping me launch my career he was one of the sweetest guys I ever knew. Great man. I loved him for real. I'm completely broken. God bless him."
Rapper Post Malone responded to the shock as well, tweeting: "God f***ing dammit. You were such an incredible person. You changed so many lives. Had so much love in your heart. You inspired me throughout highschool, and I wouldn't be where I was today without you. Never a more kind and sincere and beautiful person. I f***ing love you mac."
Other celebrities, including singer Shawn Mendes and rapper J. Cole, took to Twitter to share their thoughts on the news.
Miller had a history of substance abuse. In May, the "Donald Trump" rapper was arrested for a DUI and hit-and-run. Miller, at the time, was with two passengers when he crashed his 2016 G-Wagon into a power pole in the San Fernando Valley. Before this, Miller opened up about his drug use in a 2013 interview with Noisey.
"Drugs are dangerous, dude. But they're awesome. Just dangerous. Drugs are not like a new thing. Especially with me," Miller told Noisey. "I've been doing drugs since I was fifteen."
In 2015, Miller additionally spoke with Billboard regarding his decision to sober up. The "My Favorite Part" rapper claimed he thought he'd die from drugs, saying: "I was doing a lot of drugs around that time, which is another difference now: I'm not doing as many drugs. It just eats at your mind, doing drugs every single day, every second. It's rough on your body...That was the plan with Faces: [Closing song] 'Grand Finale' was supposed to be the last song I made on earth."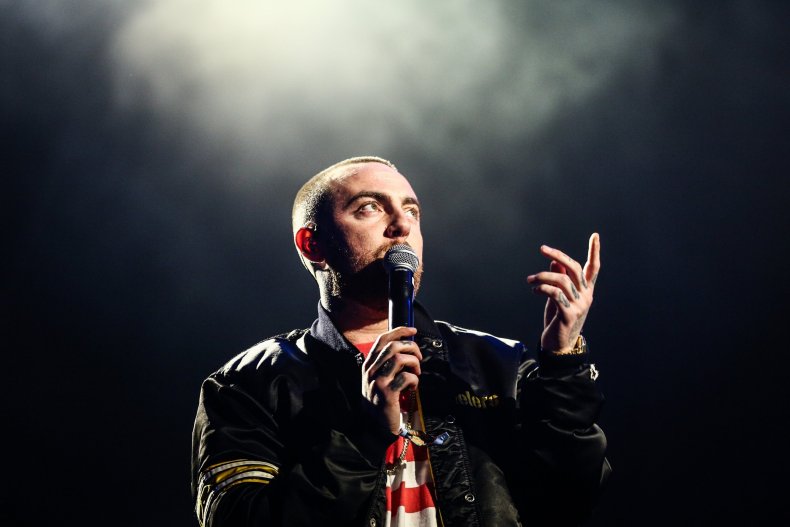 Ahead of Miller's death, he unveiled his fifth and final studio album, Swimming. He was slated to embark upon a tour for his latest effort as well.
His last known relationship was with pop songstress Ariana Grande. The pair broke up in May. At the time, the "God is a woman" singer called Miller "one of my best friends in the world and favorite people on the planet" in a since-removed Instagram story.
If you or someone you know is struggling with substance abuse, contact the Substance Abuse and Mental Health Services Administration (SAMHSA) National Helpline at 1-800-662-HELP (4357).