How Eddie Redmayne Got Stephen Hawking to Lend Him His Voice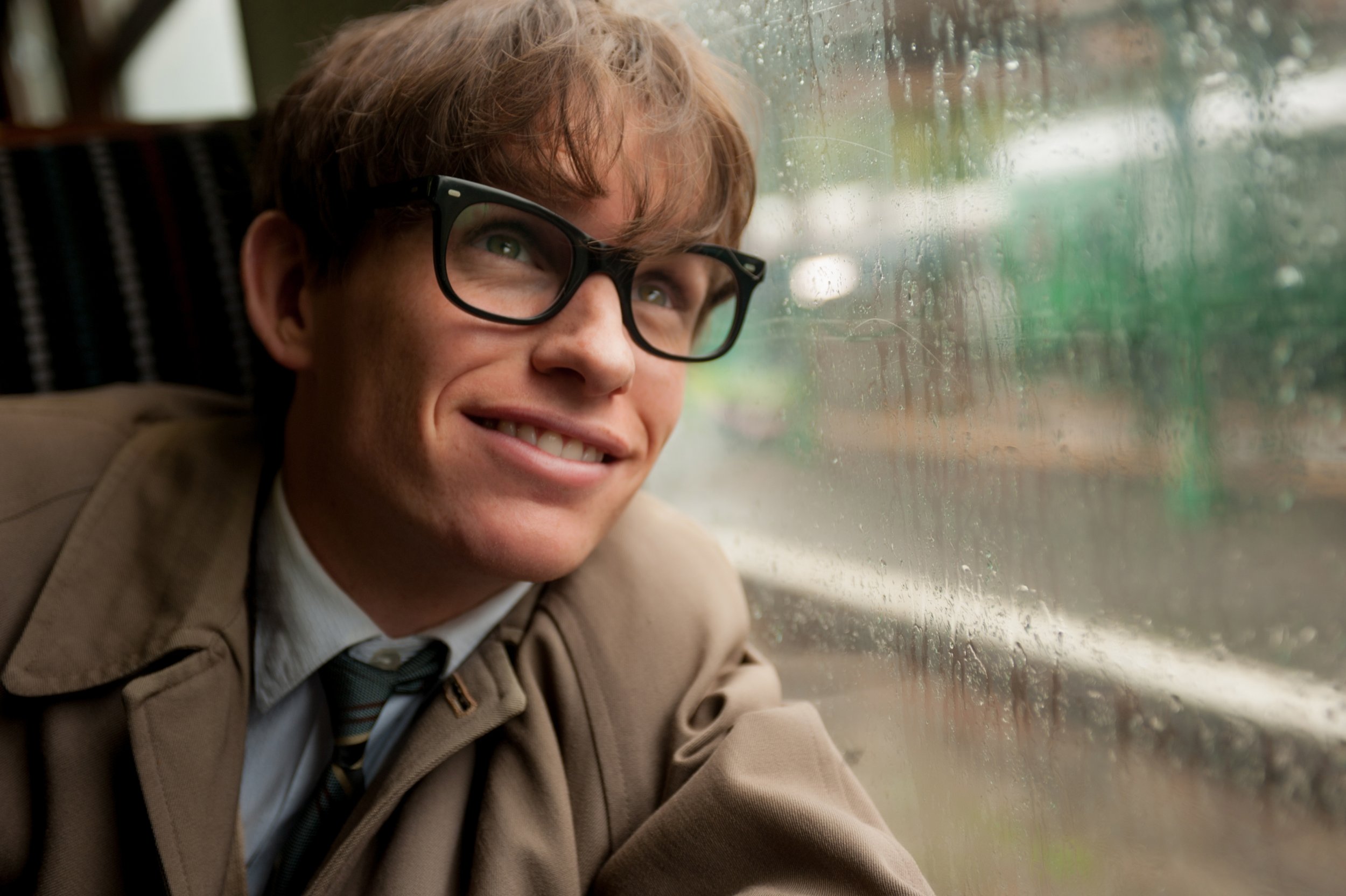 When I asked Eddie Redmayne to explain how he'd unlocked the secrets of Stephen Hawking, he was psyching himself up to meet the Cambridge cosmologist that same night. Redmayne was nervous about what Hawking would make of The Theory of Everything, in which the 32-year-old portrays both his extraordinary intellectual rise and his physical decline. In his iconic voice, Hawking had told him: "I will let you know what I think, good or otherwise." It turns out he need not have worried. At the London premiere, the pair posed happily together for the cameras.
Redmayne performs an extraordinary feat of acting alchemy as he depicts Hawking from the early 1960s to the late 1980s, when his A Brief History of Time became a global publishing sensation. As the decades race past, and disease relentlessly attacks the nerves that control his muscles, he captures the spirit of the physicist, down to his smirks and eyebrow-twitches.
He has already been nominated for a Golden Globe and is a hot tip for an Oscar nomination. This, it seems, is the year that Hollywood fell for the British über-geek: Benedict Cumberbatch (who played Hawking in 2004) also makes the best actor shortlist, for The Imitation Game, in which he plays mathematician and fellow Cambridge alumnus Alan Turing .
The magic key that allowed Redmayne to unlock Hawking's character materialised when he met the physicist days before filming began. Hawking takes an age to type into his voice synthesiser, so Redmayne only had a few sentences to go on. But he was left in no doubt of his charisma by the strong gravitational pull of Hawking's personality on those around him, and how he flirted with his co-star Felicity Jones. Also nominated for a Golden Globe, Jones portrays Hawking's first wife Jane. Overall, Redmayne was struck by "his extraordinary force of personality, incisive wit, humour and mischief – I describe it as a 'lord of misrule' quality. That was worth its weight in gold".
Redmayne, who bears a passing resemblance to young Hawking, spent four months studying the cosmologist's life. He started with the book on which the film is based, Jane Hawking's memoir Travelling to Infinity: My Life With Stephen, which he describes as "an incredibly delicate and intricate and quite complicated love story". Because she mentioned the expressiveness of Hawking's eyebrows, Redmayne spent months working on them in front of a mirror.
Jane, in the form of his co-star Jones, helped him in other ways. When he had to play the moment, in 1963, when as a bright but lazy 21-year-old PhD student at Cambridge, Hawking was told that he had a type of motor neurone disease and was given about two years to live, she called out abuse at Redmayne off camera to help him muster enough anger and frustration for this, the first scene they had filmed.
Photographs provided the most vivid source when it came to Hawking's early life. Redmayne thinks the young Stephen was reminiscent of James Dean. "There was something so iconic, dishevelled and cool – effortless, as if he is not trying," he told me. "There is an amazingly sexy quality of being confident in his own skin."
The family provided more clues. Hawking and Jane had three children – Lucy, Robert and Tim – before they separated in 1991 (they were reconciled in 2006, after the end of Hawking's marriage to Elaine Mason, a former member of his nursing team).
Redmayne said one key insight had emerged when he talked to Tim: "We were all respectful about the disease but Tim said, yes, we did get in dad's wheelchair and use it as a go kart. And we did put swear words in his voice machine."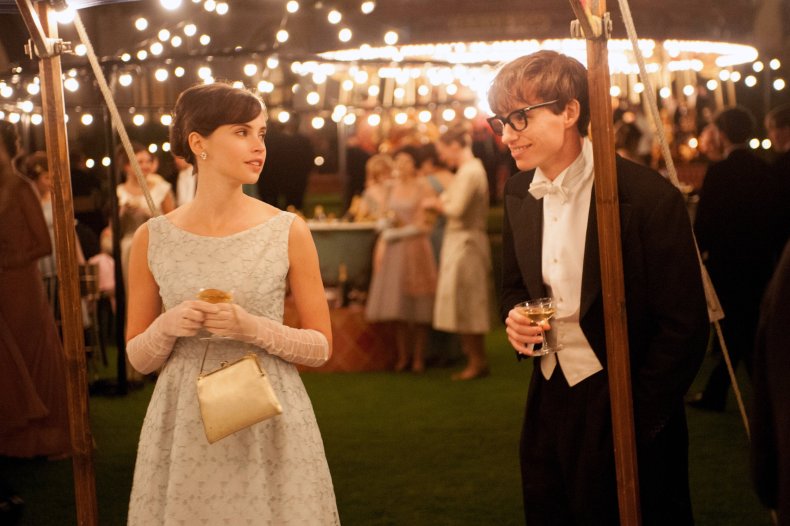 He avidly watched every Hawking documentary he could find. One key source dates from 1983, when BBC's Horizon programme showed how Hawking's speech had become slurred and hard to decipher. After he caught pneumonia in 1985 he underwent a tracheotomy, which left him unable to speak: the only way he could communicate was by raising his eyebrows to select letters as they were held up on cards.
When I first met Hawking, in California in 1988 when he was promoting A Brief History of Time, he was by then using the synthesiser that allowed him to speak that paradoxical blend of machine and human with an American accent. After the initial screening, Hawking was so pleased with the movie he allowed the filmmakers to swap the synthetic voice they had to create with his own, copyright version. "He offered us his voice," said Redmayne. "For me, that was the most wonderful thing."
Because the film was not shot in sequence, Redmayne created a chart to help him gauge how advanced the disease was in each particular scene. He adopted an awkward gait before the devastating diagnosis in recognition of how the early stages can be so subtle that the disease can be overlooked at first. He noticed how Hawking's "yes" is sort of a smile and learned how to isolate the appropriate facial muscles to achieve this and other expressions. When depicting his later years, Redmayne would sit in a wheelchair with his legs crossed and head tipped, in a contorted position that was painful to hold for long, he says.
Redmayne laboured on his movements for months with choreographer, Alexandra Reynolds. She filmed him on an iPad for them to study and refine and train his muscles. The idea, Redmayne explained, was to come up with a repertoire of basic movements that, when filming started, could provide him with a realistic palette of physicality to improvise the effects of the disease. To make his body seem thinner and smaller, he was dressed in oversized clothes and big prosthetic ears.
He wanted to understand the science too – Redmayne studied history of art at Cambridge, – so he consulted Jerome Gauntlett, a former PhD student in Hawking's group, now head of the Theoretical Physics Group at Imperial College London. He recalls with hilarity their first lunch when the professor "started doing the most extraordinary drawings explaining spacetime and singularities". Redmayne pleaded: "Whoa, whoa, whoa, back up – imagine I am seven years old." Fortunately, Gauntlett has indeed given talks about general relativity to seven-­year-olds and could oblige, telling me later that Redmayne has done "an amazing job in capturing Stephen".
Hawking, by all accounts, is delighted and, reportedly, thought he was watching himself at times in the film, though he craved a little more physics. He celebrated with the film's director James Marsh by sipping champagne from a spoon. Still, Redmayne wanted to hear it from Hawking himself at the premiere.
But there is one extraordinary feature of the physicist's life that Redmayne has been unable to fathom: the strange nature of his illness. Doctors now know there are many forms of Hawking's disease, one that has sprung to the public's attention with the Ice Bucket Challenge. But even though Redmayne worked with the Motor Neurone Disease Association and a clinic in London, meeting some 30 patients in all, he never did encounter one with the same extraordinarily slow-acting form that Hawking suffers. "It is the big question mark," says Redmayne. "How has he managed to defy all expectations?"