What Makes Alvin Greene Run?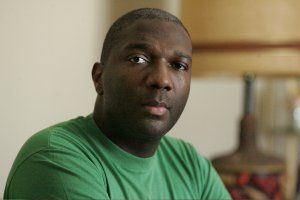 Seated in his dimly lit den on a rural stretch of highway in Manning, S.C., Alvin Greene is rattling off talking points for his unlikely candidacy for U.S. Senate. The 32-year-old unemployed Army vet came from nowhere to beat a much better financed, higher-profile opponent in the Democratic primary earlier this month. "My campaign issues are jobs, education, and justice," says Greene. "Let's get South Carolina and America back to work." Yet when he's pressed on the one question everyone's asking—how he came up with a $10,400 filing fee when only months earlier he claimed he was indigent­ in a criminal obscenity case filed against him—he obfuscates. "That's not even anything to talk about," he says. Was the money his? Yes, he replies. He saved it during his military service. So why did he file an affidavit of indigency to qualify for a court-appointed public defender last November? "I have nothing to say about that," he responds. Why not produce your bank records and put an end to all the speculation? "I think that's enough," he says, visibly irritated.
Normally, these sorts of responses would be a sure-fire sign that he had something to hide. But spend a little time with Greene and you realize there's something more puzzling going on. A deeply inscrutable man, he speaks in an uninflected monotone, repeatedly trails off mid-sentence, and often mumbles incoherently. He has a blank, distant look and virtually no sense of humor. He barely expresses emotion, apart from annoyance at what he deems intrusive questions. In a way, he recalls Dustin Hoffman's character in Rain Man. He sometimes repeats an identical sentence two or three times. He recites campaign slogans as though memorizing lines for a school play. And he's meticulous in his use of numbers and dates ("I'll be with you in seven minutes," he said when a NEWSWEEK reporter arrived at his place.) On some subjects—say, the role of infrastructure projects in creating employment—he sounds coherent and knowledgeable. But on others—the rationale for his candidacy, for instance—he seems baffled and adrift.
Greene's accidental candidacy—in a state that has cornered the market in bizarre political theater—has made for a compelling spectacle. His disjointed responses to questions have become YouTube sensations. Yet as state Rep. Todd Rutherford puts it, "If this is a joke, he doesn't get it, so it's not funny." State Democrats are struggling to figure out what to do about him. They recently voted to uphold his nomination, reasoning that he appeared to have won legitimately (capturing 59 percent of the ballots). But now they're saddled with a candidate who's facing multiple legal predicaments. There's the obscenity case, which Greene refuses to discuss (he hasn't entered a plea and no trial date has been set; his public defender didn't return a call for comment). A watchdog group, Citizens for Responsibility and Ethics in Washington (CREW), has filed a complaint [PDF] with the Federal Election Commission, arguing that Greene failed to file necessary forms to run (the FEC says it's investigating). And the State Law Enforcement Division in South Carolina is probing whether Greene lied on his affidavit of indigency, according to someone with knowledge of the inquiry who's unauthorized to discuss it (a SLED spokesperson declined to comment).
All of this havoc has prompted many state Democrats to suspect a dark conspiracy at work to help Republican Sen. Jim DeMint get reelected. "I don't know if he was a Republican plant," said U.S. Rep. Jim Clyburn after Greene's victory. "He was someone's plant." Such shenanigans have occurred before in South Carolina. In 1990, a GOP operative paid the filing fee for an unemployed black shrimper to run in the Republican primary, hoping his presence would boost white turnout. If Greene's candidacy were the work of a dirty trickster, it would surprise almost no one. Yet in South Carolina political circles, another possibility appears to be gaining currency: that this was entirely Greene's doing. "I think he did it on a lark," says state Senate minority leader John Land, who lives in the same county.
Raised in Manning, Greene says he's been interested in politics from an early age. His father, James Greene Sr., was outspoken on the issues of the day, says Land, who has known the man for more than 50 years. The elder Greene used to run a little store and nightclub that was a gathering place for the community and an obligatory stop for political candidates. He "wanted to see more black participation in local government," says Land. Perhaps that passion inspired his son. Alvin, who's currently living with his father, recounts that when he was 10, he made a campaign sign for Jesse Jackson's 1988 presidential run with blue construction paper and red-and-white lettering. He later got a bachelor's degree in political science at the University of South Carolina (the diploma hangs on the den wall). And he says he contributed to Barack Obama's presidential campaign. "I always knew that I wanted to run for public elected office," says Greene.
Yet until recently, Greene was a military man. He says he spent 13 years in the armed forces, including three in the Air Force and two and a half in the Army. That service, however, doesn't seem to have gone smoothly. He says he was discharged "honorably" but "involuntarily" from both branches, most recently from the Army in August 2009 (his personnel records indeed indicate involuntary discharges but don't specify the reasons). "It's a long story," he says, declining to delve into it. "That was their decision." A soldier who says he served with Greene in South Korea from 2007 to 2008, but who declined to be named because of all the media scrutiny, paints a troubling portrait of Greene. "He was a problem child for every supervisor," says the soldier. "They bounced him around from different units. He's not even qualified to do basic labor duties." Greene was a "loner" and "spacey," according to the soldier. Sometimes "it was like trying to talk to a wall. Other times he seemed schizophrenic."
Greene says he got the idea to run for Senate while in South Korea. "The [U.S.] was declining," he says, "and I knew that if I had the opportunity to make things better, I would do so." In March this year, he filed his candidacy at Democratic party headquarters in Columbia. At first, he showed up with a personal check for $10,400, says Carol Fowler, the state party chair. Since her policy is to take checks only from campaign accounts, she refused to accept it. So Greene returned to Manning, opened a campaign account at a local bank branch, and traveled back to Columbia with a new check. Handwritten at the top: "Alvin M. Greene for Senate." Fowler accepted that one, but not without urging him to reconsider. "I talked to him about how much money he needed to raise," she says. "He seemed very naive about the whole thing." But Greene was undeterred. "I knew this was what I wanted to do," he says. If he went on to campaign, however, no one in the party hierarchy noticed it.
In the wake of Greene's victory, many commentators have fixated on how an unemployed guy cobbled together more than $10,000. As Land points out, though, Greene incurs few expenses living with his father. Plus, Greene contends, he lived frugally while in the military. He says he's currently receiving unemployment, though he wouldn't disclose the amount (on the affidavit of indigency, he declared income of $1,160 per month). So perhaps it was his money. According to Greene, the filing fee ate up most of his savings. Of the remainder, he says, he spent some on his primary campaign—under $2,000—and has a bit left over.
That presents a problem, given his sworn statement that he's essentially penniless. At the very least, he could be held in contempt of court. Melanie Sloan, executive director of CREW, the watchdog group, is pressing for authorities to examine Greene's bank records. "It wouldn't take more than a few hours," she says. But it may not be so simple. SLED currently lacks the authority to subpoena bank records, explains Pete Strom, former U.S. attorney for South Carolina. "From an investigative viewpoint, all they can do is examine the [public] documents and attempt to interview Mr. Greene." SLED could potentially seek a search warrant, says Strom, but that's "not something they typically do in a case like this."
While authorities sort out those issues, Democrats are trying to limit the damage—both to the party and to Greene. Though the party won't be promoting him as a candidate, says state Rep. Bakari Sellers, it may try to provide him with handlers—people who can run interference with the media and prepare him for any public events. "The politically expedient thing to do would be to distance ourselves," says Sellers. "But we're dealing with a human being. We don't want to end up with an individual that's scarred for life."
As Greene turns his attention to the general election, he seems uncertain what to do. On that recent morning he sat down with NEWSWEEK, he said he'd be working on his campaign Web site later in the day. Asked what his next priority would be, he replied, "Um, let's see. There's nothing in particular." He said he'd like to debate DeMint in September—an event that would likely be excruciating to watch. Amidst all the tumult surrounding his candidacy and all the media outlets vying for his time, Greene seems lost. "One day at a time," he says. "I believe that things are going good. I believe that things are going good." At this, he nodded his head repeatedly, as if to reassure himself that was the case.
With Eve Conant and John Barry