What Makes a City an 'Anarchist Jurisdiction'? New York City, Seattle, Portland Funding Threatened Under Trump Order
New York City, Portland, Oregon, and Seattle, Washington, have earned a place on a new list of "anarchist jurisdictions," in part because they "unreasonably" refused offers from the federal government to provide law enforcement assistance during the summer's protests.
Attorney General William Barr announced the designation on Monday morning, making the Democrat-led cities the first to be put on the list. Barr was acting under an executive memorandum President Donald Trump issued three weeks before, which tasked the attorney general with identifying "anarchist jurisdictions," a label that puts their federal funding at risk.
According to the memorandum, the Department of Justice (DoJ) has a list of four specific criteria to use for its analysis. Barr is also able to use "any other related factors" he deems appropriate.
The criteria are jurisdictions forbidding police from intervening to restore order amid widespread or sustained violence, withdrawing law enforcement protection from areas that police are lawfully entitled to access, disempowering or defunding police departments, and "unreasonably" refusing to accept federal law enforcement assistance.
Local leaders in all three cities rejected law enforcement help, and officials in New York and Portland cut funding to their police departments by $1 billion and $15 million, respectively.
"When state and local leaders impede their own law enforcement officers and agencies from doing their jobs, it endangers innocent citizens who deserve to be protected, including those who are trying to peacefully assemble and protest," Barr said in a statement. "We cannot allow federal tax dollars to be wasted when the safety of the citizenry hangs in the balance."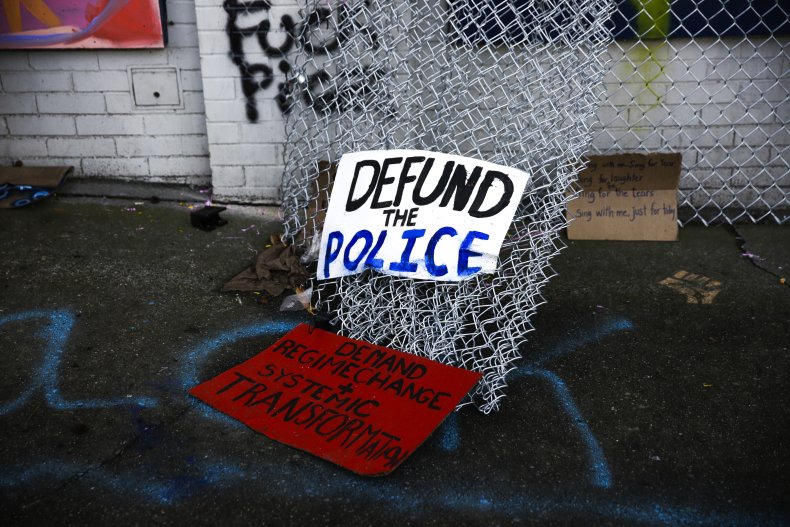 In announcing the start of the "anarchist jurisdiction" list, the attorney general highlighted the recent rise in crime in New York, Portland and Seattle.
Compared with August of last year, New York has seen a 166 percent increase in shootings, according to the DoJ. In Portland, the DoJ reported, there was a 140 percent increase in shootings in June and July, compared with those months last year.
Trump's executive order doesn't specify what federal funding could be pulled, saying only that the Office of Management and Budget (OMB) will issue guidance on "restricting [anarchist jurisdiction] eligibility or otherwise disfavoring, to the maximum extent permitted by law," cities from federal grants. The New York Post reported New York receives an estimated $7 billion in annual federal aid.
Newsweek reached out to the OMB for comment but did not receive a response in time for publication.
Barr targeted Seattle leaders for permitting the weeks-long Capitol Hill Autonomous Zone (CHAZ), which later rebranded itself as the Capitol Hill Occupied Protest, to remain in place. During the June movement, protesters seized multiple blocks of the Capitol Hill area, including where the East Precinct police building is located. Considering it a flash point for the protest, officers left the precinct, a move that earned criticism from the DoJ, which reported that person-related crime in CHOP increased 525 percent from the same period in 2019, within the same area.
Under the memorandum, Barr must update the DoJ website at least every six months to identify new parts of the country that fit the "anarchist jurisdiction" criteria.
"Without law and order, democracy cannot function," Trump's memorandum reads. "My administration will not allow Federal tax dollars to fund cities that allow themselves to deteriorate into lawless zones."