What Is Malala Doing in Pakistan? Nobel Laureate Makes Emotional First Visit Since Taliban Attack
Malala Yousafzai was finally able to visit the country she was forced to flee in 2012, after the Taliban attempted to assassinate her in 2012 because of her advocacy for girls' education.
Yousafzai, her father, and her younger brother landed in Pakistan's capital of Islamabad on Thursday. They met with Prime Minister Shahid Khaqan Abbasi, members of the government and lawmakers later in the day, Reuters reported.
"Welcome home," the Pakistani prime minister told Yousafzai, who was 15 when a Taliban gunman shot her in the head as she was returning home from school on a bus in her native Swat Valley. Yousafzai was airlifed to safety and received treatment in the U.K., with her family settling down in Birmingham.
Yousafzai was visibly emotional about returning to her homeland and gave a brief speech in switching between English, Urdu and Pashto, broadcast live on Pakistani television.
"I am very happy, and I still can't believe that this is actually happening ... in the last five years I have always just seen this dream of setting foot in my homeland," she said, quoted by Al Jazeera reporter Asad Hashim, drying tears from her eyes.
"I'm still 20 years old but I've seen so many things in life" she added. "From growing up in Swat...and then the attack, to have to leave the country. Everything was happening by itself, [I] could not control anything. If it were up to me, I would never have left this country."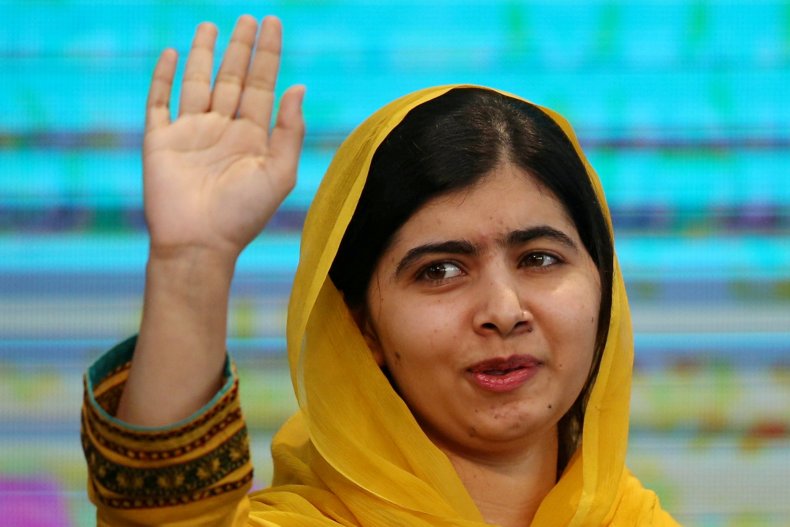 She is currently studying for a Bachelor's Degree in Politics, Philosophy and Economics at Oxford University's Lady Margaret Hall, the college once attended by the first female prime minister of Pakistan Bernazir Bhutto, one of Yousafzai's role models and herself an assassination victim.
Since leaving Pakistan, Yousafzai started her own organization to promote girls' rights to education, the Malala Fund and, in 2014, became the world's youngest Nobel Peace Prize Laureate. The fund has invested $6 million towards educational projects for girls in Pakistan, Yousafzai said.
Earlier this month, she announced the opening of a school in Pakistan's Shangla district, near her native Swat Valley, built with contributions that include her Nobel prize money.
Her visit to Pakistan was shrouded in secrecy due to security concern. It is unclear whether she'll be visiting her home town, but she is expected to stay in the country until April 2, discussing her advocacy works and meeting relatives, according to local media reported.
"When she went away, she was a child. She has returned as the most prominent citizen of Pakistan," Abbasi said, quoted in Reuters.
Despite the warm welcome from the government and her widespread popularity abroad, some people in Pakistan see Yousafzai as a polarizing figure spreading Western influence and badmouthing the country. Abbasi said the young woman should be free to visit Pakistan anytime. "The world has given her respect, Pakistan will as well," he said, quoted in Pakistani media.