The deadly Marburg virus was discovered on Sunday in Guinea, West Africa, after a man died of the disease. The virus had not been seen since 2008, and the last major outbreak of Marburg was in Angola in 2005.
The World Health Organization (WHO) has said it needs to be "stopped in its tracks."
Marburg was detected less than two months after Guinea declared an end to an Ebola outbreak that began earlier this year.
Gueckedou, the region of Guinea where Marburg was found, is also the same region where there have been cases of Ebola earlier this year, as well as where the 2014–2016 West Africa outbreak was initially detected.
What Is Marburg Virus?
Marburg is a highly contagious disease that causes hemorrhagic fever, and it tends to have a fatality rate of around 50 percent. However, previous outbreaks have seen it kill up to 88 percent of people who contract it, according to the World Health Organization (WHO). The virus is in the same family as the virus that caused Ebola and has caused concern among health officials. It has an incubation period of between two and 21 days.
Marburg Virus Transmission
Humans can be infected by the virus if they spend a lot of time in mines and caves inhabited by Rousettus bat colonies, according to the WHO.
Once a human is infected, it can jump from human to human via direct contact with the blood, through cuts, secretions or contact with bodily fluids and organs from infected people. Surfaces can become contaminated with these fluids, leading to people to contract the disease.
Marburg Virus Symptoms
Those who contract the virus begin to notice symptoms quickly.
Sufferers will experience symptoms of high fever, severe headache and discomfort, as well as severe watery diarrhea, abdominal pain and cramping. The diarrhea can persist for a week, while nausea and vomiting can begin three days after contracting the disease.
Those who experience the virus have been described by the WHO of looking "ghost-like", with "drawn features, deep-set eyes, expressionless faces and extreme lethargy."
Sufferers can also get non-itchy rashes between two and seven days after symptoms start.
Many patients develop severe hemorrhoids within a week, which can cause severe bleeding in multiple parts of the body, including from the nose, gums and vagina.
Those severely affected by the disease report sustained high fevers and irritability of the central nervous system.
Inflammation of the testicles (orchitis) has been reported by some sufferers of the disease, around 15 days in.
When people die from the disease, death usually occurs between eight and nine days after onset. This often is a result of severe blood loss and shock.
Marburg Virus Treatment
The WHO says there is not currently a proven treatment for the virus, but potential treatments, including blood products, immune therapies and drug therapies, are being evaluated. Treatment of the specific symptoms and rehydration makes survival more likely.
Marburg Virus History
The disease was first discovered after two large outbreaks occurred in Frankfurt and Marburg in Germany, and in Belgrade, Serbia, in 1967. The outbreak was associated with lab work using African green monkeys imported from Uganda.
Since then, most outbreaks have been reported in Africa. There have been outbreaks reported in Angola, Democratic Republic of Congo, Kenya, South Africa and Uganda. The last time cases were reported was in 2008, when two independent cases were reported in travelers who visited a cave inhabited by Rousettus bat colonies in Uganda.
The last large outbreak was in Angola in 2005, where the virus killed more than 200 people. It was the deadliest outbreak in the virus's history, according to the WHO.
What Is Being Done To Stop An Outbreak in Guinea?
Health officials are tracking down the people who have been in contact with the new patient. Four high-risk contacts have been identified, as well as 146 others who could be at risk, virus expert Dr. Krutika Kuppalli told the BBC.
National authorities are also educating the Guinean public on the virus, using community mobilization to raise awareness and galvanize support to help curb an outbreak.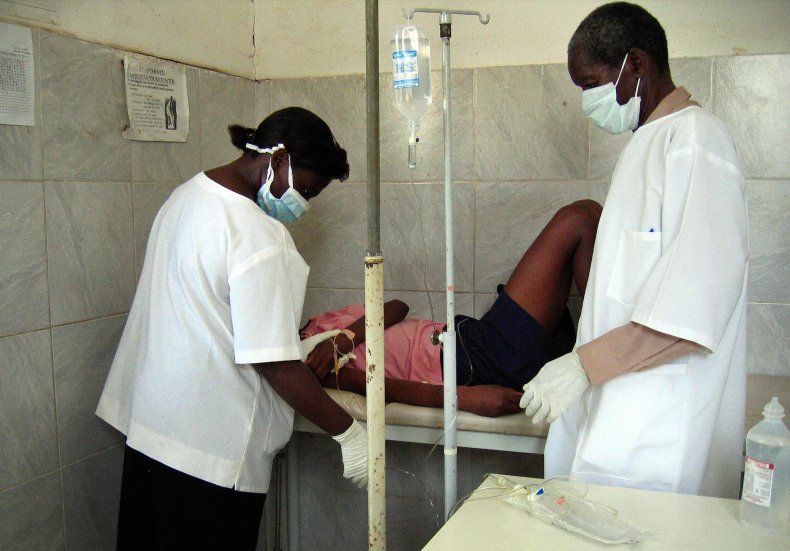 Uncommon Knowledge
Newsweek is committed to challenging conventional wisdom and finding connections in the search for common ground.
Newsweek is committed to challenging conventional wisdom and finding connections in the search for common ground.
About the writer
Jack Dutton is a Newsweek Reporter based in Cape Town, South Africa. His focus is reporting on global politics and international relations. He has covered climate change, foreign affairs, migration and public health extensively. Jack joined Newsweek in January 2021 from The National where he was Night Editor and previously worked at Euromoney, where he edited a B2B magazine on the aviation industry. He is a graduate of Sussex University. Languages: English.
You can get in touch with Jack by emailing j.dutton@newsweek.com