What is Mardi Gras? History, Meaning and Origin of the Holiday
Mardi Gras celebrations in the United States are often associated with the parades and parties of New Orleans, Louisiana, but the holiday has been celebrated around the world for hundreds of years and has deep roots in Christian tradition.
The culmination of Mardi Gras, which is French for "Fat Tuesday," takes place one day before Ash Wednesday, which is the beginning of the Lent, a 40-day Christian season of fasting leading up to Easter, which is widely observed by Catholics in particular.
The day is also sometimes known as Shrove Tuesday, after the word "shrive," which refers to a Christian receiving absolution from a priest through confession.
The celebration has been happening in France since medieval times, but some believe it may go back much further than that, possibly originating when early Christians melded their celebrations with Roman pagan holidays such as Saturnalia.
Mardi Gras and Carnival are often used interchangeably to denote the season. The word Carnival is believed to have its origins in Latin and refers to abstaining from the eating of meat, as many Christians do during the Lent season.
Carnival is celebrated around the world, with the largest celebration thought to take place in Brazil, where millions gather for a lengthy festival that also includes African traditions.
Modern observances are often largely secular, with many indulging in ways that are rarely thought of as religious in nature. Elaborate masks and costumes and colorful beads are some of the more innocent accoutrements of many Mardi Gras celebrations.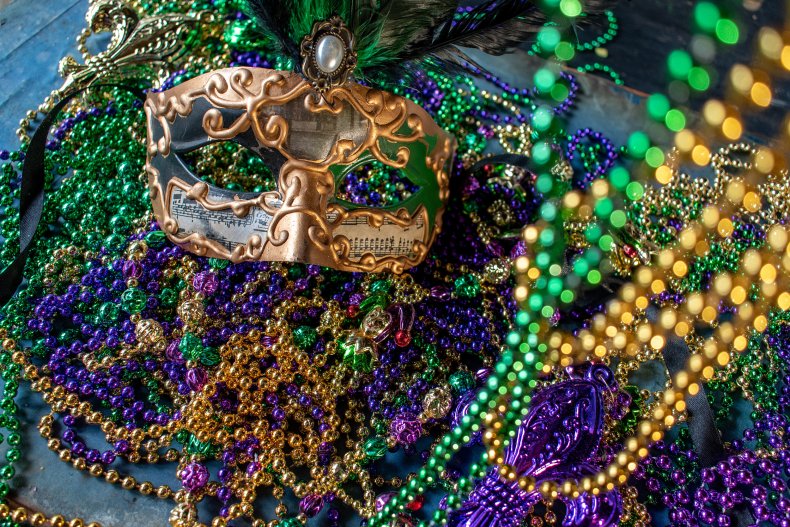 Although New Orleans is home to the best-known Mardi Gras celebration in America, the first is believed to have taken place in Mobile, Alabama in 1703. However, New Orleans remains by far the largest and biggest draw of the American celebrations. The first of the city's famous Mardi Gras parades took place in 1837.
Mardi Gras is celebrated for variable periods of several days to many weeks before the actual day of Fat Tuesday. The season technically starts on the Christian feast of Epiphany, commonly taking place on January 6, also known as "the twelfth day of Christmas."
As the "fat" in Fat Tuesday suggests, often fatty and rich foods are typically eaten on the day, traditionally in preparation for the fasting time of Lent.
Foods commonly eaten during the celebration include King Cake, an especially rich cake that often contains a plastic baby, meant to represent the baby Jesus, hidden inside. Other regional specialties include donuts and pastries such as beignets, Polish Paczkis and Pennsylvania Dutch Fastnachts.
Pancakes are also popular, particularly in countries such as the United Kingdom and Ireland, where the holiday is also sometimes called Pancake Tuesday or Pancake Day.