Employers and education facilities have to offer medical exemptions for COVID-19 vaccine requirements, but they don't have to just take a person's word for it.
The Americans With Disabilities Act (ADA) bars schools and employers from discriminating against someone because of a medical disability. That could include barring a person from their job or education if they can't comply with a vaccine mandate because a medical condition prohibits them from getting vaccinated against COVID-19.
The Centers for Disease Control and Prevention (CDC) hasn't found any specific medical condition that would definitively bar a person from getting vaccinated against COVID-19. However, the CDC noted there isn't safety information about the COVID-19 vaccination's use in people with weakened immune systems, including those with HIV, and those with autoimmune conditions.
The most common reason a person may request a medical exemption to a COVID-19 vaccine mandate is because of a severe allergy. The CDC advises people who have had a severe allergic reaction to any ingredient in an mRNA vaccine to not get either the Pfizer or Moderna vaccine and for those who had a reaction to an ingredient in the Johnson & Johnson vaccine to not get that shot.
Anyone who can't get one type of vaccine is encouraged to talk to their doctors about whether they could get a different type, according to the CDC. Those who had an immediate allergic reaction, even if it wasn't severe, to a previous vaccine should consult their doctor before getting the COVID-19 vaccine.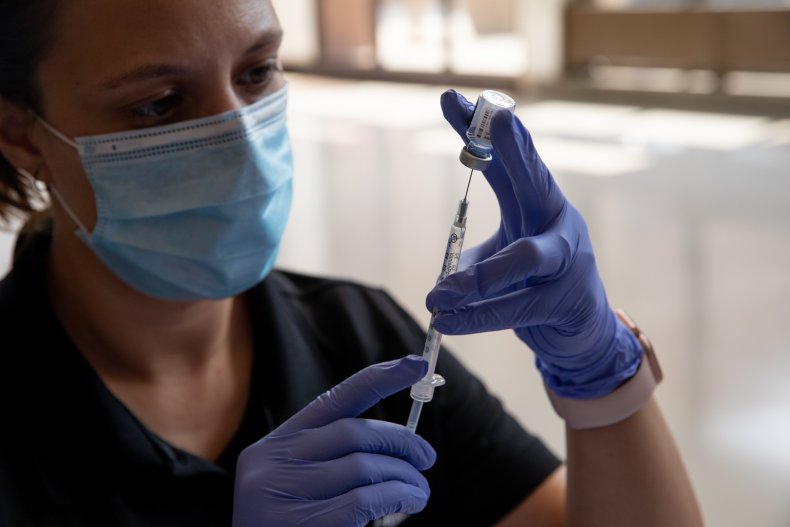 While some vaccines contain eggs, gelatin or latex, making people with allergies to those ingredients unable to get the inoculation, that isn't the case with COVID-19 vaccines, according to the CDC.
Susan Carle, the vice dean and professor of law at the American University Washington College of Law, previously explained to Newsweek that the burden of claiming a need for an accommodation because of a medical reason is on the employee or student, not the employer or school.
The first step in requesting an accommodation is for an employee to inform their supervisor of their request, which does not need to include mention of the ADA. During discussions about the accommodation, employers may ask employees relevant questions, including what type of accommodation they need and the nature of the disability. Employees may also be required to provide reasonable documentation about their disability and function limitations, including from a health care provider.
If the employee provides "insufficient" information from their health care professional, an employer can request they see a health professional of their choosing, but the employer must cover all costs.
Requesting an accommodation doesn't guarantee it's granted and employers approve requests on a case-by-case basis.
Under the ADA, it's illegal for employers to fail to provide reasonable accommodations to a qualified employee unless doing so would impose "undue hardship" on the business' operations. Accommodations take varying forms and in cases of COVID-19 vaccinations, they could include allowing an employee who can't get vaccinated to continue working from home or allow them to come into the office but wear a mask and social distance.
Employees may also make suggestions about potential accommodations, although employers are not required to offer the preferred accommodation.
Companies that have implemented vaccination requirements announced they'd work with employees who have valid medical reasons for requesting an exemption to the mandate. Amid a growing number of companies implementing the requirement, President Joe Biden announced on Thursday that companies with 100 or more employees would have to implement a policy that requires employees to be vaccinated or submit to weekly testing.
Since Biden's announcement involved vaccinations or testing, it's unclear if the Department of Labor will include medical exemptions, as the reasonable accommodation could be seen to be weekly testing.
Along with businesses, schools and universities across the country have started announcing policies mandating students be vaccinated before returning to in-person learning. Each school has its own method of handling medical exemptions, but many have uploaded forms to their websites for students to fill out.
Forms differ but largely include questions for a medical provider that describe why the student cannot be vaccinated against COVID-19.