What Meghan Markle and Prince Harry's 2020 Christmas Card Reveals
Meghan Markle and Prince Harry's 2020 Christmas Card, shared by a London dog rescue charity yesterday, shows the couple's son Archie is now very much a toddler.
The Duke and Duchess of Sussex opted for a computer illustration of a photo taken by Meghan's mother Doria Ragland at their $14 million Montecito mansion.
The image is the first picture of Archie to be released since his first birthday in May, when the couple released a video of Meghan reading him a favorite book, Duck! Rabbit!, for charity campaign Save With Stories.
Archie, now 19 months old, looks to have grown a lot since then and is seen wearing trainers, blue trousers and a blue jacket in this year's Christmas card.
The family dogs, Guy and Pula, are also in shot alongside a Christmas tree that Archie helped to decorate. A Sussex source said the youngster picked out decorations, helping his parents to prepare for Christmas Day.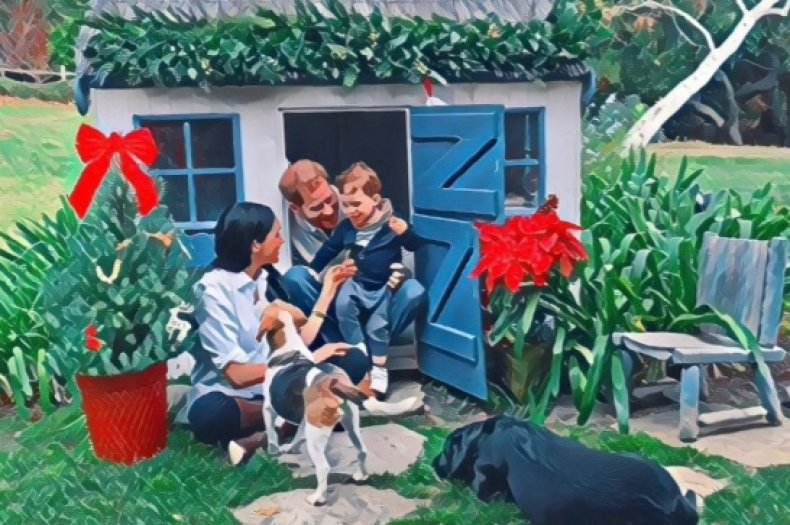 A spokesperson for the family said: "The original photo of the family was taken at their home earlier this month by The Duchess's mother.
"The small Christmas tree, including the homemade ornaments and other decorations, were selected by Archie, and the tree will be replanted after the holidays."
The image first emerged yesterday after it was shared by dog rescue charity The Mayhew, which the duchess is patron of.
The charity, which helps homeless and other vulnerable people look after their dogs, also shared that Meghan had made a donation.
Prince William and Kate Middleton shared their own family picture on Twitter from their own 2020 Christmas card last week.
Prince Louis steals the limelight in the image as he laughs at the camera, while Prince George and Princess Charlotte smile on either side of him.
The family of five sit on a hay bale in front of a log pile in the classically rustic picture, taken by photographer Matt Porteous.
A Twitter post by Prince William and Kate Middleton read: "The Duke and Duchess are delighted to share a new image of their family, which features on their Christmas card this year."
Prince Charles and wife Camilla, Duchess of Cornwall, also shared their Christmas card photo recently, which shows them reclining on a bench.
A post on Twitter read: "Here is this year's official Christmas card from The Prince of Wales and The Duchess of Cornwall.
"The photo was taken in the garden at Birkhall, Scotland."
Last year, Prince Harry and Meghan Christmas card was shared by the Queen's Commonwealth Trust, which they remain President and Vice-President of, despite stepping down as working royals.
It showed baby Archie, then aged around seven months, in front of the camera while the duke and duchess sat behind next to a Christmas tree.
At the time it was taken, they were staying in Canada and planning their imminent exit from royal life, formally announced in January 2020.
A Twitter post read: "Just sharing the sweetest Christmas Card from our President and Vice-President, The Duke and Duchess of Sussex.
"Very Merry Christmas, everyone!"