What Meghan Markle and Prince Harry Did for Martin Luther King Jr. Day
Meghan Markle and Prince Harry have bought lunch for volunteers of a veterans charity "in recognition of Dr. Martin Luther King Jr. and all that he stood for."
The Duke and Duchess of Sussex made the gesture of encouragement to volunteers with charity The Mission Continues.
The organization helps veterans to continue their service after leaving the forces through volunteering in the community.
Harry and Meghan wrote a message that the charity shared on Twitter: "In honor of this day of service, and in recognition of Dr. Martin Luther King Jr. and all that he stood for, we want to send our thanks and gratitude to the team at The Mission Continues.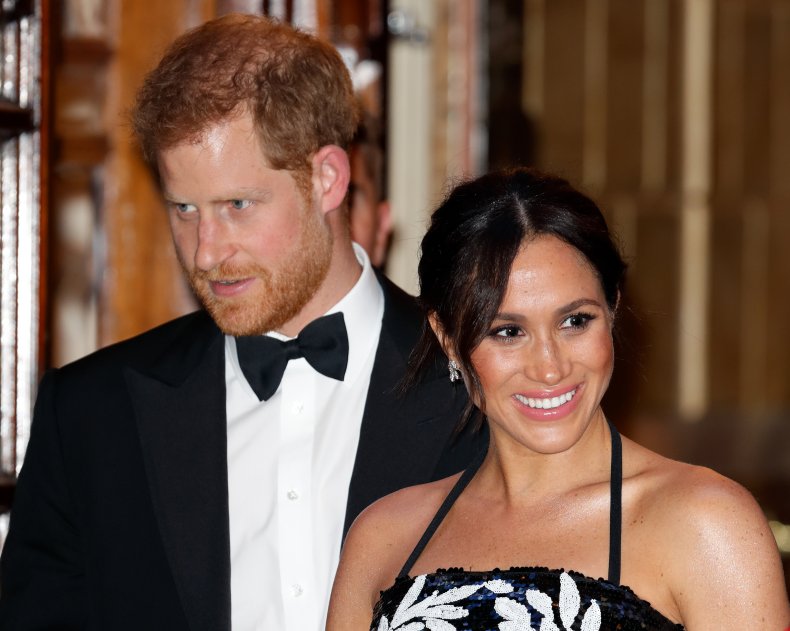 "We're so proud of all the work you're doing to support your community and hope you enjoy this small token of our appreciation.
"Thank you for your service—today and every day. We look forward to joining you soon.
"Stay safe, and keep up the great work.
"The Duke and Duchess of Sussex."
A box of turkey sandwiches was delivered by Home Girl Cafe and Catering to the Veterans of Foreign Wars (VFW) branch in Compton where the volunteers were working.
The Mission Continues said on Twitter: "We honored to have the support of The Duke and Duchess of Sussex, along with Archewell Foundation, They fueled the volunteers of our LA Service Platoon with lunch yesterday, so they can continue their hard work at the Compton VFW and help those living in the Compton community!"
Harry volunteered for the charity in November, when he handed out meal kits to families in Los Angeles as part of their Operation Nourish program.
That same month, Harry spoke to the Declassified podcast to pay tribute to "the soldiers who were by my side in Afghanistan, those who had their lives changed forever, and those that didn't come home."
He added: "Being able to wear my uniform, being able to stand up in service of one's country, these are amongst the greatest honors there are in life.
"To me, the uniform is a symbol of something much bigger, it's symbolic of our commitment to protecting our country, as well as protecting our values.
"These values are put in action through service, and service is what happens in the quiet and in the chaos.
"It's what happens in the darkness, it's what happens when people aren't looking. It's what happens on and off the battlefield. It's about carrying out our duty as soldiers.
"For me as a father, a husband and as a human being, it's about how we uphold these values in every aspect of our lives."
Prince Harry was in the army for ten years and served in Afghanistan twice, firing on the enemy.
In a 2013 interview, quoted by the BBC, he said: "Take a life to save a life.
"If there's people trying to do bad stuff to our guys, then we'll take them out of the game, I suppose."