Here's What Melania Trump Has Done in Her Husband's Second Year as President
In her first year as first lady, Melania Trump went from unprecedentedly delaying her move to the White House for close to five months to stepping up to her assumed role and, by the end of 2017, to having more fans than Beyoncé or Kate Middleton by one poll's account.
Her second year so far has had less steady of a trajectory, after reports of an alleged affair her husband, President Donald Trump, had with adult film star Stormy Daniels after Melania gave birth to Barron Trump and a medical procedure that removed her from public view for nearly a month.
Related: What Melania Trump did this year at the White House and across the world
Here are Melania Trump's highlights about halfway through her second year in the White House:
Stayed Silent After Stormy Daniels Affair Reports
Following news in mid-January of her husband's alleged sexual relationship with Daniels, whose legal name is Stephanie Clifford, Melania Trump did not comment. While people close to the Trumps say the first lady was blindsided by and furious at her husband, she has remained mum, even five months later.
In a poll released a week later, Melania Trump emerged as the most popular member of the Trump family.
Visited the Holocaust Memorial Museum Instead of Joining the President in Davos
A couple weeks after reports of the president's Stormy Daniels affair began, Melania Trump canceled her travel plans to accompany her husband to the World Economic Forum in Davos, Switzerland, citing scheduling conflicts. She instead visited the United States Holocaust Memorial Museum, in Washington, D.C., where she partook in a moment of silence honoring the millions of Jewish victims of Nazi persecution.
"My thoughts and prayers are with the people whose lives and families were broken by the horrors of the Holocaust," Melania Trump said in a statement. "Yet it is also through our shared humanity that we come together now in commemoration, strength and love. My heart is with you, and we remember."
Attended the President's State of the Union Address on Her Own
Melania Trump attended her husband's State of the Union address in late January, but made a statement by arriving on her own. As ousted White House chief strategist Steve Bannon pointed out, she wore a white pantsuit that drew comparisons to outfits her husband's election opponent, Hillary Clinton, was known to wear. This was interpreted by some as a slight against the president.
Entertained the Wife of Japan's Prime Minister
While her husband golfed with Japanese Prime Minister Shinzo Abe at the president's West Palm Beach property in April, Melania Trump brought the prime minister's wife, Akie Abe, to the Henry Morrison Flagler Museum at Whitehall, Flagler's gilded age Florida estate, for an educational tour.
"I enjoyed showing Mrs. Abe a timeless part of Florida's history," Melania Trump said. "Thank you to the welcoming staff of the Flagler Museum for having us and for continuing to share Whitehall's historic influence."
Attended Barbara Bush's Funeral Without Her Husband
Melania Trump also attended former first lady Barbara Bush's funeral in April in her husband's absence, and sat next to one of Donald Trump's least favorite people: his predecessor, Barack Obama. Melania Trump appeared to smile naturally while chatting with the 44th president, leading some social media users to point out she looked happier than she did at moments alongside her husband.
Planned the Trump Administration's First State Dinner
In one of her biggest undertakings as first lady, Melania Trump took charge of planning the Trump administration's first state dinner, welcoming French President Emmanuel Macron and his wife, Brigitte Macron, instead of engaging an event planner.
Amid scrutiny, Melania Trump's spokeswoman Stephanie Grisham said of the first lady, "We're probably not going to get the credit we deserve, but I know this team is great, and she knows this team is great. We have not failed, and she has not failed."
Melania Trump picked the dinner elements, including Clinton White House china.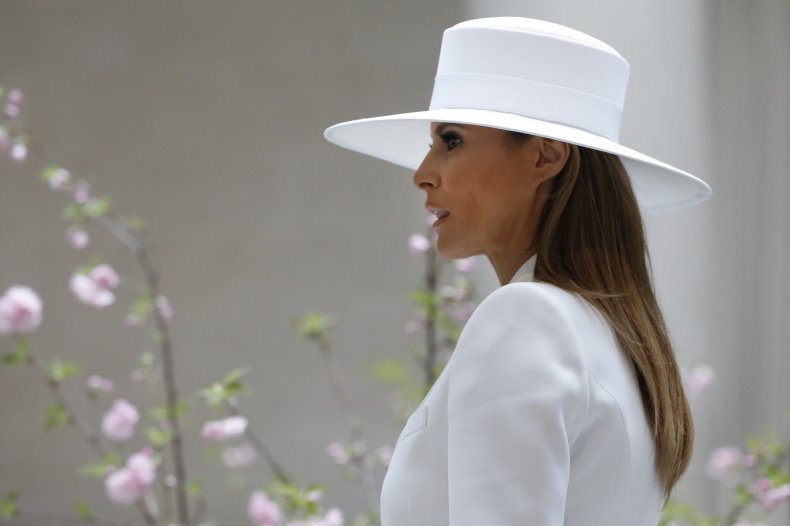 Launched Her "Be Best" Campaign
The first lady launched her long anticipated campaign, called "Be Best," at the White House's Rose Garden in early May. She explained the awareness campaign is aimed at helping the "most vulnerable and fragile among us: our children," and will focus on their well-being, social media use and combating opioid abuse.
"There is one goal to be best, and that is to educate children about the main issues they are facing today," she said. "If we truly listen to what our kids have to say, whether it be their concerns or ideas, adults can provide them the support and tools they need to group up to be happy and productive adults."
Critics pointed out that Melania Trump's plan borrowed heavily from Michelle Obama's "Be better" advice for men.
Greeted U.S. Refugees Freed From North Korea
Melania Trump accompanied her husband in welcoming home three Americans who had been detained and released from North Korea, at Andrews Air Force Base on May 10.
Underwent a Kidney Procedure
Four days later, Melania Trump was hospitalized for what her spokeswoman said was a successful embolization for a benign kidney condition. Though the procedure is usually minor, the first lady stayed out of the public eye for a lengthy 26 days, feeding rumors that she had left the White House and returned to New York City.
Melania Trump's tweet aimed at dispelling theories around her absence only drew more speculation that it was written by someone else, perhaps the president.
Absent From the G-7 Summit
President Donald Trump revealed his wife's procedure was more serious than originally made out to be before stepping on Air Force One for the summit in Quebec last Friday.
"First lady's great, right there," the president said, pointing at the White House. "She wanted to go. Can't fly for one month, the doctors say. She had a big operation, it was close to a four-hour operation."
Reappeared Alongside the President for the First Time in 26 Days
Melania Trump made her first public appearance next to her husband since greeting the U.S. refugees at the a hurricane preparedness briefing at the Washington, D.C., at the Federal Emergency Management Agency (FEMA) headquarters on June 6.
She smiled as her husband announced that she had gone "through a little rough patch, but she's doing great." She did not speak at the event.