What Melania Trump Has Said About Testing Positive For Coronavirus
As President Donald Trump and Melania Trump have confirmed that they have tested positive for COVID-19, the First Lady has addressed the public with the news on Twitter.
Mrs. Trump confirmed that she and the President are "quarantining at home" after testing positive for the disease but are "feeling good."
The First Lady tweeted early Friday morning: "As too many Americans have done this year, @potus & I are quarantining at home after testing positive for COVID-19. We are feeling good & I have postponed all upcoming engagements. Please be sure you are staying safe & we will all get through this together."
Her tweet follows the one posted by her husband Thursday night, which reads: "Tonight, @FLOTUS and I tested positive for COVID-19. We will begin our quarantine and recovery process immediately. We will get through this TOGETHER!"
The two first went into quarantine after advisor Hope Hicks tested positive for the virus after Hicks has traveled with them on Air Force One.
Trump's physician, Sean Conley has released a statement on the situation.
"This evening I have received confirmation that both President Donald Trump and First Lady Melania Trump have tested positive for the SARS-CoV-2 Virus," Conley said.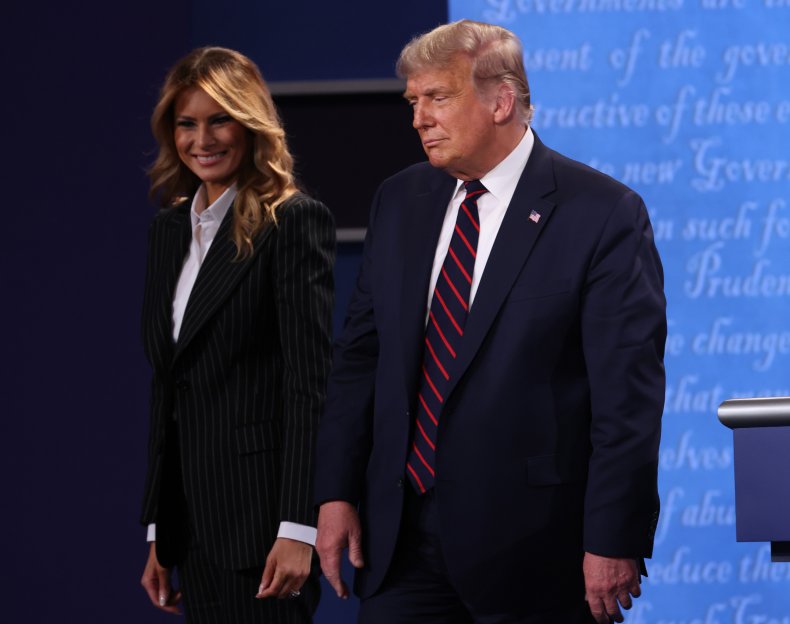 "The President and First Lady are both well at this time, and they plan to remain at home within the White House during their convalescence."
He added: "Rest assured I expect the president to continue carrying out his duties without disruption while recovering."
The news comes as the First Lady has been heard on tape discussing the criticism she faced over children separated from their parents at the U.S. the border in a recording played by CNN's Anderson Cooper.
Melania is heard saying: "Give me a f****** break," in the tape recorded by her former friend and aide Stephanie Winston Wolkoff.
"I'm working like a—my a** off at Christmas stuff that you know, who gives a f*** about Christmas stuff and decoration?" she says. "But I need to do it, right? Correct?"
"OK, and then I do it. And I say that I'm working on Christmas planning for the Christmas. And they said, 'Ooh what about the children, that they were separated? ' Give me a f****** break.
"Where they were saying anything when Obama did that?"
She goes on to say that she had wanted to reunite children back with their families but wasn't able to.
"I was trying to get the kid reunited with the Mom. I didn't have a chance. Needs to go through the process and through the law."
Winston Wolkoff has published a book about their time together, "Melania and Me: The Rise and Fall of My Friendship with the First Lady."