What Michael Jordan Has Said About Kobe Bryant's Hall of Fame Induction
Michael Jordan admitted he may struggle to maintain his composure when he introduces the late Kobe Bryant into the Naismith Memorial Basketball Hall of Fame on Saturday.
Throughout his career, Jordan seldom disclosed his feelings. Bar a few notable exceptions, the six-time NBA champion's human side often remained elusive to fans and media.
Presenting his late friend for induction into the Hall of Fame, however, comes with an emotional toll that is enough to make Jordan consider how he will keep his composure.
"I was thinking, at first, I might be a little somewhat nervous about it, but then I realized I'm not going to be nervous about showing emotions for someone I absolutely loved," he explained to ESPN earlier this week, during a wide-ranging interview.
"That's the humanistic side of me—people tend to forget I do have one."
Jordan's laid his emotions bare in February last year, when he spoke to Bryant's memorial service at the Staples Center less than a month after the Los Angeles Lakers star's death.
Bryant and his 13-year-old daughter Gianna were among the nine people killed when the helicopter they were flying in crashed in Calabasas, California on January 26, 2020.
Fighting back the tears, Jordan described the five-time NBA champion as his "little brother," and laughed that his eulogy would spark a new wave of the famous "crying Jordan" meme.
"I told my wife I wouldn't do this, because I didn't want to see it for the next three or four years," Jordan said during the service. "This is what Kobe Bryant does to me. He knows how to get to you in a way that affects you personally [...] even if he is a pain in the a**."
Speaking to ESPN, Jordan revealed Bryant never personally asked him whether he would present him into the Hall of Fame. It was Bryant's wife, Vanessa, who asked Jordan after the five-time NBA champion died last year. Jordan will introduce Bryant on Saturday.
Fellow NBA greats Tim Duncan and Kevin Garnett, who shared countless battles with Bryant for over a decade, will also be enshrined into the Hall of Fame in Springfield, Massachusetts.
"Vanessa [Bryant's wife] asked me once he passed away," Jordan explained. "In all honesty, I knew he probably would. It was either me or Shaq [Shaquille O'Neal], since they won three championships together."
"It's going to be a great honor, to be honest. It's like standing up for a family member. He paid me the highest respect by trying to emulate certain things I did."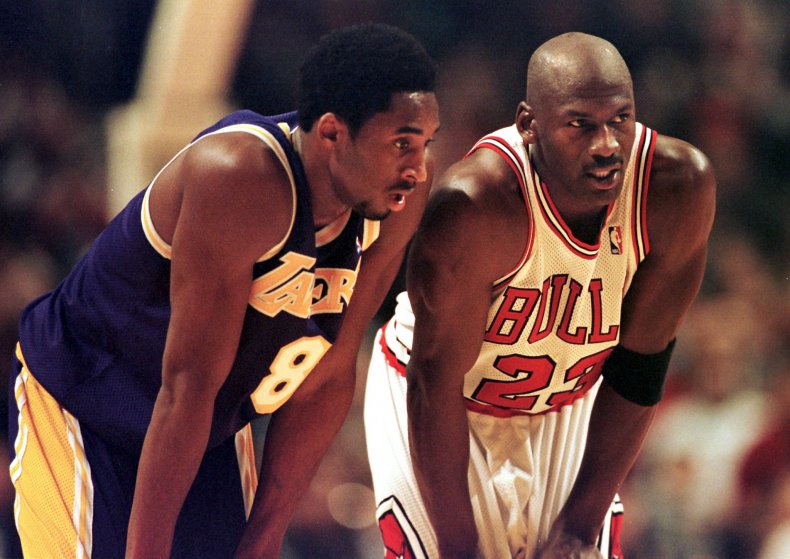 Episode 5 of The Last Dance, ESPN's 10-part documentary which chronicles Jordan's final year with the Chicago Bulls and aired last spring, was posthumously dedicated to Bryant. Jordan has repeatedly spoken of the special relationship he shared with the late Lakers great.
By the time Bryant entered the league in 1996, Jordan had already racked up four NBA titles and would go on to add two more before stepping away from the game for a second time in 1998.
Bryant fulfilled the heir apparent role to perfection, filling the enormous MJ-sized vacuum the NBA faced.
Arguably, more than any other player before or after him, Bryant matched Jordan's ferocious will to win and intensity. His style of play was also the closest thing to the Bulls legend's.
The similarities didn't end there. Like Jordan, who saw himself as a mentor for his younger colleague, Bryant blossomed under Phil Jackson's tutelage. The "Zen Master" had led the Bulls to six titles but, like Jordan, left Chicago in 1998, before taking charge of the Lakers in 1999.
Spearheaded by Bryant and Shaquille O'Neal, Jackson's Lakers won three straight titles between 2000 and 2002, before Bryant added two more titles in 2009 and 2010 during Jackson's second stint in Los Angeles.
While comparisons between Bryant and Jordan abounded, in The Last Dance, Bryant firmly pushed back on the suggestion of a rivalry between him and Jordan.
"I feel like, yo, what you get from me is from him. I won't get five championships here without him because he guided me so much and gave me so much great advice," he said.
"I truly hate having discussions about who would win one on one. 'Hey Kobe, you beat Michael one on one.'"