What Will You Make Per Hour In 2018? These States Are Raising The Minimum Wage In January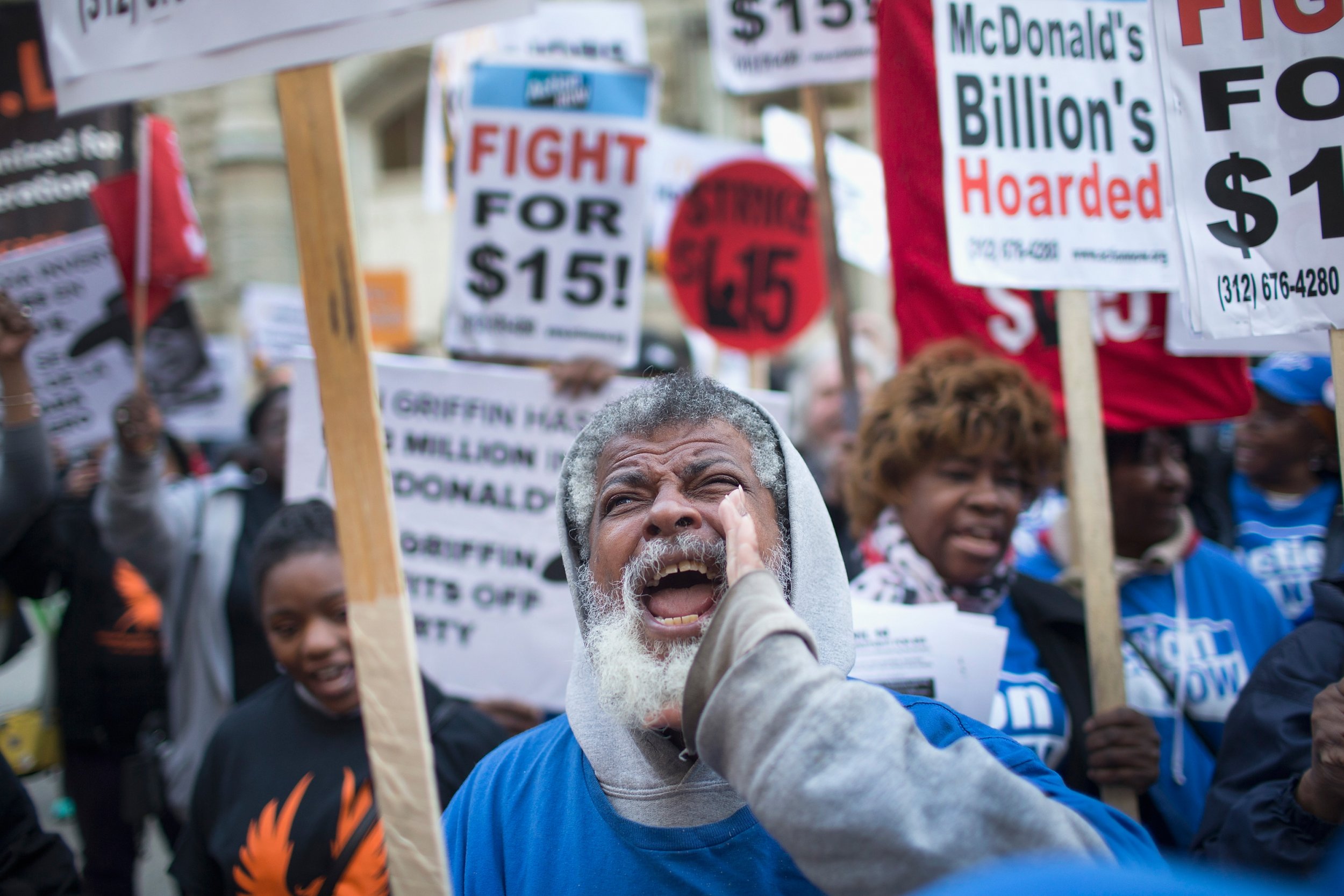 The minimum wage will increase for workers across 15 states on January 1, but those small raises will continue to leave people like 29-year-old Antwan Williams impoverished and unable to envision a future independent of food stamps.
Williams, a fast-food worker from Detroit, Michigan, earns the current state minimum wage of $8.90 working as a line cook and running kitchen preparation at Captain Jay's Fish & Chicken, a Cajun chain restaurant. He will receive a state-mandated 35-cent raise in 2018, bringing his hourly wage to $9.25. At most, he will earn an annual salary of $19,240 if he gets assigned a full 40-hour workweek for the entire year.
For tens of thousands of workers like Williams, the minimum wage does not provide enough for a comfortable life. Even the highly anticipated 2018 hourly increases — which range from 20-cents to $1 hikes across the U.S. — are still vastly below the average cost of living for the low-wage workers. Williams likes his job, but he is forced to rely on SNAP benefits and public transportation. He lives with his grandmother because neither can afford rent, electricity and gas on their own.
"With this increase, it's basically going to go toward me maybe having a little bit more to eat," Williams told Newsweek. "It wouldn't be realistic for me to say that I can now save for an apartment on $9.25. Yes, the minimum wage will go up, but the cost of living is going up, too. It's a start, but it's a small start and a really big problem."
The federal minimum wage of $7.25 per hour has not increased since 2009 — and even in states with a higher minimum wage, the progress is sometimes too slow. In Detroit, the living wage is estimated at $10.32 per hour, according to the Massachusetts Institute of Technology. Michigan has regularly increased its minimum wage since 2014 and will continue to raise it based on the region's rate of inflation each year, but the amount still falls short.
The last few years have brought a "tremendous growth" in the number of states raising minimum wages, according to Tsedeye Gebreselassie, a senior staff attorney with the National Employment Law Project.
A range of January 1 increases will take place in Arizona, California, Colorado, Hawaii, Maine, Michigan, Minnesota, Montana, New Jersey, New York, Ohio, Rhode Island, South Dakota, Vermont and Washington. The U.S. Virgin Islands will increase their minimum wage on June 1, while Maryland, Oregon and Washington D.C. will follow with an increase at the start of a new fiscal year on July 1, according to the National Conference of State Legislatures.
It is not only states taking the initiative to raise the minimum wage — cities and counties are organizing to require a higher wage than the state requires. There are more than 40 counties with a "local minimum wage" that usurp the lower state-mandated wage, according to NELP. Local governments raising their own minimum wage has become a strong movement in the last decade additional increases kicking off in 2018.
The local requirement of a higher minimum wage is not always well-received. Efforts by municipalities to raise the local wage have sparked battles in Missouri and Iowa as the state governments argue that localities are overstepping their authority and ban raises that exceed the state wage. Gebreselassie said advocates hope the local momentum to raise wages will encourage statewide changes in 2018 legislative sessions.
"We've seen in the past where localities move to raise the minimum wage that — assuming states aren't totally hostile to raising the workplace standards — they will act," Gebreselassie told Newsweek. "Once you have a critical mass of people in your state making a higher minimum wage alongside political momentum, it's easier to get something done."
Williams is a member of the NELP-backed Fight for $15 organization in Detroit, which advocates across the country for a $15 an hour minimum wage and the right to form a union. Only California, Washington D.C. and New York have created plans to raise their minimum wage to $15 per hour, according to the National Conference of State Legislatures.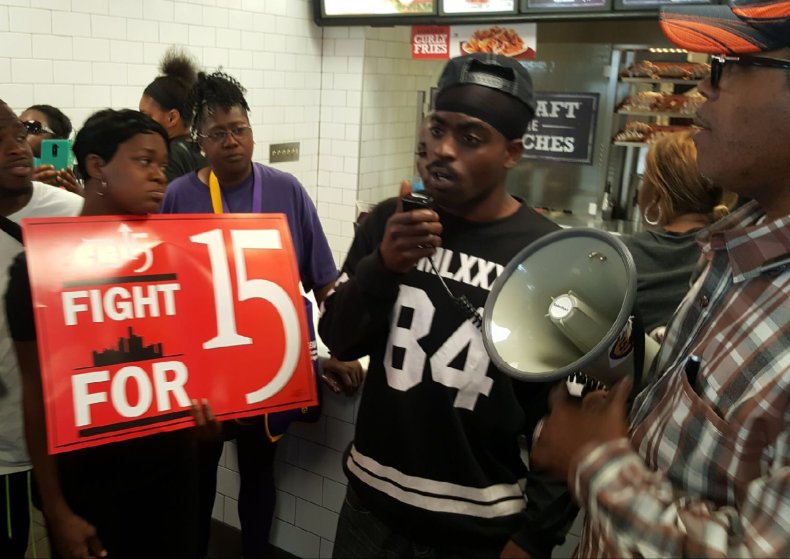 But some economists warn that forcing a $15 minimum wage could ultimately backfire if corporations choose to slash hours or cut fringe benefits to keep costs low. Mark Perry, an economist for the American Enterprise Institute, told Newsweek that low-wage positions often cannot sustain a person long-term without promotions.
"That just seems like how the job market naturally works," Perry told Newsweek. "The higher skills you have alongside more training and experience, then the more valuable you are to an employer. That's how you get to a higher wage level, and that's why economists like to point out that if you deny people an entry-level position because the minimum wage is so high, then some people never get that first job."
Perry said companies are ultimately beholden to consumers who demand low prices. If wage advocates want to succeed in increasing the minimum wage, they will also need to convince consumers that higher prices are worth the societal benefit of fewer people, like Williams, living paycheck-to-paycheck.
"I'm working every day, and I'm going to my job and keeping up with my hours, but still not making enough to be comfortable," Williams told Newsweek. "A lot of workers do their job diligently every day, and they deserve to be comfortable at the job they are doing."