What Mitch McConnell Has Said About a Post-Election Stimulus Deal
The day after winning his re-election bid for a seventh term, Kentucky Republican Senate Majority Leader Mitch McConnell said Congress should pass an economic stimulus bill before the end of the year, calling it "job one" when the Senate reconvenes on November 6.
"Hopefully the partisan passions that prevented us from doing another rescue package will subside with the election. I think we need to do it before the end of the year. Hopefully, we get a more cooperative situation than we've had," McConnell said, according to CNBC.
This week, Missouri Republican Senator Roy Blunt, a member of the Senate Appropriations Committee, said at a virtual event hosted by The Washington Post his hope that Congress could pass a relief package before January.
McConnell reportedly voiced openness to a package with more state and local funding—a sticking point Democrats have long sought in the stalled negotiation. A new package could be passed by December 11, the next federal spending deadline for preventing a government shutdown.
However, before the election, McConnell balked at a $2 trillion deal that Democratic House Speaker Nancy Pelosi had worked out with Treasury Secretary Steven Mnuchin, stating that it contained "all kinds of things ... simply unrelated to the subject."
Pelosi had called Republican stimulus proposals before the election "not even close to the good," mentioning their lack of enhanced federal unemployment benefits, state and local aid, child care and personal protective equipment for medical workers on the frontlines of the ongoing COVID-19 pandemic.
McConnell counter-offered a $500 million bill that he said focused on schools and replenishing the Paycheck Protection Program, but lacked the aforementioned funding sought by Democrats.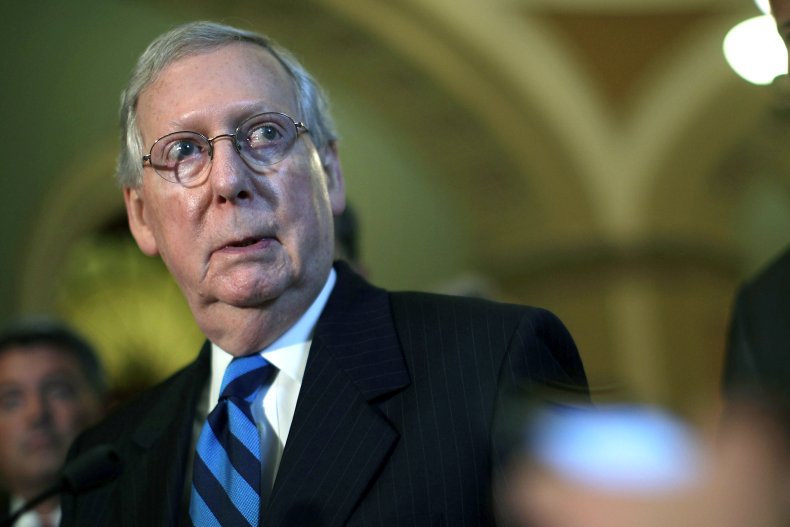 Had Democrats won control of the Senate on Election Night, they could have possibly waited until Democratic presidential nominee Joe Biden was seated to pass a stimulus package that included their goals.
However, Democrats will need to win two run-off races in Georgia to gain control of the Senate. If they don't, then disagreements between a Democratic House and Republican Senate could cause ongoing negotiations to take even longer.
Additionally, Trump's plan to contest the election result all the way to the Supreme Court may halt any stimulus negotiations between Democrats and Republicans altogether.
"Any uncertainty in the outcome of the election almost guarantees no deal will be struck in the lame duck," said Ed Mills, Washington policy analyst at the investment banking company Raymond James told CNBC. "If we're fighting over the election, there is no way to get compromise on fiscal support."
Newsweek contacted McConnell's office for comment.