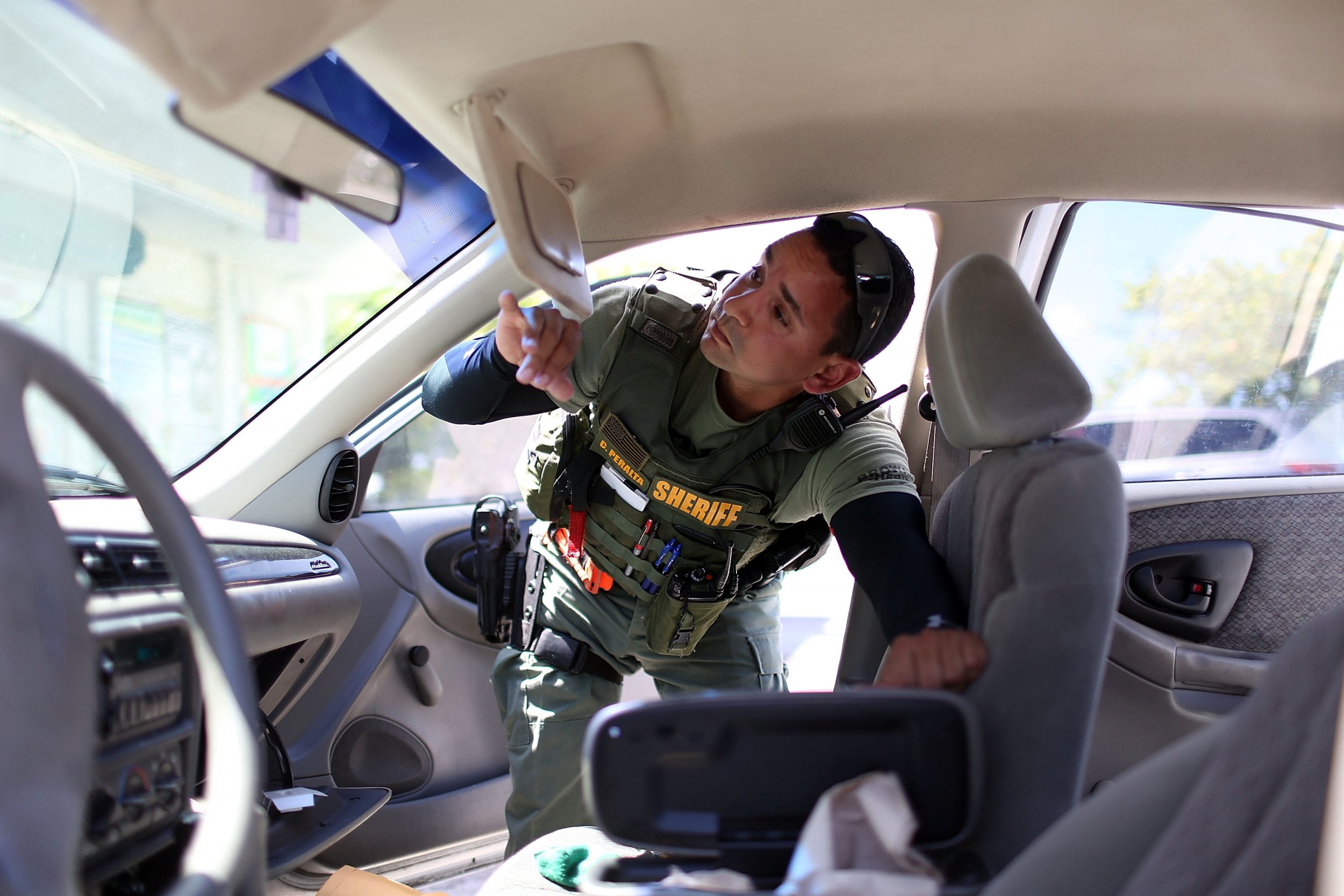 A new drug nicknamed "monkey dust" has United Kingdom emergency workers on edge after finding users enter a paranoid state that causes them to run into traffic, jump off buildings and hallucinate.
The Staffordshire Police Department, about 150 miles from London, received 950 reports about the drug in only three months, and Chief Superintendent Jeff Moore told the BBC that users were "difficult to deal with." The drug not only poses a risk to the user but to other people as well. Users often experience a feeling of being chased, which leads them to attempt an escape by any means necessary.
"We have seen cases where we've got people running into traffic, we've seen cases where we've got people climbing onto buildings," he explained. "It is that unpredictability that is causing that concern."
Monkey dust is a methylenedioxypyrovalerone (MDPV), according to the BBC, and the Drug Enforcement Administration explained it's structurally related to cathinone. MDPV is man-made but cathinone occurs naturally.
"MDPV has been reported to induce subjective effects in humans similar to those induced by cocaine, amphetamine and MDMA," the DEA said. "MDPV has also been reported to cause intense, prolonged panic attacks in users. Repeat users have reported bouts of psychosis and a craving or a strong desire or urge to use again."
Paramedic Steven Rust told the BBC that in the United Kingdom, it's not a problem, "it's already an epidemic." One of Rust's colleagues told him that when he drove through Stoke-on-Trent, "it was like a scene from the Night of the Living Dead." In the 1968 film, the dead suddenly come back to life as bloodthirsty, flesh-eating monsters and terrorize the town.
Monkey dust, also known as "bath salts," was actually legal in the United States until 2012, when then-President Barack Obama signed a federal ban. Sold as a "legal" high, people could purchase bath salts at various retail outlets. The 2012 law added the active ingredients of bath salts to the Food and Drug Administration's list of substances that could not be sold under any circumstances, according to Time.
In the U.K., cathinone was legal until April 2010, when it was classified as a Class B drug.
Debbie Moores, a service manager for One Recovery North Staffordshire, an addiction charity, told the BBC that it's one of the "worst drugs" the organization has seen. Moores hopes that the increase in people using the drug is a "fad," and they're only doing it "because they are bored and it's cheap."
The off-white powder can be swallowed, injected or snorted, and can cost as little as two pounds, or $2.55, according to the Independent. Effects of the drug can last several days, and it only requires doses as small as 3 milligrams.
In July, Shropshire police linked a bad batch of monkey dust to two deaths and issued a warning to residents about the effects of the drug.
When users are brought to the hospital, they're given large doses of sedatives to help stabilize their minds, and often require two or three days of aftercare, according to Sky News. Combating the epidemic is reportedly consuming the resources of emergency responders.