What Is Nakba Day? Israel Prepares to Face Thousands of Palestinian Protesters
More than 100 have died and thousands been injured in the Gaza Strip over the past six weeks, as Palestinians attend protests in the lead up to the anniversary of the Nakba, or "catastrophe."
At least 59 Palestinians were shot dead Monday in the worst day of Israeli-Palestinian violence since the 2014 war in Gaza. Nakba Day has often been a flashpoint for violence, and given recent events there is a fear the 2018 commemoration could be bloody.
This year marks the 70th anniversary of the Palestinian Nakba. It refers to the exodus of some 700,000 Palestinians who left or were forced to flee their homes when Israel was founded in May 1948. Upon its creation, Israel's Arab neighbors—Egypt, Jordan, Iraq, Syria, Lebanon, Saudi Arabia and Yemen—launched a war to destroy the nascent state. Amid the fighting, hundreds of thousands left their homes.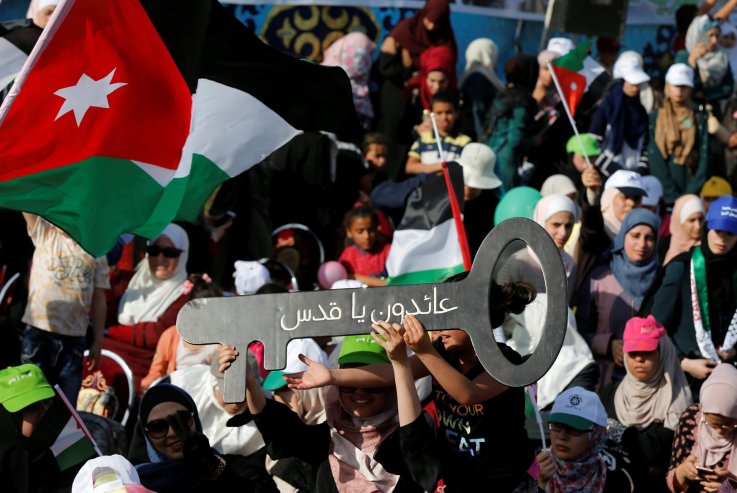 The diaspora has since spread worldwide, and half of the world's 12 million Palestinians now reside outside of Israel and the Palestinian territories. Many still live under difficult conditions in refugee camps in neighboring Arab states, barred from returning to Israel.
Unofficially celebrated since 1949, former Palestinian leader Yasser Arafat inaugurated the day officially in 1998 in response to Israel's 50th anniversary celebrations. The commemorations include rallies and speeches in cities across Israel and the Palestinian territories. Many attendees brandish house keys, a symbol of the homes their families have been unable to return to.
Read More…Gaza Protests: What Do Palestinians Want, and Will They Get It?
Palestinians call on Israel to acknowledge their right to return to the ancestral lands lost in the 1948 exodus. Israel, however, has consistently refused to recognize the right, fearing that a mass movement of Palestinians across the border could make Israeli Jews a minority in the country. The country's refusal is in violation of the 1948 United Nations Resolution 194, which resolved that refugees wishing to return to their homes be allowed to do so.
The charged nature of the commemoration means violence is always bubbling close to the surface. The first official Nakba Day in 1998 led to clashes between protesters and Israeli forces, leaving four Palestinians dead. In 2011, at least 22 Palestinians were shot dead as they tried to enter Israel by crossing the Syrian border.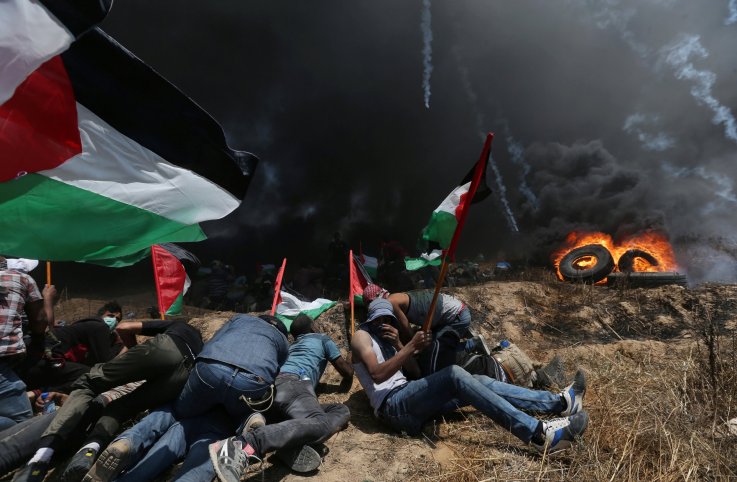 With the opening of the new U.S. embassy in Jerusalem, this year's Nakba Day has special significance. Accordingly, protesters have been gathering at the Gaza Strip-Israel border fence since March 30. Israel has used live ammunition to control the crowds, claiming that Hamas—the Islamist militant group controlling the Gaza Strip—is using the protests as a cover for planning and executing attacks.
The Israel Defense Forces (IDF) say several militants have been killed in recent weeks while trying to plant bombs at the border or breach the fence. Last night, the IDF conducted air and artillery strikes on suspected militant positions and threatened to target senior Hamas leaders if the protests continued.
After the deaths along the Gaza border on Monday, it is unclear whether demonstrations will escalate further. Israeli forces remain ready to meet the crowds with force if necessary, and are preparing for the spread of demonstrations to Palestinian areas of the West Bank and East Jerusalem