What Is Naloxone? How Opioid Overdose-Reversing Drug Works
The U.S. surgeon general announced Thursday that he wants more people to carry naloxone as a way to reduce the number of deaths from opioid overdoses. But what is naloxone and how could it help?
Naloxone is a medication that binds to the brain's opioid receptors to block the uptake of drugs like heroin, Vicodin, Percocet, Oxycontin and fentanyl. When people use those opioid drugs, it slows their breathing, makes them drowsy and causes other potentially dangerous side effects. If someone is overdosing on an opioid, administering naloxone—also known by its brand name Narcan—will reverse the harmful drug's effects; the person will begin to breathe normally again.
U.S. Surgeon General Dr. Jerome Adams said in his Thursday advisory, posted on the Department of Health & Human Services website, that in particular people close to those at risk of overdose should carry naloxone. According to Adams, 115 people die every day from an opioid overdose.
Many first responders already carry naloxone, but most of the deaths are people who are not in reach of immediate medical care, with more than half of them dying at home.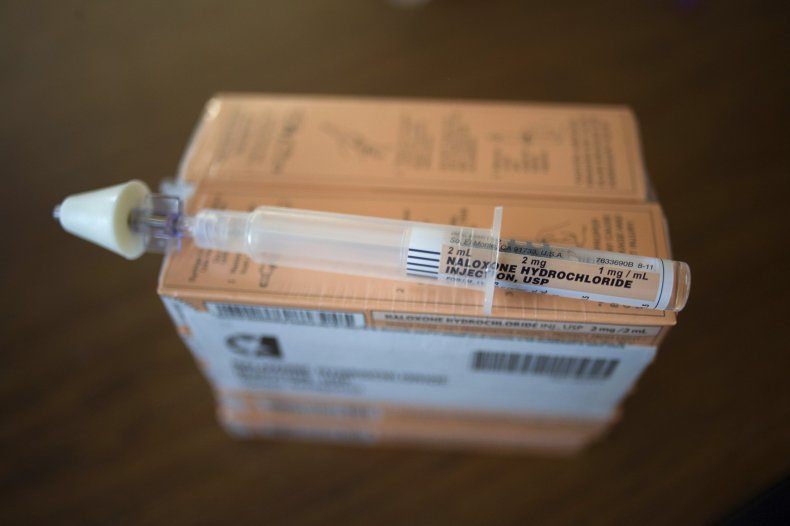 The advisory comes as the U.S. continues to see a rise in cases of opioid addiction and overdose deaths, with that class of drugs being the most deadly in the country, according to recent statistics from the U.S. Centers for Disease Control and Prevention.
More than 60 percent of overdose deaths nationwide are linked to opioid use, the CDC says.
Aside from breathing slowing or ceasing entirely, someone who is overdosing on an opioid may also fall unconscious; be pale and clammy; have blue or purple fingernails and lips; vomit; or have pinpoint pupils.
Administering naloxone at that point—through an injection into a vein or thigh or through a nasal spray—could save the victim's life. And if the person is not actually overdosing on an opioid, there are no negative health consequences.
"Naloxone only works if a person has opioids in their system; the medication has no effect if opioids are absent," the U.S. National Institute on Drug Abuse explains.