What Nancy Pelosi Has Said About a Second Stimulus Check for Americans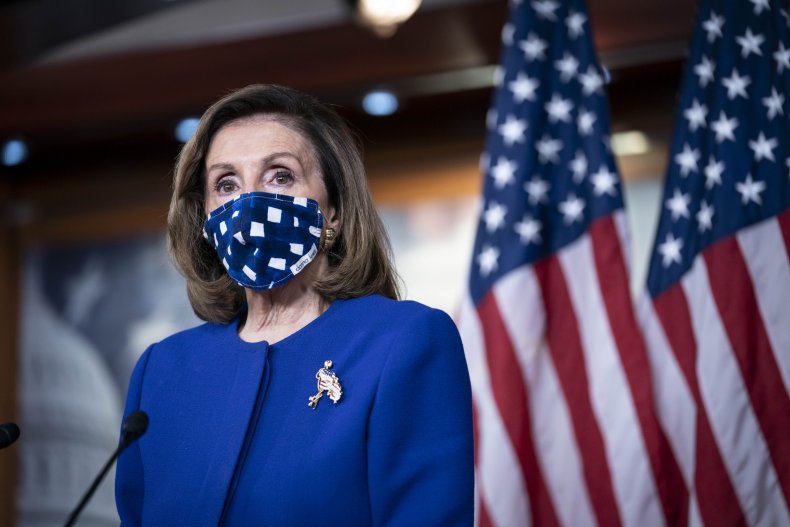 Amid the economic fallout of the coronavirus outbreak, millions of Americans are looking to Congress and the White House to reach a deal on pandemic relief—one that includes a second round of stimulus checks.
House Speaker Nancy Pelosi said she wasn't giving up on passing the next stimulus package before Election Day on November 3. She told CNN on Sunday that she sent the administration a list of concerns on Friday and was told that she would have answers on Monday.
The California Democrat reported some progress in the negotiations during a press briefing on October 22. Pelosi said she and Treasury Secretary Steven Mnuchin were "just about there" and that she was hopeful they would be able to come to an agreement.
When asked specifically about the second round of checks to individuals, Pelosi said, "We've come, I think, to terms on the direct payments."
Earlier last week, the House speaker told SiriusXM's Joe Madison Show that President Donald Trump's desire to send out another round of stimulus checks was an advantage for Democrats in the negotiation process.
"The president needs this legislation. He wants that check to go into people's pockets. He doesn't care about any of the rest of it in terms of what it does for working families," she said. "So that's our leverage, you know, that he wants that, and that's how we're going to try to get the rest of it."
But Pelosi said Democrats couldn't turn the other way on other areas of relief, such as funding for education and state governments, just for another $1,200 stimulus check.
"We want it too," she said. "We want that purchasing power to be in people's pockets. We want that too. But you can't just say, 'We'll abandon all the health issues, the education issues, the poverty issues, the state and local government and all that that does in order for just a $1,200 check as important as that is."
That's been a repeated sentiment for the House speaker. Last month, when Trump urged Republicans to go for the "larger amount" relief package that included $1,200 stimulus checks, Pelosi reminded lawmakers that more would be needed for a deal than just "Trump checks."
"All they want is to have the president's name on a check going out. That's all he really cares about," she said at the time. "We have to do more than just have the Republicans check a box."
Pelosi and other Democrats on Capitol Hill have rejected some efforts by the Republican Party to pass scaled-back or standalone coronavirus relief bills, even if it included a second round of stimulus checks.
The House of Representatives, which is controlled by a Democratic majority, included a second round of checks in the HEROES Act passed in May. The legislation, which has stalled in the Republican-controlled Senate, would give individual taxpayers with incomes of up to $75,000 a check for $1,200. Married taxpayers with incomes of up to $150,000 would receive $2,400.
Newsweek reached out to Pelosi's office for comment but did not hear back in time for publication.