What Is a National Day Of Mourning? Country Honors George H.W. Bush
The U.S. will participate in a national day of mourning to honor the late President George H.W. Bush on Wednesday. Bush, the 41st president of the U.S., died at age of 94, on Friday, November 30.
A funeral for the late president is being held on Wednesday at the Washington National Cathedral, in Washington, D.C. President Donald Trump announced the day of mourning for the 41st president of the U.S. last Saturday.
"I do further appoint December 5, 2018, as a National Day of Mourning throughout the United States. I call on the American people to assemble on that day in their respective places of worship, there to pay homage to the memory of President George H.W. Bush," Trump said. "I invite the people of the world who share our grief to join us in this solemn observance."
On Monday, Texas Governor Greg Abbott also proclaimed a national day of mourning in the state for the late president.
"Wednesday, December 5, 2018, shall be recognized as an official Day of Mourning. The people of Texas are encouraged to gather, assemble, and pay their respects to the memory of George Herbert Walker Bush through ceremonies in homes, businesses, public buildings, schools, places of worship, or other appropriate places for public expression of grief and remembrance," Abbott said.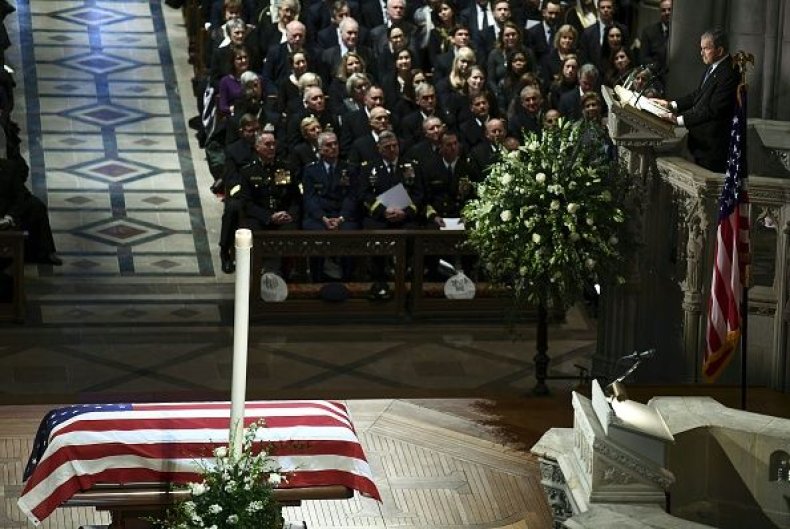 During the national day of mourning, federal offices in the U.S. will remain closed. The USPS issued a notice on Monday that there would be no services on Wednesday, but that regular operations are expected to resume on Thursday.
"To honor the life and legacy of President Bush, the Postal Service will observe the national day of mourning. All Post Office locations will be closed, regular mail will not be delivered, and package delivery will be limited," the statement from USPS read.
American flags at the White House, public buildings, military posts, and naval stations, and naval vessels throughout the U.S. will be raised half-staff for 30 days from the day of Bush's death, according to Trump's proclamation. Abbott also encouraged businesses, municipalities and counties in Texas to fly the flag at half-staff until December 31 to honor Bush.
Bush's body will be sent back to Texas on Thursday following the funeral processions, where he will lie in repose at St. Martin's Episcopal Church, in Houston. The late president will be buried on the grounds of the George Bush Presidential Library and Museum at Texas A&M University.