What is National Day of Mourning? How Anti-Thanksgiving Day Started and Everything To Know About It
The 50th annual National Day of Mourning will take place on Thanksgiving Day. This is a day of protest by Native Americans on the East Coast who visit Cole's Hill—which overlooks Plymouth Rock in Plymouth, Massachusetts—to remember that famous first Thanksgiving from a different perspective.
The National Day of Mourning was established to remember the Native American suffering that occurred when the Mayflower landed. A plaque at Cole's Hill explains that view. "Thanksgiving Day is a reminder of the genocide of millions of their people, the theft of their lands, and the relentless assault on their cultures," it reads in a photo shared by CNN. "Participants in National Day of Mourning honor Native ancestors and the struggles of Native peoples to survive today."
Thanksgiving is a national holiday that remembers a gathering of European immigrants and Native Americans on American land, but it has become commercialized, yielding giant shopping holidays like Black Friday and Cyber Monday.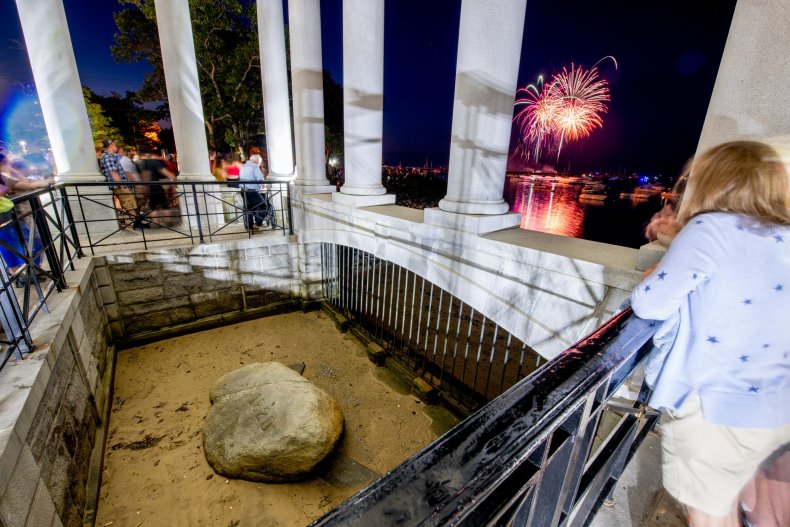 The National Day of Mourning, which looks at Thanksgiving from a different perspective, was spawned from a speech that was nearly given in 1970.
Wamsutta Frank James, the leader of the Aquinnah Wampanoag tribe, wanted to share his true feelings at a Plymouth Thanksgiving in 1970. He wasn't allowed to speak for fear that it would create an even larger divide between the Native Americans and Americans in attendance. The text of the speech, which was to take place 350 years after the first Thanksgiving, turned organizers off.
The full speech is available to read on United American Indians of New England's site, UAINE.org. A segment of it reads: "This is a time of celebration for you—celebrating an anniversary of a beginning for the white man in America," the speech reads. "A time of looking back, of reflection. It is with a heavy heart that I look back upon what happened to my People. Even before the Pilgrims landed it was common practice for explorers to capture Indians, take them to Europe and sell them as slaves for 220 shillings apiece. The Pilgrims had hardly explored the shores of Cape Cod for four days before they had robbed the graves of my ancestors and stolen their corn and beans."
In 2019, a handful of topics will be covered on this day. According to UAINE's site, "This year's NDOM is dedicated to Missing & Murdered Indigenous Women, Girls & Two Spirits, and to our thousands of relatives who are migrants and are being abused by ICE and other government agencies, including having their children stolen from them. We didn't cross the border—The border crossed us!"
People from around the country can observe National Day of Mourning by remembering Native American suffering and genocide. For those who want to attend the event in person in Plymouth, the gathering will start at noon ET on Thursday. More information can be found at UAINE.org.