Here's What Needs to Happen to Avoid a Government Shutdown
Although all eyes are on the impeachment hearings, a funding resolution that avoids a government shutdown until Dec. 20 is quietly making its way to the U.S. Senate.
The Senate will hold a series of votes at 11:30 a.m. Thursday to pass the government funding measure. Lawmakers from both sides of the aisle have lamented the temporary fix, saying Americans needed peace of mind over the upcoming holidays.
"Even with passage of this CR, American families, businesses, and communities need the certainty of full-year funding," Rep. Nita Lowey, who spearheaded the bill, said Tuesday in a statement.
The House passed a short-term budget 231 to 192 Wednesday in a partisan vote that provided funding for programs and services including state highways, Medicare and Medicaid and the Commerce Department, as well as a pay bump for military members.
Senate Republicans abandoned an effort to make technical changes to the bill Wednesday night, which delayed voting until Thursday—mere hours before the midnight deadline, several outlets reported.
Congress is expected to pass the short-term funding measure, known as a continuing resolution, but President Donald Trump still has to sign it. While it wouldn't be the first time the president shut down the government over the holidays, the White House has indicated it will support the plan.
At issue are Trump's repeated requests for more border funding—requests that House Democrats summarily denied. They've excluded such funds from every budget they've passed this year, and while this resolution does not block funding for Trump's border wall.
Democrats had to compromise to pass the measure, too. Speaker of the House Nancy Pelosi pushed to restore $255 million in expired funding for historically black colleges and universities through the measure.
Senate Republicans blocked the effort, she said in a statement, adding that the loss of funding could force cuts to mentoring and career counseling, staff and S.T.E.M. initiatives in those schools.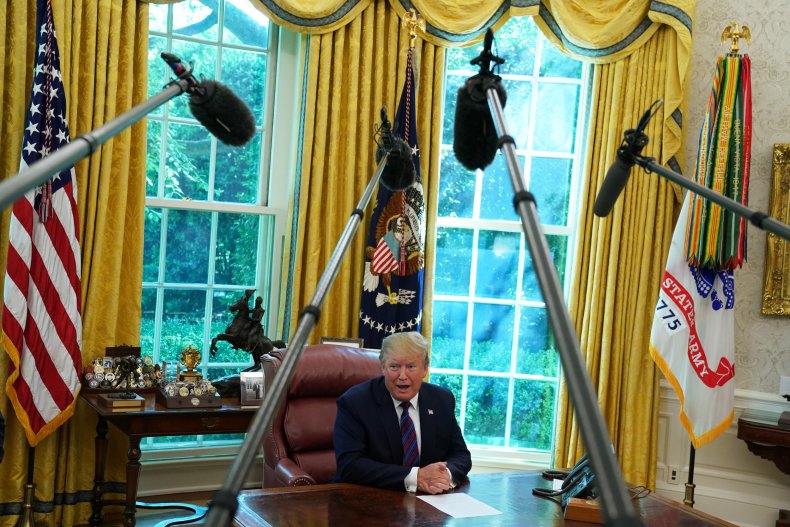 Last year, a similar epilogue brought the longest government shutdown in U.S. history while Trump stymied a permanent solution over border funding. At the time, McConnell said lawmakers wouldn't vote on funds until Trump and Senate Democrats came to an agreement.
The following February, Trump diverted money to the border wall by declaring a national emergency. Today, he's seeking billions more for humanitarian assistance, border operations and other support for the project, according to the Office of Management and Budget.
The stopgap measure buys lawmakers more time to work out disagreements over permanent funding solutions for 12 regular, annual appropriations bills that keep the government running.