What Is Negligent Homicide? U.S. Navy Commanders Charged in Deaths of 17 Sailors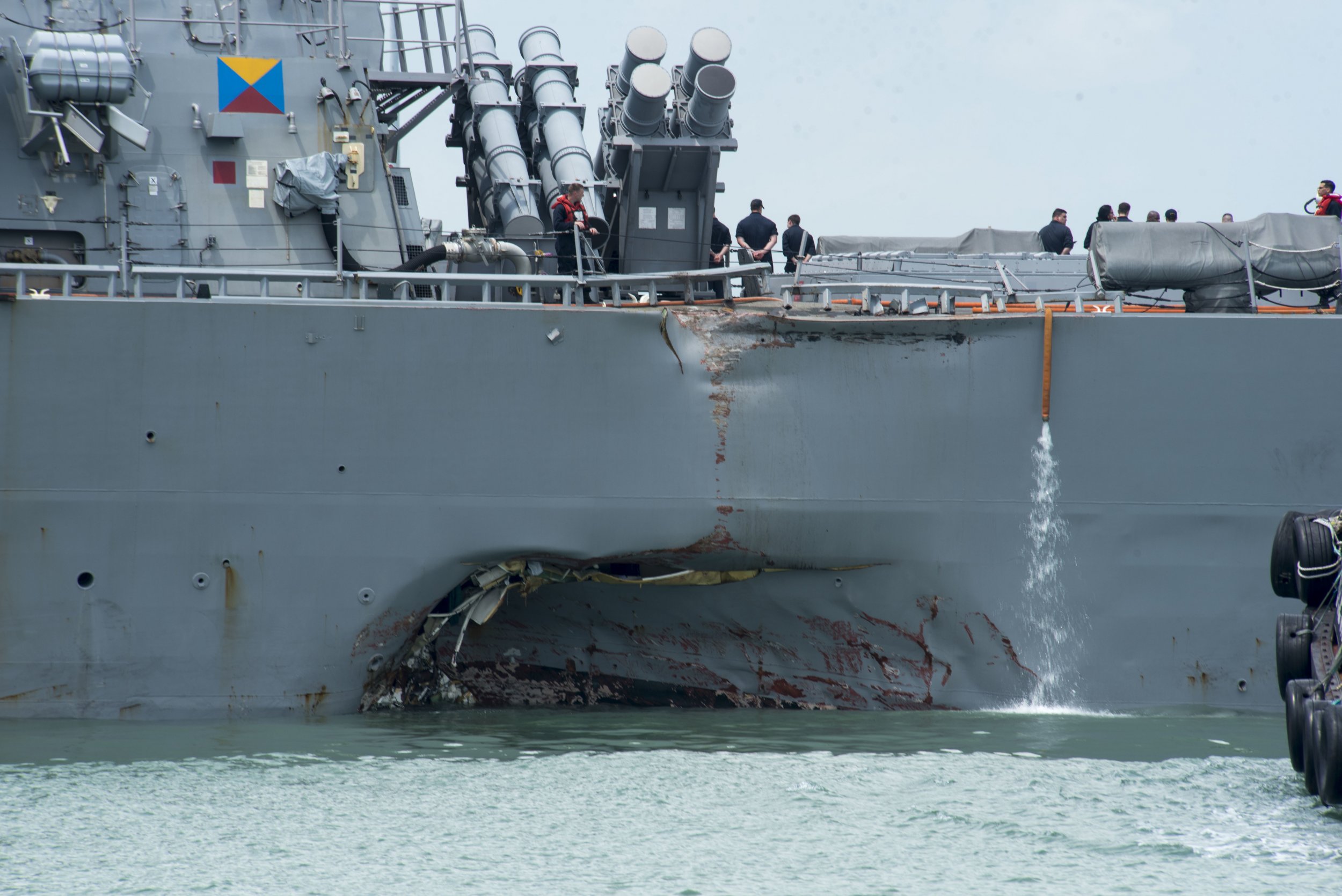 The former commanders of two U.S. Navy ships will face negligent homicide and other criminal charges in relation to accidents in the Pacific last year that left 17 sailors dead, Military Times reported Tuesday.
Cmdr. Bryce Benson, who commaded the USS Fitzgerald when it was involved in a collision in June near Japan that killed seven sailors, will face charges of negligent homicide, dereliction of duty and hazarding a vessel. Three of Benson's lieutenants will also face these charges.
Cmdr. Alfredo J. Sanchez, who commanded the USS McCain when it was involved in a collision in August near Singapore that killed 10 sailors, will face the same charges as Benson. A chief petty officer from the McCain has also been charged with dereliction of duty.
"The announcement of an Article 32 hearing and referral to a court-martial is not intended to and does not reflect a determination of guilt or innocence related to any offenses. All individuals alleged to have committed misconduct are entitled to a presumption of innocence. Additional administrative actions are being conducted for members of both crews including non-judicial punishment for four Fitzgerald and four John S. McCain crewmembers," the U.S. Navy said in a statement.
These charges are the latest and perhaps most serious actions taken against officers involved in the deadly collissions, which were determined to be a result of human error. There have also been high level dismissals, including the firing of Vice Adm. Joseph Aucoin as head of the Japan-based 7th Fleet.
But what is "negligent homicide" and how does it pertain to the U.S. military?
Negligent homicide is the lowest level of criminal homicide in military law and carries a maximum sentence of three years in a military prison. It essentially is an accussation or charge of failing to exercise enough care for the safety of others.
In a case early in the history of the U.S. Code of Military Justice (UCMJ)––federal law established by Congress that dictates military justice system and lists criminal offenses under military law––it stated, "[It] is our view that unlawful homicide through simple negligence is an offense under the Uniform Code of Military Justice," according to the California Law Review at Berkeley Law Scholarship Repository.
Negligent homicide falls under Article 134 of the UCMJ, which states, "Though not specifically mentioned in this chapter, all disorders and neglects to the prejudice of good order and discipline in the armed forces, all conduct of a nature to bring discredit upon the armed forces, and crimes and offenses not capital, of which persons subject to this chapter may be guilty, shall be taken cognizance of by a general, special or summary court-martial, according to the nature and degree of the offense, and shall be punished at the discretion of that court."
In short, it is a serious charge but not the worst allegation a service member can face.
In May 2017, a panel of seven U.S. Air Force officers found Senior Airman Benjamin Hann guilty of negligent homicide in connection to an incident in which Hann hit and killed Staff Sgt. Grant Davis with his car. Hann also pleaded guilty to two counts of dereliction of duty as well as one count of making a false official statement and one count of obstruction of justice. He was ultimately sentenced to four years in jail.