What Is Neonatal Herpes? Parents Speak of 'Unbearable Pain' of Watching 13-Day-Old Baby Die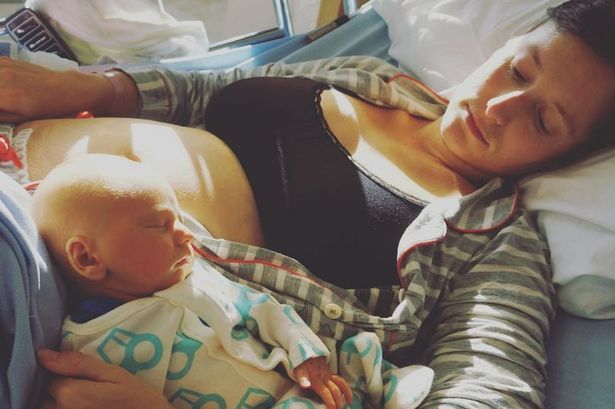 The parents of a newborn baby who was killed by the common cold sore virus have spoken out about their son's "unbearable" death.
Kit Tarka, from Brighton, U.K., died when he was 13-days-old after he contracted HSV1.
His parents Sarah Higson and James de Malplaquet said in a statement that the pain of watching their son's "agonizing" death has caused their family "unbearable" pain.
Doctors at Royal Sussex County Hospital in south England induced Higson's labor and performed an emergency cesarean after a healthy pregnancy. As Tarka had low blood sugar due to birthing difficulties, he was taken into special care at the facility.
Almost a week later Tarka was discharged from the special unit, but was kept for a further two days because he was showing signs of jaundice. He was sent home on his eighth day at hospital. But by day nine he was back in hospital, having trouble waking and feeding.
Blood tests revealed he had a bacterial infection, even though he had been treated with antibiotics in the special care unit. After a momentary improvement in his condition, he was rushed to intensive care on the twelfth day at Evelina London Children's Hospital in the U.K. capital.
The next morning on September 28, 2017 he was dead. Tests confirmed he had HSV1. It is unknown how he contracted it.
Read more: U.S. the most dangerous developed country to give birth in: Report
"Standing by helpless as a doctor performed CPR on our baby's tiny swollen and bleeding body is a memory which will haunt us forever," his parents Sarah and James de Malplaquet wrote.
"How? Why? Who? You automatically start thinking who has given this to him and that's a question that will haunt us for the rest of our lives because we'll never know" Sarah told BBC News.
To commemorate their son's life and raise awareness of the dangers of the common cold sore virus, the boy's parents have founded the Kit Tarka Foundation to prevent newborn deaths.
Neonatal herpes is caused by the herpes simplex virus that also triggers cold sores and genital ulcers in adults. As infants have weak immune systems, the highly contagious virus can be deadly if untreated.
A baby can catch herpes in a number of ways including if a person with a cold sore kisses the baby. It can be spread from mother to baby if she had genital herpes for the first time within the last six weeks of pregnancy, or sores on her breast during feeding.
When the virus hits, a baby's condition can deteriorate rapidly. Initial symptoms include appearing lethargic or irritable and having trouble feeding, as well as a fever and rashes on the skin, inside the mouth, and around the eyes.
Emergency treatment must be sought immediately if a baby becomes floppy and unresponsive, doesn't wake up from sleep, struggles breathing or is doing so rapidly, and their skin turns blue.
When the infection is caught doctors will likely pump the infant with antiviral drugs intravenously. Treatment can take several weeks. As many as one in three newborns will die if the infection spreads to their organs, even if they receive treatment.