What the New Title IX Rules Will Mean for Campus Sexual Assault Cases
Changes to the Department of Education's Title IX rules will give a number of protections to those accused of sexual assault on college campuses, Education Secretary Betsy DeVos said in an announcement Wednesday.
The new guidelines, which will go into effect on August 14, include changes that narrow the definition of what can be deemed sexual harassment and require in-person cross-examinations between alleged perpetrators and their accusers. These live hearings will need to be conducted by a party representative of their choice, but the representative does not have to be a lawyer. Parties could also select a friend, parent or teammate as representatives.
"This makes clear that the accused should have a presumption of innocence," Curt Levey, president of the Committee for Justice, a non-profit supporting constitutionalist judges, and an advocate for respondents of sexual assault to have more rights under Title IX, told Newsweek.
"People on the other side say, 'Well this isn't the criminal justice system' and that's true, but it's basically equivalent of it. Students who are often expelled for this, it ruins not just their academic career, but any chance of getting a good job," said Levey, who headed the Title IX policy team at the Office for Civil Rights under the Bush administration. "The idea that the accused should not have due process is hard for me to understand why anyone sees this as a bad thing."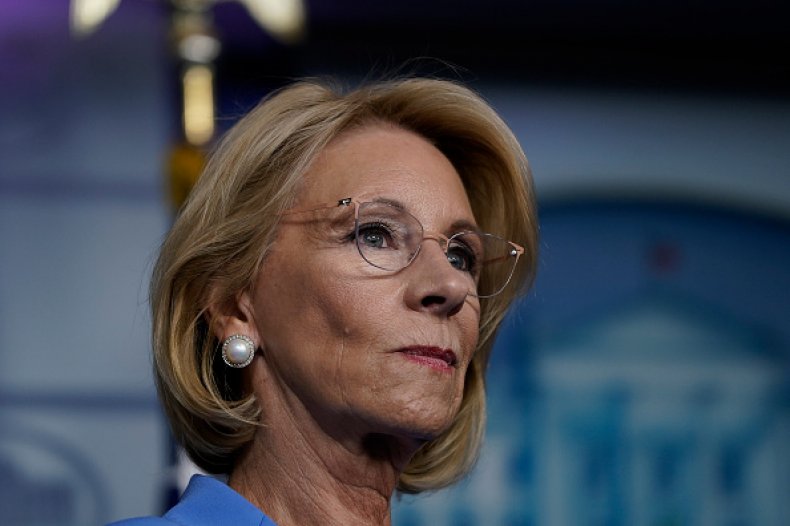 However, Terri Poore, policy director of RALIANCE, a Washington D.C.-based organization dedicated to ending sexual violence, argued the regulations will make college campuses and schools less safe.
"Overall, what we're most concerned about is the message this sends to survivors and students," she told Newsweek. "There are going to be less protections. There are going to be fewer cases that schools are going to be required to look into. There's a lesser standard of how to look into the cases. At this moment, when we're all trying to reckon, as a nation, with the issue of sexual violence, it just seems like a really tone-deaf moment."
Other changes to Title IX policy include no longer considering sexual violence that occurs in an off-campus setting to be the responsibility of a school investigation. Instead, those investigations would be undertaken by local law enforcement.
The shift in responsibility fundamentally undermines the rule, according to Elizabeth Boyle, a federal and state policy organizer with Know Your IX, a survivor- and youth-led project aimed at ending sexual violence at schools.
"Title IX was created in the first place because all students have an equitable right to access this education free from harm and no student should have to go outside of their school to an additional courtroom, legal setting, to ensure they can get accommodation for protection," Boyle told Newsweek.
The decision to implement the new ruling at this time may be challenging for students who are already struggling to gain a sense of normalcy now that campuses have closed and classes have moved online, she added.
"This rule is coming to us in the middle of a global pandemic when students are not physically present in school and their lives are already thrown into chaos," Boyle continued, adding that the new regulations total over 2,000 pages and it is "ridiculous to assume" that students could read through the document, understand it and then "advocate for their rights."
Although no national data is available for the reporting and outcome of Title IX cases, the University of Michigan's 2018-2019 annual report indicated that of the 272 reports of Prohibited Conduct cases in the last school year, 127 were considered by the school's review panel and only 16 investigations were opened following review. Of the 16 investigations, three cases resulted in a violation finding.
Cynthia Garrett, co-president of Families Advocating for Campus Equality (FACE), a group that has been advocating more protections for respondents, told Newsweek she believes the new guidelines will benefit both parties in an investigation.
"The decisions are issued with reasons and are reliable," she said. "You're not going to have people running to court. You're not going to have to redo the process because it was not effective and people are objecting."
The regulations will also lift the previous 60-day timeline to turnaround cases that existed under the Obama and Bush administrations, leaving students with no indication of where their case stands.
"These rules are just another clear indication that the voices and rights of survivors are really not put at the forefront in making this," said Boyle, "It's very frustrating and disappointing that this is what they've come out with especially in the time of such uncertainty for college students all over the country."