Malaysia's 1MDB Scandal: Ex-PM Najib Razak Faces Arrest Soon, Says Successor Mahathir Mohamad
Malaysian prime minister Mahathir Mohamad said on Thursday that his predecesor Najib Rizak will be arrested soon, the moment the ever-expanding inquiry into Najib's alleged pocketing of billions of dollars worth of state development funds gathers sufficient evidence for the charges to stand in court.
The statement, reported by Channel News Asia, represents a stunning fall from grace for Najib, who only a few months ago was overwhelming favorite to win his third term as prime minister, a post he had held for nearly a decade. He was lauded by U.S. President Donald Trump and cherished by Chinese President Xi Jinping.
Najib's crushing defeat at the ballot box on May 9 was all the more stunning, then, as Malaysians, fed up with soaring living costs and corruption claims swirling around the prime minister, voted to oust his party, the United Malays National Organisation (UNMO.)
Najib was succeeded by Mahathir, who made a point of calling his opponent a "thief" on the campaign trail, and became the world's oldest elected leader at 92. But this was only the beginning of Najib's woes, with Mahathir's government swiftly reopening a corruption inquiry into Najib. The charge sheet continues to grow by the day, as stashes of assets and cash, preposterous speding binges and ever-shadier deals are dragged into the light.
The probe—independetly pursued not just by Malaysia but by several foreign governments, including the U.S., Switzerland and France—centres on suspicions that Najib and his associates pocketed billions of dollars from Malaysia's state-run investment fund 1Malaysia Development Berhad (1MDB), which the then-prime minister had started in 2009.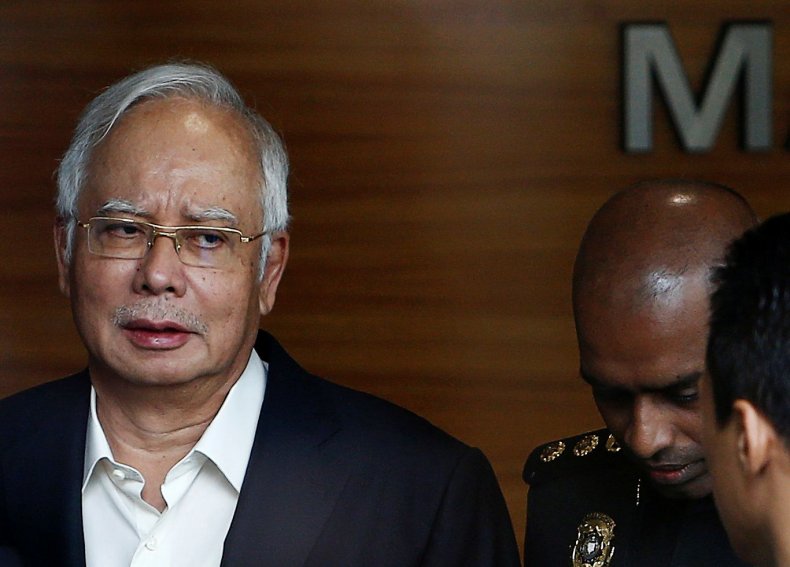 Now the domestic case is closing in on him. On Monday, Najib's former aide, named by the Straits Times as Amhari Efendi Nazaruddin, 42, was arrested. On Thursday, the accounts of his UNMO party were frozen. That same day, Mohathir said Najib will be charged any day now, insisting there must be enough evidence "so that we will not fail in the bid."
Najib and his wife Rosmah Mansor have been at the center of lurid stories of seizures, linking to them to eye-watering avarice.
On Wednesday, Malaysian police said they had seized jewellery, handbags and watches worth up to $273m from former properties linked to Najib and his wife.
Police commissioner Amar Singh said the raids yielded 1,400 necklaces, 567 handbags, 23 watches, 2,200 rings, 1,600 brooches and 14 tiaras. One gold and diamond necklace alone was worth $1.6m - in a country where the median monthly salary sits at about $550.
The Hermes handbags alone were worth $12.7m, while the watches, which included Rolex, Richard Mille and Chopard, were valued at $19m. Some 274 pairs of designer sunglasses, made by brands such as Cartier, Versace and Dior, were also part of the seized stash, Malaysian news outlet Bernama reported.
Najib insisted they were gifts from world leaders.
"As most of the items were gifts accumulated over decades, the family is not aware of how much was paid by those who had gifted these items," Najib said, according to theStraits Times.
"Any valuation based on retail price and at current prices would be unrealistic, likely to be grossly inflated and will give a distorted picture as these items were received as gifts over a period that spans decades," he added.
In May, more than $29 million in cash had been found, which took 22 bank officers two days to count. It was in 26 different currencies – mainly Malaysian ringgit, US dollars and Singapore dollars.
Najib denies wrongdoing and said in an interview with Reuters that he was unaware of 1MDB transactions or of money appearing in his account.
But Mahathir countered that his signatures were on the related documents involving the state fund.
"Who wants to believe him that he didn't know when he signed? Every bit of money that goes in and out of the first borrowing of RM42 billion ($10.5bn), all his signature. If he doesn't know, it must be that he doesn't understand what a signature means," Mahathir told the Malay Mail.
Ibrahim Suffian, director of the Malaysian opinion research group the Merdeka Center in Selangor told Newsweek: "People have acted with a sense of incredulity and anger, angry over how Najib came into possession such funds".
Money that went missing allegedly paid for yachts, paintings - and, bizzarely, the Hollywood film The Wolf of Wall Street, through Najib's movie producer stepson Riza Aziz. More than $27 million was allegedly used to buy a rare pink diamond necklace for Najib's wife.
The reaction among the voters who ousted Najib leaned more toward incredulity than surprise. Research analyst Rashaad Ali, from the S. Rajaratnam School of International Studies in Singapore, another country seeking to charge Najib, told Newsweek that Malaysians knew of the profligacy of the Najib and his wife and went to the ballot box to do something about it.
"Urban Malaysians are well aware of the scandals that have surrounded the former prime minister, while rural Malaysians at the very least, knew of his wife's lavish lifestyle," he said. "In this vein, when details emerged about the seizing of their properties Malaysians were not taken by surprise but rather, taken aback by the sheer amount seized."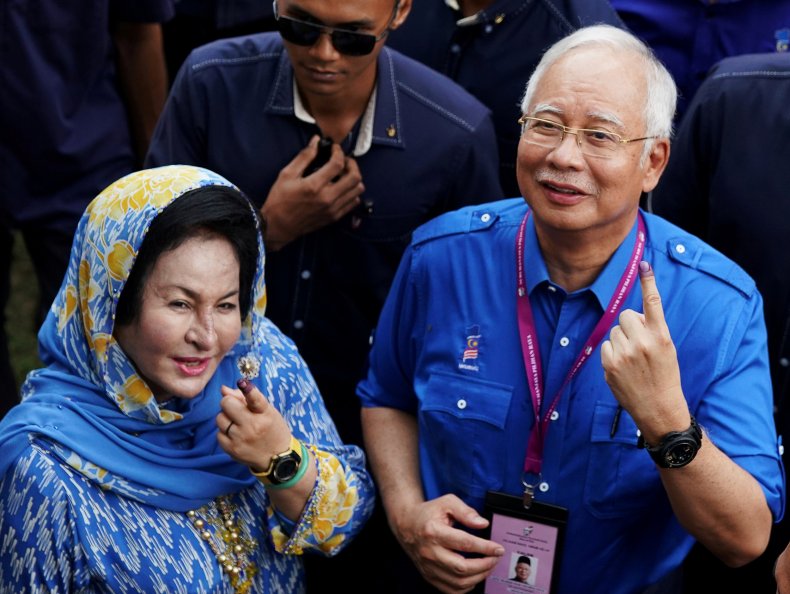 American prosecutors say that more than $4.5bn was laundered through a web of transactions and shell companies. They say some of the money stolen from 1MDB was put into the account of someone called "Malaysian Official 1, thought to be Razak's personal account where some $681 million is alleged to have ended up.
The then Attorney-General Mohamed Apandi Ali cleared Najib in 2016, saying the money was a donation from the Saudi royal family and that most of it was returned.
A U.S. law enforcement official told Reuters they would prefer Malaysia, rather than the U.S., to file charges against Najib and the present Attorney-General Tommy Thomas is reviewing the evidence.
However Najib is not going to go quietly and has hired a top-notch U.S. legal team.
In the interview with Reuters, Najib insisted there was no proof of the allegations against him.
"I didn't benefit from 1MDB, because I believe that the 1MDB was created to do something good for the country. If I knew there was going to be misappropriation of funds, if that was my knowledge, I would have acted," he said.
Zeger van der Wal, associate Professor at the Lee Kuan Yew School of Public Policy, Singapore, said Najib might be down, but is not out—yet.
"There is quite a bit of momentum to pursue legal investigations against the former prime minister. On the other hand, it seems he still has a pretty powerful network of friends and mostly businesses surrounding him," he told Newsweek.
"There could be a years' long court battle where in the end he may be convicted and may have to pay a fine or serve a bit of jail time. The big question is political expediency, whether the new folks in power can invest a lot of time and effort in pursuing this."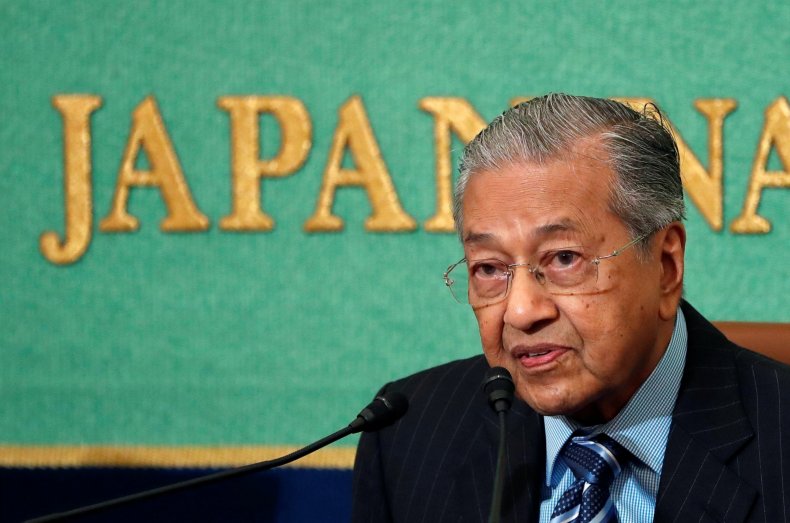 Meanwhile, the Malaysian authorities remain concerned the former first couple might attempt to make an old-fashioned run for it. They already made plans to visit Jakarta soon after the shock election defeat, but Malaysia's Immigration Department has barred them from leaving the country.
"He may try to leave the country under a different pretext," Rashaad Ali told Newsweek. "But his every move is being closely watched by both the authorities as well as the public. Many people are keen to see him brought to justice as Malaysians are heavily invested in the ongoing investigations."
He also said that Najib still enjoys support in his constituency of Pekan in Pahang, which he returned to after his residence was raided by police.
"It appears he continues to live inside a bubble of political opinion, which was arguably one of the reasons of his downfall," he told Newsweek.