"Nomophobia" has been added to the Oxford English Dictionary, alongside Star Wars-coined words "Jedi," "Padawan" and "lightsaber," Hawaiian food export "poke" and "whatevs."
If you're wondering what exactly nomophobia is—the chances are you probably suffer from it if you're a millennial.
Nomophobia is a noun that refers to "anxiety about not having access to a mobile phone or mobile phone services," as the Oxford English Dictionary defined it this week. If you experience nomophobia, you could be nomophobic—the adjective used to describe someone "suffering from anxiety about not having access to a mobile phone or mobile phone services."
With the proliferation of smartphones and social media platforms facilitating 24-hour connectivity, nomophobia is a problem that really could only exist now—along with text claw—and is a common affliction amongst millennials and Generation Z (that is to say people under the age of 37, at least according to Nielsen's definition of millennial).
Nomophobia is not a scientific term, nor an official diagnosis, though it may sound like one. Lynne Murphy, linguistics professor at the University of Sussex in the U.K., theorizes that this might be because "we're very interested in words for feelings and fears these days." Murphy tells Newsweek: "Perhaps because there's more public discussion of feelings, and we're more used to medicalized terminology for mental states, and also perhaps because we are in a time with a lot of change and uncertainty. Being able to name feelings might give some comfort and start some conversations."
The first use of nomophobia was in 2008 in a survey for the U.K.'s Post Office conducted by polling company YouGov, according to Dictionary.com. The word appeared in the results as nomo-phobia and is an amalgamation of "no," "mobile" and "phobia." The poll reportedly found that 50 percent of Brits suffered from stress when away from their phones.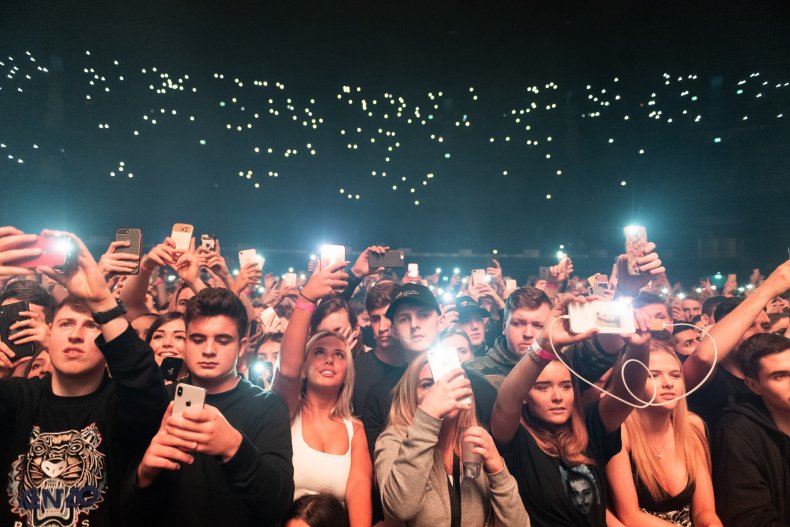 The term nomophobia has become more frequently used around the world since then. In 2012, a survey by internet security company SecurEnvoy found that 66 percent of Brits suffered from nomophobia.
The results of the SecurEnvoy survey quantified some of the symptoms of nomophobia. Adolescence psychologist Michael Carr-Gregg said at the time: "Some people get panic attacks when they are not with their phones. Others become very anxious and make all endeavors to locate the mobile phone."
"This is the most tribal generation of young people. Adolescents want to be with their friends on a 24-hour basis," added Carr.
A study published last year in the scientific journal Heliyon measured the correlation between four components of nomophobia—giving up convenience, not being able to communicate, not being able to access information and losing connectedness—and obsessive-compulsive behavior. Though the researchers said more studies would need to be done on the subject, they found a "meaningful comparison" between nomophobic traits and obsessive-compulsive traits.
The study found "that being without one's mobile phone might lead to habitual distraction in everyday situations such as classroom learning, heightened state of anxiety, and poor short-term memory" and that "being without one's phone may lead to distracting thoughts on what messages or news may be awaiting."
This article has been updated with additional comments from linguistics expert Lynne Murphy.