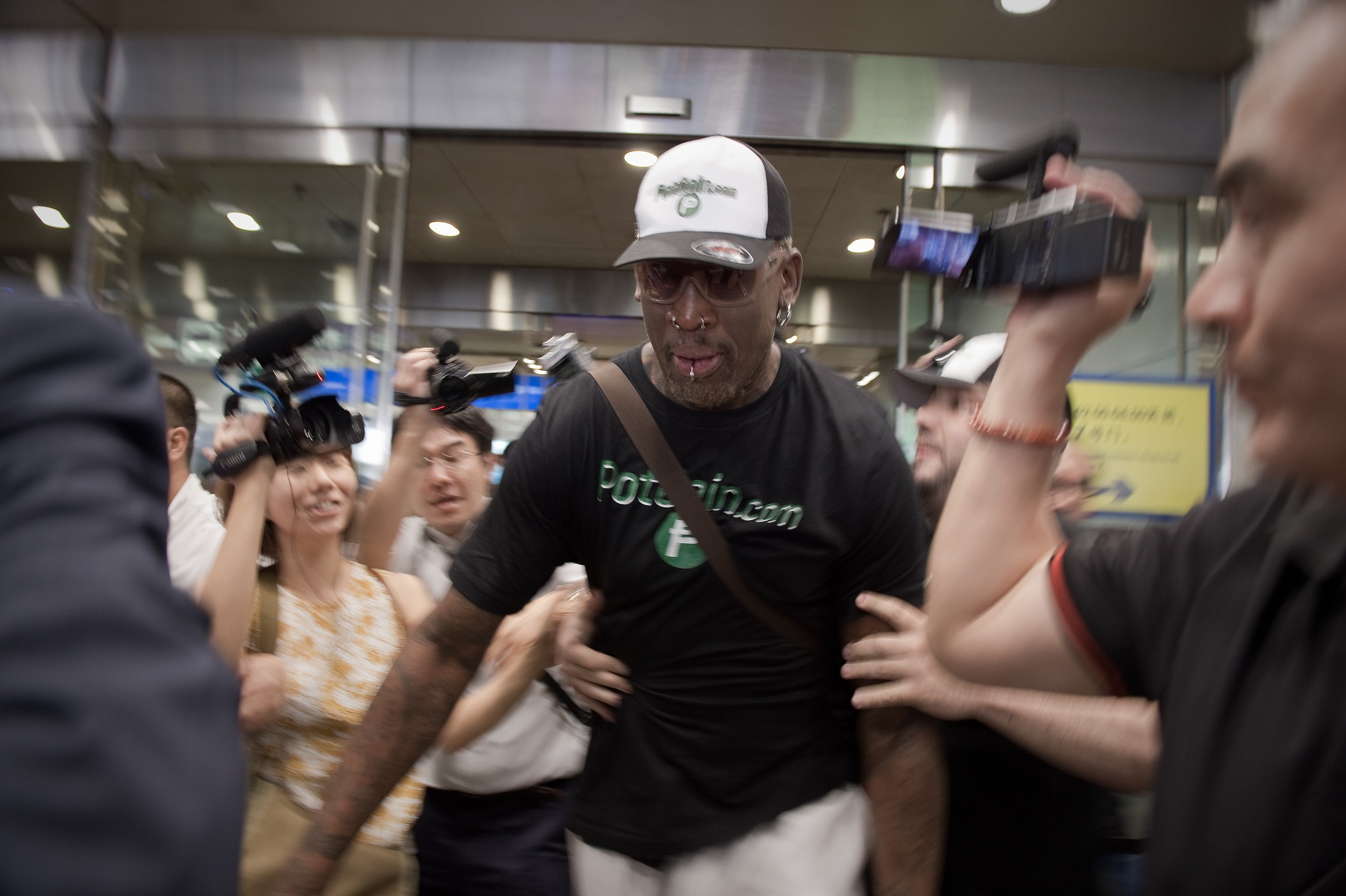 Former basketball star and current diplomatic hopeful Dennis Rodman called Monday for a meeting with President Donald Trump over the escalating crisis between the U.S. and North Korea. The retired athlete, who has visited the reclusive, authoritarian state several times in recent years, said he could communicate to Trump what North Korean supreme leader Kim Jong Un wants, hopefully easing tensions between the two nuclear-armed rivals.
Rodman, an NBA Hall of Famer who affectionately calls the young head of North Korea a "friend for life" and "the Marshal," traveled to Beijing Sunday after "a great week of humanitarian work in Guam and Tokyo," according to a recent tweet. Rodman did not explicitly state the purpose of his stay in China, but the message was accompanied by a photo showing the ex-power forward donning a T-shirt depicting himself between Kim and Trump alongside U.S. and North Korean flags and the word "unite." Upon speculation that Rodman would be making his sixth trip to North Korea, he took the opportunity to reveal his effort to pass along high-priority information from Kim to Trump.
Related: North Korea Says U.S. Declared War and Is Trying to Invade With Help From South and Japan
"I've been trying to tell Donald since day one: 'Come talk to me, man…I'll tell you what the Marshal wants more than anything…It's not even that much,'" Rodman told The Guardian in an interview Monday.
But when the U.K. newspaper asked him what Kim was seeking, Rodman reportedly refused to give it up, saying "I ain't telling you…I will tell him [Trump] when I see him."
While the athlete turned citizen diplomat and real estate tycoon turned president have differed in their opinions on North Korea, where Kim's nuclear weapons and ballistic missile program have reached unprecedented power and range in spite of international sanctions, one of Trump's most recent moves may put an end to Rodman's self-styled peace initiative. After jailed U.S. student Otto Warmbier was returned from North Korea to the U.S. in critical condition in June and died days later, the U.S. enacted a ban on all U.S. travel to North Korea in September.
Despite that restriction, Rodman said during his trip to Guam on Thursday that he would risk his own life to "bridge the gap" between the U.S. and North Korea.
Rodman first traveled to North Korea, along with members of VICE Media and the Harlem Globetrotters, to host a basketball exhibition in February 2013. After an apparent surprise meeting between the U.S. party and Kim, Rodman and the supreme leader apparently hit it off, and Rodman has returned four more times since.
The unique position held by Rodman, who has been no stranger to controversy, has placed him in the middle of an ongoing war of words between Trump, Kim and their respective administrations. Trump, who took office earlier this year, vowed to curb North Korea's nuclear weapons and ballistic missile development, but Kim has managed to oversee major accomplishments, including the country's first intercontinental ballistic missile (ICBM) launches and a powerful hydrogen bomb test, in recent months.
Despite increased U.S. diplomatic, economic and military pressure, North Korea has argued it reserved the right to possess and develop nuclear weapons and ICBMs in order to block potential U.S. plans to invade and overthrow Kim's government. Trump has threatened to disarm the tiny, militarized country by force if it did not abandon its arsenal.
Rodman wasn't the only person calling for a dialogue between the U.S. and North Korea. Russian Foreign Minister Sergei Lavrov said Friday that North Korea was willing to talk to the U.S., but both Washington and Pyongyang have produced mixed reactions to the possibility of direct negotiations in the past. Chinese Foreign Ministry spokesperson Lu Kang said Monday that he hoped the U.S. and North Korea "can build up mutual trust and improve relations through direct dialogue and engagement so as to create necessary conditions for the final settlement of the issue."