Kim Jong Un was one of the only foreign leaders who didn't congratulate Joe Biden for winning the presidential election, but the supreme leader of North Korea has made several comments alluding to his view of Biden as the U.S. president.
A few weeks before Biden's inauguration, Kim spoke at a Workers' Party Congress meeting in Pyongyang and called the U.S. his country's "biggest enemy," the state-run Korean Central News Agency (KCNA) reported, according to Reuters.
"Our foreign political activities should be focused and redirected on subduing the U.S., our biggest enemy and main obstacle to our innovated development," Kim said during the meeting, according to Reuters. "No matter who is in power in the U.S., the true nature of the U.S. and its fundamental policies towards North Korea never change."
Additionally, KCNA reported that Kim said the "key to establishing new relations between [North Korea] and the United States is whether the United States withdraws its hostile policy" from North Korea, while adding that "the reality is that we can achieve peace and prosperity on the Korean Peninsula when we constantly build up our national defense and suppress U.S. military threats."
According to Reuters, Kim also criticized South Korea for engaging in "non-fundamental" issues such as aid amid the ongoing COVID-19 pandemic and noted that Seoul should stop conducting military drills and buying military supplies from the U.S.
In response, the South Korean Unification Ministry released a statement saying, "The inauguration of the new U.S. administration can be a good opportunity to improve U.S.–North Korea relations."
Kim previously met with former President Donald Trump on three separate occasions, but their meetings did not end with a denuclearization deal nor improve relations with the two countries.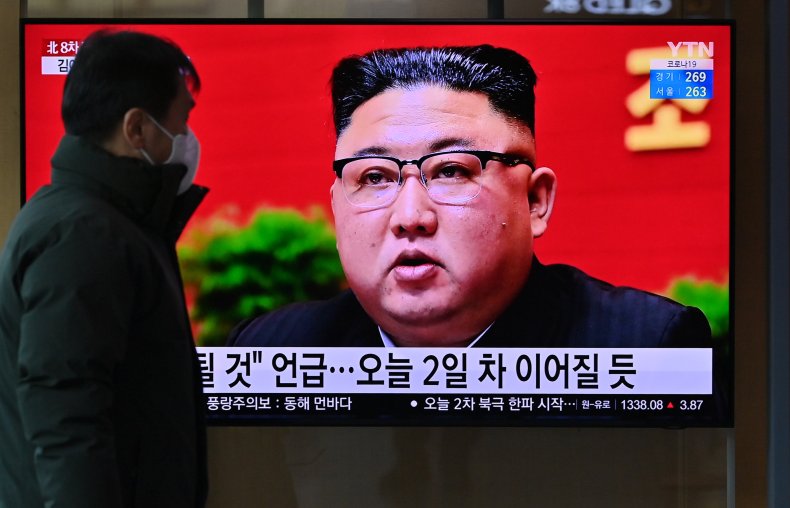 Yoo Ho-yeol, professor of North Korean studies at Korea University in Seoul, told Reuters after Kim's remarks that "North Korea is declaring the window for cooperation is much, much smaller for the Biden administration."
In 2019, the KCNA news agency criticized Biden, calling him a "rabid dog" and stated that he was showing signs of "the final stage of dementia."
Prior to winning the presidential election, Biden made exclusive remarks to the South Korean news agency, Yonhap in October and said, "I'll engage in principled diplomacy and keep pressing toward a denuclearized North Korea and a unified Korean Peninsula, while working to reunite Korean Americans separated from loved ones in North Korea for decades."
During the final presidential debate, in October, Biden offered some harsh criticism of Kim, calling him a "thug" but noting that he would meet with the supreme leader of North Korea "on the condition that he would agree that he would be drawing down his nuclear capacity."
While Biden did not directly mention North Korea or Kim during his inaugural address, he indicated a change from Trump's "America First" ideal and said, "We will repair our alliances and engage with the world once again, not to meet yesterday's challenges, but today's and tomorrow's."
Antony Blinken, Biden's secretary of state nominee, also spoke about North Korea during a Senate confirmation hearing on Tuesday, saying, "I think we have to review, and we intend to review, the entire approach and policy toward North Korea."
"Because this is a hard problem that has plagued administration after administration. And it's a problem that has not gotten better—in fact, it's gotten worse," Blinken added.
Newsweek reached out to the White House for comment but did not receive a response in time for publication.