What North Korea's Military Looks Like Compared to the U.S.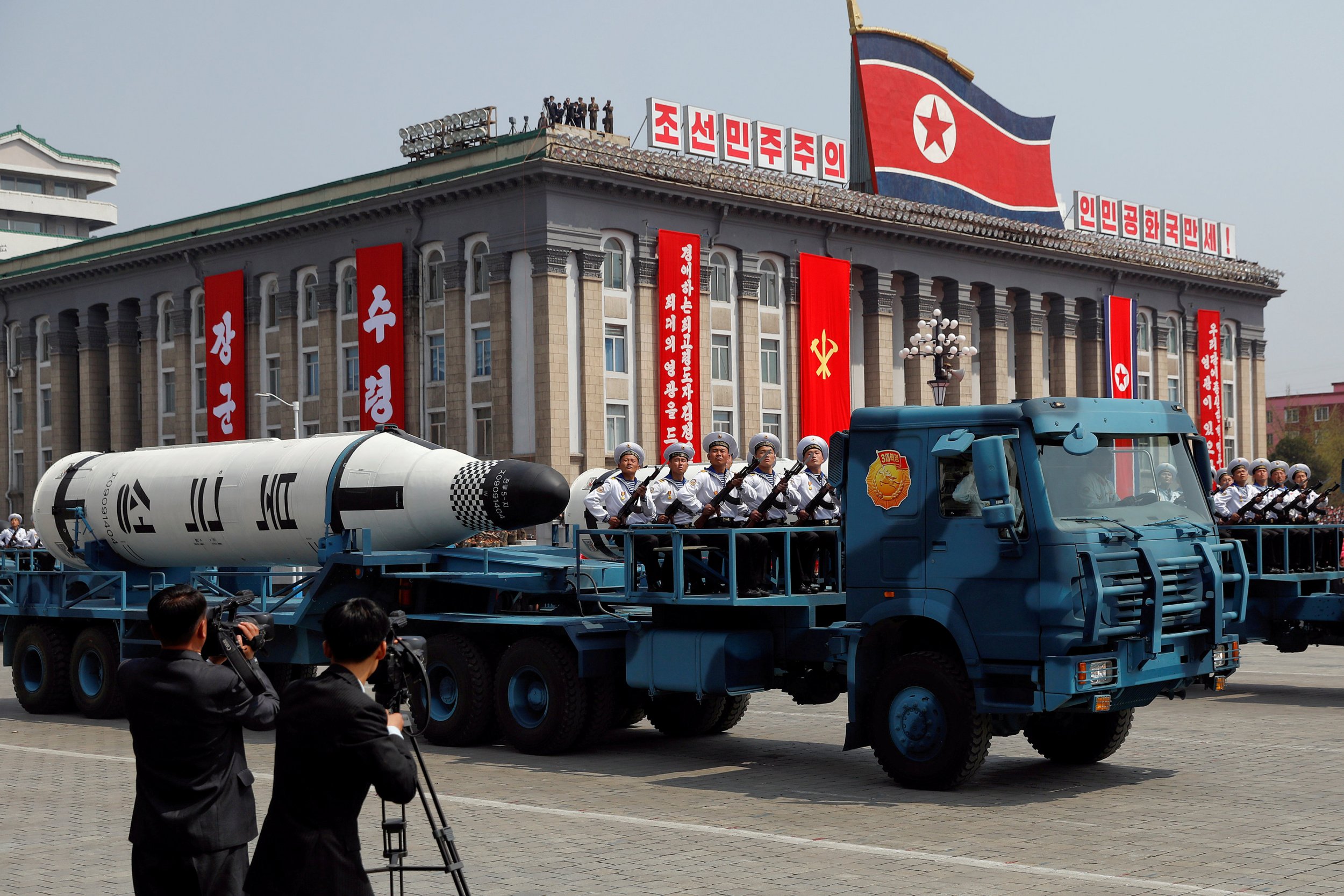 The U.S. and North Korea continued their dangerous game of chicken Tuesday, with both nations escalating the potential for a conflict in the Korean Peninsula by increasing military maneuvers and offering tense rhetoric. North Korea's military held a large-scale artillery drill to celebrate the 85th anniversary of the country's army, while officials from the U.S., South Korea and Japan met in Tokyo to discuss Pyongyang's nuclear weapons program.
North Korea's military drill underscored that Pyongyang controls a powerful standing army despite the nation's limited financial resources. North Korea's armed forces counts 1.19 million service members and another 7.7 million reservists. The isolated nation of 25 million people is also home to 3,500 battle tanks, 72 submarines, 302 helicopters, 563 combat aircraft and 21,100 artillery pieces, making up one of the most powerful militaries in the world.
As North Korea flexed its military muscle Tuesday, the U.S. did the same in the Yellow Sea near the western coast of the Korean Peninsula, as it held military exercises with South Korea's navy. A U.S. submarine also stopped in a South Korean port, marking Washington's latest show of force in the region.
President Donald Trump said Monday the U.S. would consider new sanctions against North Korea to discourage further nuclear development. "This is a real threat to the world, whether we want to talk about it or not," Trump said. "North Korea's a big world problem, and it's a problem we have to finally solve. People put blindfolds on for decades and now it's time to solve the problem."
While North Korea remains a threat, the U.S.'s overall military capabilities are unparalleled. The U.S. has one of the world's largest military budgets accounting for gross domestic product, spending roughly $618 billion a year on arms and other military capabilities. It has nearly 8,000 nuclear warheads in reserve, 13,900 aircraft, 920 attack helicopters and 72 submarines, along with 800 overseas military bases in 70 countries scattered across strategic areas throughout the world, and roughly 150,090 soldiers stationed across 150 countries. The U.S. employs about 1,066,600 soldiers.
The U.S. military could soon get even bigger, as Trump has urged Congress to increase military spending next year by 10 percent, or $54 billion. He told state governors earlier this year that his budget plan included a "historic increase in defense spending to rebuild the depleted military of the United States of America."
Trump's remarks did not go unnoticed. North Korea announced earlier this month it would continue to dedicate about 16 percent of its national budget to defense. "In order to handle the critical situation of the nuclear threat and endless war provocations of the United States and its followers, we will apportion 15.8 percent of all spending to defense expenditures, in order to strengthen the self-defense and pre-emptive capabilities centered around our nuclear armed forces," Pyongyang's Workers' Party newspaper Rodong Sinmun reported.