What Is the Occupy ICE Movement? Federal Officers Clear Protesters From ICE Facility in Portland, Oregon
Federal officers moved to clear out protesters at a U.S. Immigration and Customs Enforcement facility in Portland, Oregon. The protesters are part of the Occupy ICE movement, which aims to disrupt and push for the abolition of the federal agency.
Occupy ICE PDX protesters began camping at the ICE facility on Southwest Macadam Avenue on June 17 in response to President Donald Trump's "zero-tolerance" practice, which led to the separation of migrant children from their parents at the U.S.-Mexico border. According to KATU, protesters managed to shut down the facility three days later.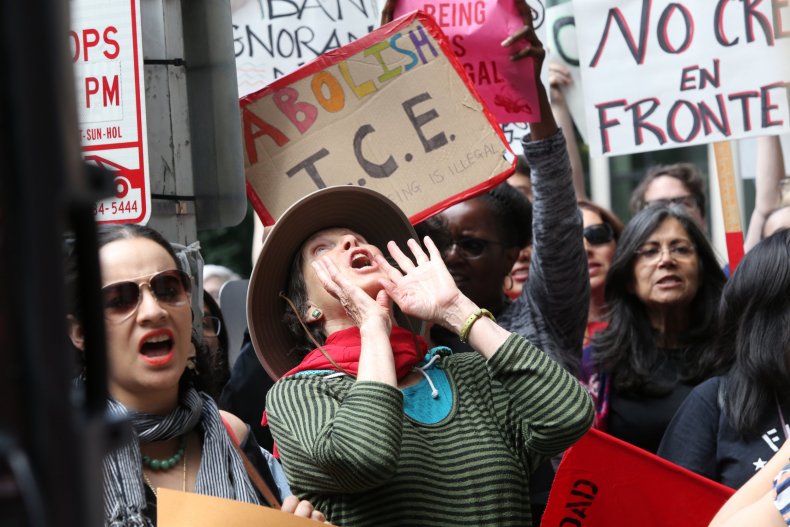 Officers with the Federal Protective Service (FPS) handed out notices to protesters earlier in the week to vacate the facility.
"We acknowledge the community's concerns driving these demonstrations. While demonstrators have a lawful right to assemble and voice their concerns, blocking the building's driveways or entrances is not permitted under federal law," Billy J. Williams, U.S. Attorney for the District of Oregon, said in a statement Monday.
The statement warned that protesters who continued to obstruct the entrance of the ICE facility would be arrested and prosecuted in federal court. In a brief statement, federal authorities said Thursday, "Federal law enforcement officers initiated a law enforcement action to reopen" the federal building.
Dozens of officers, including some in riot gear, arrived at the protest site shortly after 6 a.m., The Oregonian reported.
Despite federal officers moving in to disperse protesters, the Abolish ICE PDX movement appeared resolute in its mission. The group took to Twitter and vowed it would "grow stronger tomorrow!"
"DHS is currently clearing the front of the building, arresting the people who were chained up and threatening people with felony charges. We are here holding s--t down and we're not going anywhere. Arrest us today, we'll grow stronger tomorrow!" the group tweeted.
Federal Protective Services could not be immediately reached for comment. However, a federal spokesperson for FPS told KGW reporter Tim Gordon that eight people have been arrested as officers work to clear the area around the ICE facility. No injuries have been reported.