The 2020 election has entered its second day with no clear winner in sight. Four states in particular remain crucial for both President Donald Trump and Democratic candidate Joe Biden in their hopes of securing the White House. Meanwhile, elections officials scramble to count the outstanding ballots.
Officials in Georgia, Michigan, Pennsylvania and Wisconsin have offered varying predictions of when their state's unofficial vote totals will come in, with some stating it could take several days.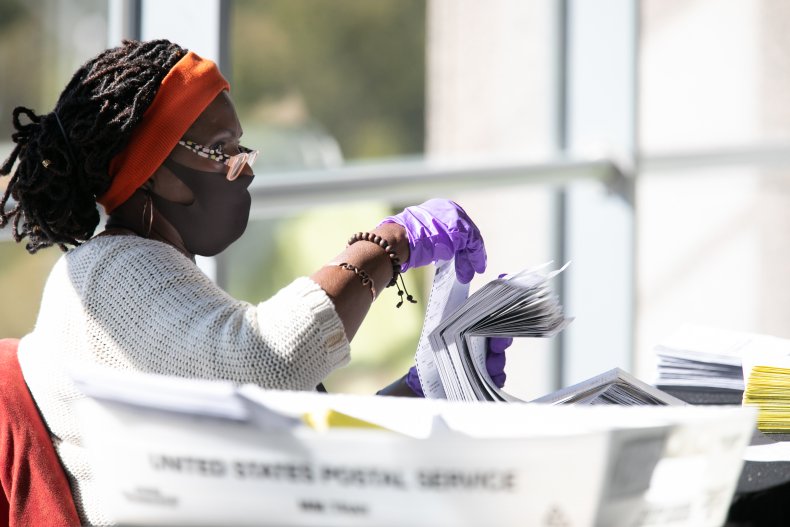 Pennsylvania Secretary of State Kathy Boockvar said during an interview with NPR on Tuesday that the "overwhelming majority" of ballots, including mail-in, absentee and in-person, will be counted "within a couple of days."
The state did not start processing ballots until November 3, placing them steps behind others that could count votes as soon as they arrived. The U.S. Supreme Court ruled on Monday that ballots coming in up to three days after Election Day could still be counted in Pennsylvania.
During the state's primary election in June, when a large amount of people opted to cast mail-in votes, it took some counties two weeks to tally provisional ballots, meaning ballots that were late arriving, Boockvar said. But most counties finished counting mail-in and absentee ballots within a week post-election.
While more Pennsylvanians voted in the November election than they did in June, Boockvar stressed that the state had taken steps since then to ensure counties had enough staff members, equipment and best practices in place to operate smoothly.
"They are just completely dedicated to counting every vote accurately as quickly as humanly possible," Boockvar told NPR, anticipating that the process could take a couple of days.
Officials in Georgia, Michigan and Wisconsin were more hopeful that results would be announced by the end of Wednesday. Georgia Secretary of State Brad Raffensperger told NBC News that as of Wednesday morning, the state had about 2 percent of outstanding votes left to count.
He speculated that they would not change the outcome of the race, which currently shows Trump leading Biden by less than 100,000 votes, according to the Associated Press. But many of the outstanding ballots come from counties with large swaths of Democratic voters, leaving Biden supporters hopeful that the state could flip blue. Raffensperger expected a final vote count later Wednesday, he said.
In Michigan, Secretary of State Jocelyn Benson tweeted Wednesday around 9 a.m. ET that officials were still counting absentee ballots in Detroit, Flint and Grand Rapids, each of which have significant percentages of Democratic voters.
"No matter how long it takes, Michigan citizens can be certain that their ballots will be counted," Benson wrote, adding in another tweet that elections officials "worked through the night" to continue counting votes.
During a press conference Tuesday night, Benson mentioned that results would emerge from the state in "the days ahead." Then, during an appearance on CNN Wednesday morning, Benson speculated that potential results could be released by the end of the day.
"We're on track to have a much more complete picture, if not the vast majority of jurisdictions reporting out by the end of today," she said.
Then there's Wisconsin, where ballots couldn't be processed until polls opened at 7 a.m. on Election Day. Unofficial statewide tallies have already been reported. Meagan Wolfe, the Wisconsin elections commission director, stopped by NBC News Wednesday morning to give an update.
All the counties' unofficial results had been reported and officials were now "in the important process of triple-checking results," Wolfe said.