What is Operation Legend? Trump May Use Federal Forces in U.S. Cities
In a Monday letter to Attorney General William Barr and Department of Homeland Security Acting Secretary Chad Wolf, the mayors of six major U.S. cities called for an end to federal law enforcement units arresting people during the ongoing riots against racism and police brutality.
Members participating in protests in Portland, Oregon reported arrests being made by individuals wearing camouflage. No badges or identifying marks were seen on the uniforms of the alleged officers. President Donald Trump said Monday that he would send federal law enforcement officers to other cities where he viewed the demonstrations as being out of control.
According to the letter sent to Barr and Wolf, "these forces are conducting law enforcement activities without coordination or authorization of local law enforcement officials. The unilateral deployment of these forces into American cities is unprecedented and violates fundamental constitutional protections and tenets of federalism."
"This abuse of power cannot continue," the letter added.
Portland Mayor Ted Wheeler signed the letter, as did Chicago Mayor Lori Lightfoot, Atlanta Mayor Keisha Lance Bottoms, Seattle Mayor Jenny Durkan, Washington, D.C. Mayor Muriel Bowser and Kansas City Mayor Quinton D. Lucas.
Newsweek reached out to the Department of Justice for comment.
Trump told reporters on Monday that he would send federal law enforcement officers to other cities. While he listed a few cities, he did not specify in which areas officers would arrive.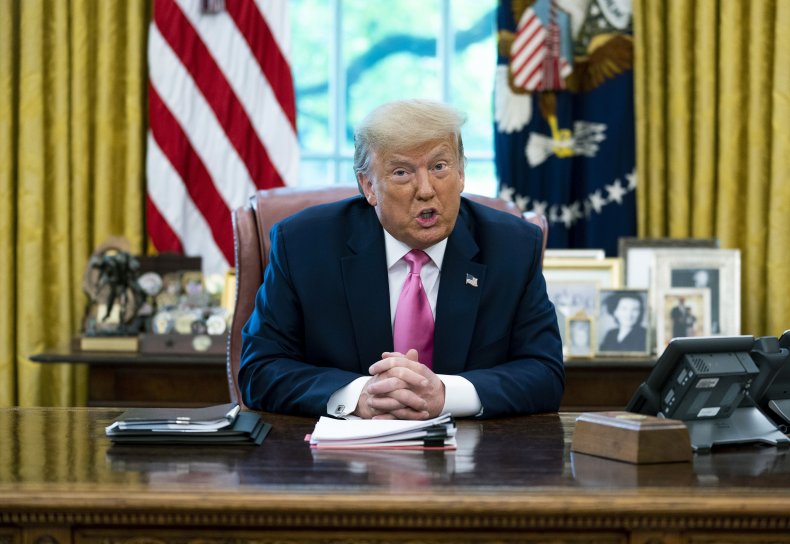 "I'm gonna do something, that I can tell you," Trump said, "because we're not going to let New York and Chicago and Philadelphia and Detroit and Baltimore and all of these—Oakland is a mess. We're not going to let this happen in our country."
"More federal law enforcement, that I can tell you," Trump added. "In Portland, they've done a fantastic job. They've been there three days and they really have done a fantastic job in a short period of time. No problem." Trump said the people who had been arrested by federal law enforcement units were "anarchists, these are not protesters."
The influx of officers may be part of an initiative by the U.S. Department of Justice called Operation Legend. In July, a press release described Operation Legend as "a sustained, systematic and coordinated law enforcement initiative across all federal law enforcement agencies working in conjunction with state and local law enforcement officials to fight the sudden surge of violent crime."
"Operation Legend was created as a result of President Trump's promise to assist America's cities that are plagued by recent violence," the release said.
Named after LeGend Taliferro, a four-year-old Kansas City, Missouri boy who was shot in the face while sleeping, Attorney General Barr said the operation would "combat the disturbing uptick in violence" in U.S. cities.
Chicago, one of the cities name-checked by Trump in his Monday comments, saw protests turn violent at Grant Park on Friday. Protesters attempted to topple a statue of Christopher Columbus. Demonstrators also hurled projectiles at police officers such as frozen water bottles. In a Monday press conference, Chicago Police Superintendent David Brown said the violence from protestors demanded a response from Chicago police.
"We cannot be a city that thinks mob action of a crowd is acceptable behavior," Brown said. "While the police department does not want to engage in violent interactions with peaceful protesters, but while the law is being broken or has been broken, our oath demands that we act. This is not a choice for our officers, this is a requirement of our oath."
Chicago Mayor Lightfoot expressed concerns about the federal officers in a Monday press conference, saying she did not want to see what happened in Portland happen in Chicago.
"We don't need federal agents without any insignia taking people off the streets and holding them, I think, unlawfully," Lightfoot said. "That's not what we need."