What Beto O'Rourke, Pete Buttigieg and Amy Klobuchar Previously Said About Joe Biden: 'We Have to Set a Much Higher Mark'
Joe Biden picked up three major endorsements in Dallas, Texas on Monday as former 2020 primary candidates Pete Buttigieg, Amy Klobuchar and Beto O'Rourke publicly backed his campaign for the Democratic nomination.
Building on the former vice president's momentum following his big victory in South Carolina on Saturday, the three ex-contenders heaped praise on Biden as he campaigned in the Super Tuesday state offering the second most delegates.
Speaking to the press and supporters in Texas yesterday, Buttigieg said Biden would "bring back dignity to the White House" and described the former vice president as "unfailingly decent."
"I'm looking for a leader, I'm looking for a president, who will draw out what's best in each of us," Buttigieg said. "And I'm encouraging everybody who was part of my campaign to join me, because we have found that leader in Vice President, soon to be President, Joe Biden."
Sen. Amy Klobuchar (D-Minn.) similarly praised Biden, saying a vote for him would be a vote for "decency" and "dignity."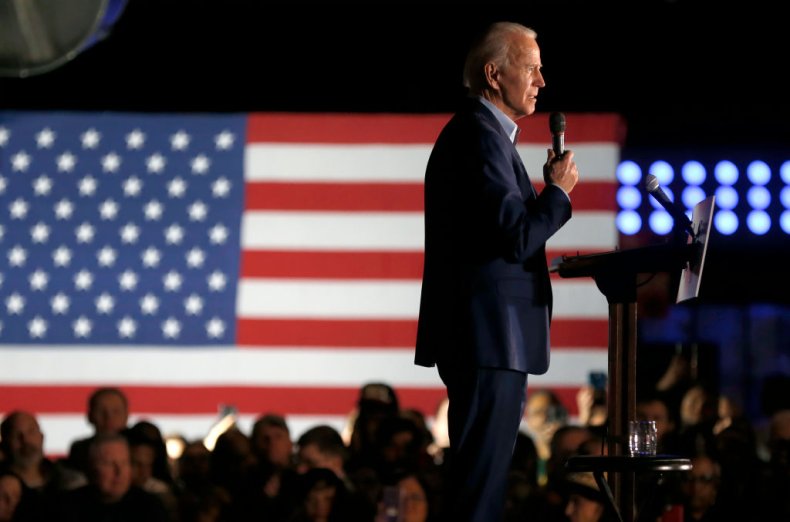 Appearing at the end of Biden's Dallas rally last night, Texas Democrat O'Rourke, who dropped out of the primary in November last year, said: "I will be casting my ballot for Joe Biden, and let me tell you why.
"We need somebody who can beat Donald Trump. The man in the White House today poses an existential threat to this country, to our democracy, to free and fair elections, and we need somebody who can beat him. And in Joe Biden, we have that man."
But his comments stood in stark contrast with a past assessment he made of the former vice president's chances of winning the White House earlier in the primary campaign.
Asked if Joe Biden was a return to the past on MSNBC in June last year, O'Rourke said: "He is, and that cannot be who we are going forward. We've got to be bigger, we've got to be bolder, we have to set a much higher mark and be relentless in pursuing that."
Pressed on whether Biden needed to apologize for his support of the Iraq invasion, the former primary candidate replied: "Look you've got to ask yourself where Joe Biden is on the issues that are most important to you.
"Did he support the war in Iraq that forever destabilized the Middle East? Does he really believe that women of lower incomes should be able to make their own decisions about their own body? Be able to afford healthcare to be able to do that?"
"On China, he says China is no threat, nothing to worry about, and now seems to be changing his message on that," O'Rourke later added. "I'm not exactly sure what he believes or what he should apologize for. I only know that this country should be able to do far better."
Appearing before Iowa voters in January, Buttigieg also appeared to take aim at Biden. The Hill reported the former primary candidate saying: "I hear Vice President Biden saying that this is no time to take a risk on someone new.
"But history has shown us that the biggest risk we could take with a very important election coming up is to look to the same Washington playbook and recycle the same arguments and expect that to work against a president like Donald Trump who is new in kind."
After former Vice President Biden took a dig at Buttigieg in February, saying he was "no Barack Obama," the ex-South Bend mayor also told CNN: "Well he's right, I'm not. Neither is he. Neither is any of us running for president, and this isn't 2008. It's 2020 and we are in a new moment calling for a different kind of leadership.
"We are facing the most disruptive president in modern times, and I don't think the same playbook that helped us get here is going to work against him."
Minnesota Sen. Klobuchar appears to have largely refrained from hitting out at Biden during the 2020 campaign and has long called the former vice president a "friend" of hers.
In an interview with CBS affiliate WCCO about a possible Biden candidacy in the 2016 race, Klobuchar said: "Vice President Biden is a friend of mine, he's come out here several times to Minnesota and I think he's going to make his own decision based on his own circumstances and his family.
"But again I think you're going to see Hillary Clinton continue to be strong in this race."
Newsweek has contacted the Biden campaign for comment on the past remarks of Buttigieg and O'Rourke. This article will be updated with any response.
Attempts have also been made to contact representatives of Buttigieg and O'Rourke for comment.
The graphic below, provided by Statista, illustrates polling averages for the Democratic presidential candidates in Super Tuesday states ahead of voting.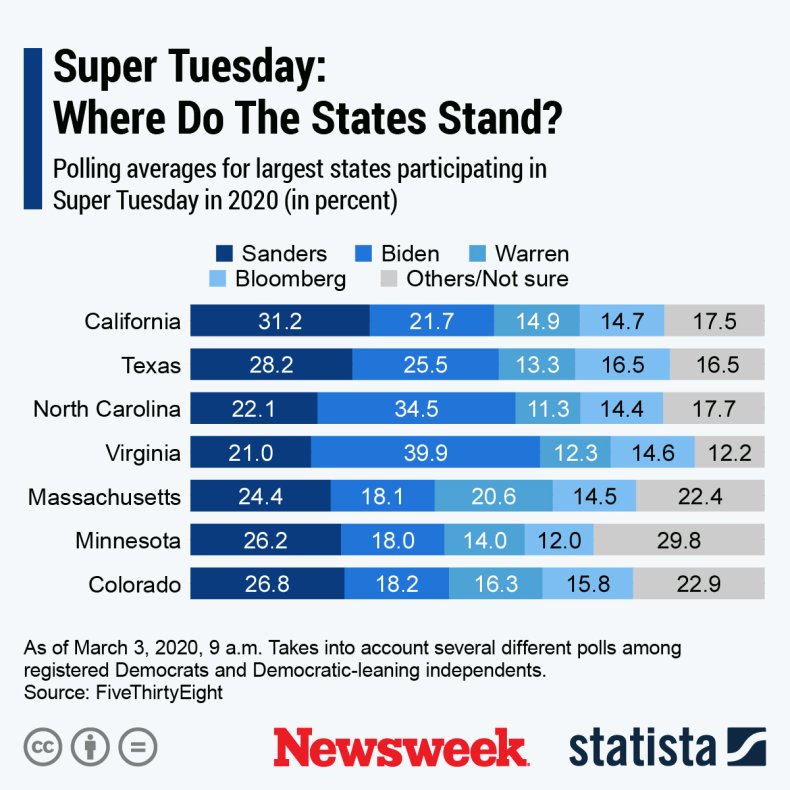 This article was updated to include an infographic.