What Pamela Anderson Has Said About That Infamous Sex Tape in Her Own Words
In the documentary Pamela, A Love Story, Pamela Anderson looks back at her rise to fame and some of her biggest highs and lows.
One event that put her under fierce public scrutiny was the theft and illegal distribution of her and then-husband Tommy Lee's sex tape, which had been taken along with a safe from inside their home in 1995.
The former couple discovered the theft in January 1996 and proceeded to do all they could to get the tape back. Anderson has spoken about the experience on multiple occasions, but discusses it in more detail in the new Netflix documentary.
What Pamela Anderson Has Said About That Infamous Sex Tape in Her Own Words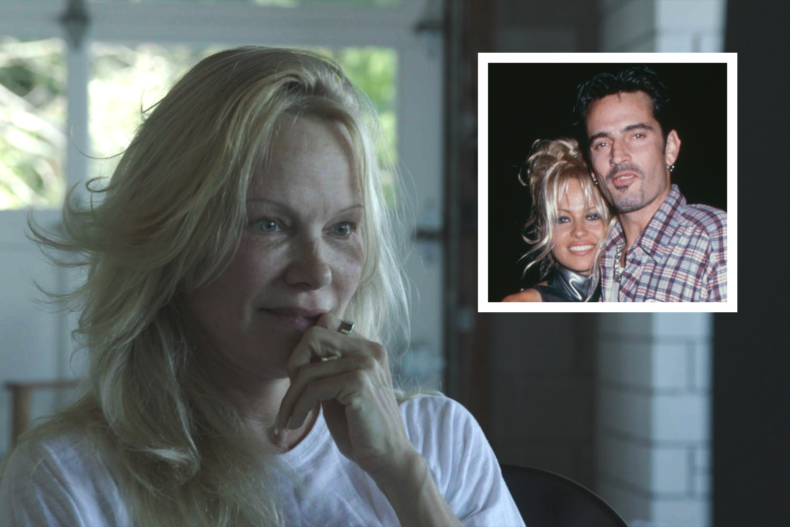 In May 1996, Anderson was promoting her film Barb Wire on CNN when she was asked about the stolen tape.
She told the news network: "It's devastating. But I really do believe that if anyone were to print those pictures, because it is stolen property, I really think they are going to pay for that and I really strongly believe and have faith that's going to happen."
The couple had attempted to file an injunction to prevent anyone from showing the tape, but this was thrown out by the courts. It began to spread, on videotape and online.
By 1997, Internet Entertainment Group had obtained the footage and was streaming it online. When the distributor began selling the film as a $15 physical videotape, the pair launched a copyright lawsuit. They won that suit on appeal in 2002 and were granted $750,000 each, Entertainment Weekly reported.
This is just a fraction of what the video made—an estimated $77 million in less than 12 months, just in "legitimate" sales, according to Rolling Stone in 2014.
The sex tape had damaging consequences for the couple's marriage, which ended in 1998, and Anderson in particular. She was vilified in the press and her career suffered greatly.
In the Netflix documentary, Anderson explains that the theft was "such an invasion, we were angry, hurt and upset," and she "knew at that point that [her] career was over."
Anderson said of their court case: "We never made a dime off that and I hate when people say we settled on something. We never settled on anything, we just told people to get lost.
"If anyone watches it, if anyone buys it, if anyone sells it, it's just pathetic. You can't put a monetary number on the amount of pain and suffering it caused."
Looking back at the damage done to her career, Anderson added: "I was the punchline of jokes on a lot of talk shows. It was super-humiliating.
"If [the public] fall in love with you one way that's it… after that it just solidified the cartoon image of me, you become a character. I think that was the deterioration of whatever image I had."
In 2015, Anderson spoke to Andy Cohen about the scandal on Watch What Happens Live. She said of the tape: "I've never seen it. I made not one dollar. It was stolen property. We made a deal to stop all the shenanigans.
"I was seven months pregnant with Dylan and thinking it was affecting the pregnancy with the stress and said, 'I'm not going to court anymore. I'm not being deposed anymore by these horny, weird lawyer men. I don't want to talk about my vagina anymore or my public sex—anything.'"