What Is Peace House? Kim Jong Un and Trump Could Meet at Historic Site
President Donald Trump appeared to solicit advice on Twitter as to where he should hold proposed upcoming talks with North Korean leader Kim Jong Un. He suggested the Peace House, close to the demilitarized zone (DMZ) separating North and South Korea.
"Numerous countries are being considered for the MEETING, but would Peace House/Freedom House, on the Border of North & South Korea, be a more Representative, Important and Lasting site than a third party country? Just asking!" tweeted the president Monday.
The Peace House and Freedom House buildings are within the Joint Security Area, a portion of the DMZ where diplomats from either country or around the world can come and meet. The JSA is located within the former village of Panmunjom, called the "Truce Village."
The village was the location where the Korean Armistice Agreement was signed in 1953. The resolution ended fighting in the Korean War without officially ending the war. The resolution also established the roughly 2.5-mile no man's land called the DMZ. The Peace House's construction was completed in 1989.
The area also has several conference rooms that sit atop the border. Both countries staff the border with guards.
Last week, Kim made history here by becoming the first North Korean leader to step over the demarcation line into South Korea. Kim met with South Korean President Moon Jae-in, and the two discussed working to denuclearize the peninsula and officially end the Korean War. The summit, in part, took place at the Peace House.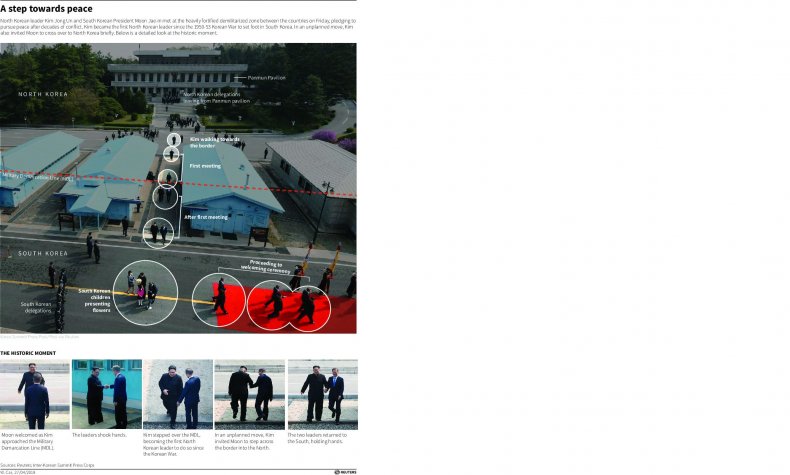 Kim, who has made a number of diplomatic overtures this year, invited Trump to meet. Trump, who accepted the invitation, would be the first U.S. president to meet with a North Korean leader if the meeting comes to fruition. Invitations have been extended to the U.S. before, but past presidents have declined.
Trump hopes to meet with Kim in the near future to discuss, among other things, denuclearization. Last year, North Korea tested its most powerful nuclear weapon to date and demonstrated the theoretical ability to strike the U.S. with an intercontinental ballistic missile. Kim recently said his country would stop long-range missile and nuclear weapons tests.