What is Pelosi's Coronavirus Committee? Why Overseeing COVID-19 Money Will be Met with Hurdles
House Speaker Nancy Pelosi wants to designate a bipartisan group of lawmakers to ensure the trillions of dollars allocated by Congress to stimulate the economy amid the coronavirus pandemic doesn't succumb to errant spending.
"The panel will weed out waste, fraud and abuse, and will protect against price gouging, profiteering and political favoritism," she told reporters on a conference call Thursday. "It will press to ensure that the federal response is based on the best possible science and guided by the nation's best health experts."
But the yearning to increase Congress' oversight ability of three coronavirus relief packages with a House select committee faces several significant hurdles, including the fierce accusations from Republicans and President Donald Trump that the California Democrat is exerting partisan politics into the fray of a global health crisis—tension that threatens to exacerbate bipartisan talks as Democrats push for a fourth emergency aid bill amid skyrocketing unemployment numbers.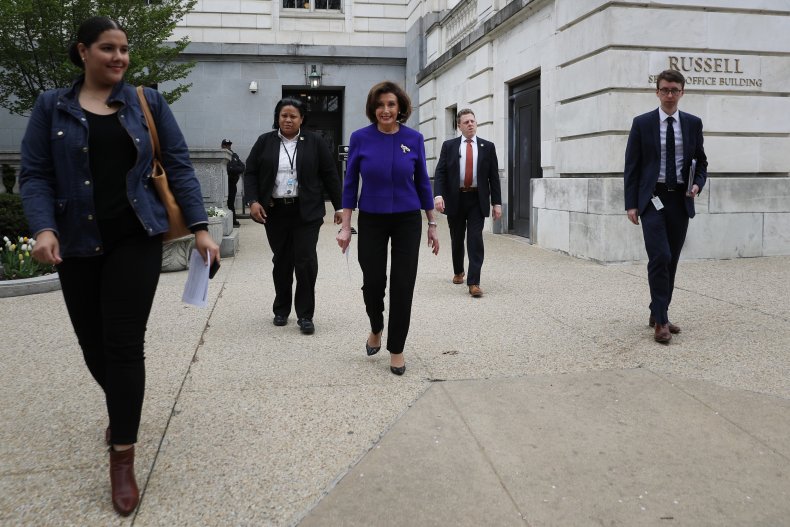 Committee Structure and Precedent
Before becoming president, Harry Truman was a lesser-known senator from Missouri who was picked in the early 1940s to chair the chamber's Select Committee to Investigate the National Defense Program, a 20-member panel tasked with overseeing more than $10 billion in defense contracts awarded amid World War II. Within three years under his leadership, the committee saved millions in cost overruns with a budget of just $15,000.
"What made sense then, makes even more sense now," Pelosi said, directly referencing Truman. "Where there's money, there's also frequently mischief."
Majority Whip James Clyburn (D-S.C.) has been tapped by Pelosi to chair the panel. It will reflect the political makeup of the House—majority Democrat—with Clyburn and House Minority Leader Kevin McCarthy (R-Calif.) appointing members of their choice.
GOP Opposition: "It's a witch hunt"
"It's unnecessary, duplicative, will be costly and cost conflict and delay," is how Rep. Greg Walden (R-Ore.), the ranking member of the Energy and Commerce Committee, described the forthcoming committee to reporters on Thursday.
McCarthy suggested Pelosi is being driven by a political motive to create "redundant" and unnecessary oversight. And he questioned her decision to appoint Clyburn, who reportedly saw the recent $2 trillion stimulus as an opportunity to "restructure" aspects of the government.
But chief among the Republican criticizers was Trump, who resurrected Robert Mueller-era language to indirectly lambast Pelosi at a coronavirus White House briefing on Thursday.
"It's a witch hunt after witch hunt after witch hunt, and in the end, the people doing the witch hunt have been losing and they've been losing by a lot, and it's not any time for witch hunts. It's time to get this enemy defeated," he said. "Conducting these partisan investigations in the middle of a pandemic is a really big waste of vital resources, time, attention, and we want to fight for American lives, not waste time and build up my poll numbers cause that's all they're doing."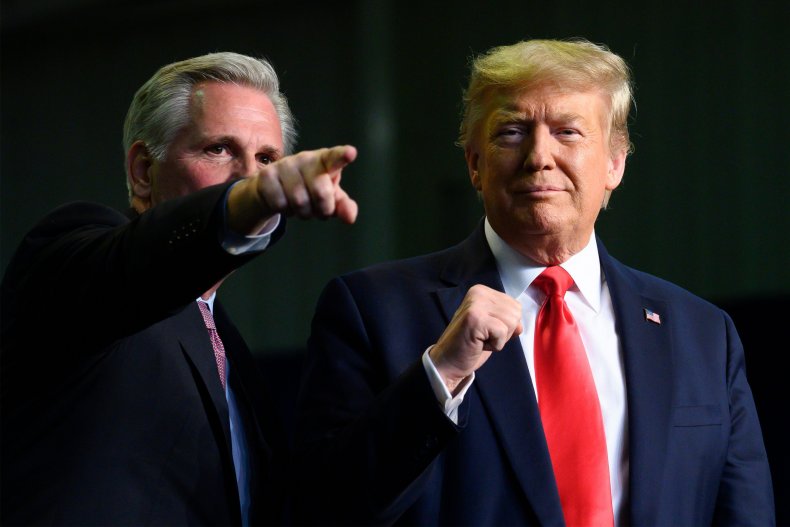 Challenges run deeper than just Washington politics
The pandemic has forced lawmakers to return to their districts and ride out the illness' rapid spread across the country. In order for Pelosi to form her desired committee to oversee the use of the federal relief, she needs the chamber to approve it.
And if Republicans won't allow a unanimous consent vote to do so—a notion that's highly implausible—hundreds of members would need to come back to Washington for a recorded vote. At the earliest, Congress could return the week of April 20th.
In theory, the House could pass new rules to allow remote voting. But after studying such a proposal, Pelosi nixed the idea. "Let's not waste too much time on something that's not going to happen," she told reporters earlier this week.
Congress already has several oversight measures at their disposal—including several committees of jurisdiction—on top of the new ones included in the most recent $2 trillion stimulus it passed. The legislation establishes a bipartisan, five-member panel to keep watch over how the Treasury Department doles out billions to hard-hit industries, such as airlines, and hundreds of billions to businesses teetering on the edge of survival; a special inspector general within Treasury will oversee the same pot of money; and the historic package as a whole will be under the watchful eyes of two dozen federal inspectors general.
McCarthy doubted the necessity of Pelosi's new select committee and questioned her faith in one of her own members, Rep. Carolyn Maloney (D-N.Y.), to conduct her supervision duties as chair of the Oversight Committee.
"Does she not trust her new chair?" McCarthy asked. "I'm not sure what this is supposed to do."
More oversight to come
Separately, Pelosi also wants to create a 9/11-style, independent commission to investigate the administration's response to the onset of the coronavirus pandemic. Trump has received criticism for initially downplaying the severity of the virus and a delayed response, despite intelligence reports that forecasted a forthcoming pandemic.
"Anything that affects this many people in our country—their health and affects our economy in such a major way, involves the allocation of so many trillions of dollars—we really do have to subject to an after-action review, Pelosi said. "Not to point fingers but to make sure that it doesn't happen again in the manner in which it happened."
House Intelligence Committee Chairman Adam Schiff (D-Calif.) began circulating draft legislation on Friday to craft such an independent board.
It would create a panel of 10 members, barring current federal officials and would include people of varying—but relevant—backgrounds; examine how governments at the federal, state and local levels, as well as the private sector, responded; hold hearings and have subpoena power; make preparedness recommendations to Congress and the Executive Branch; and would not begin functioning until February 2021, "hopefully after the pandemic has been overcome and after the presidential election," Schiff's office said.
"This is not an exercise in casting blame or scoring political points, but something that the American people should rightly expect from their government as an exercise in accountability," Schiff said in a statement.