What Is Phase 2 in New York? What's Opening After Coronavirus Restrictions
After months of widespread business closures, New York City is scheduled to reopen a number of commercial establishments under Phase 2 of New York State's economic recovery plan starting on Monday.
New York City Mayor Bill de Blasio shared details about businesses permitted to resume services under Phase 2 during his office's daily news conference on Thursday, following Governor Andrew Cuomo's initial announcement confirming the city's clearance Wednesday evening. De Blasio estimated the upcoming development would initially allow between 150,000 and 300,000 New Yorkers to return to work.
In compliance with New York's statewide reopening guidelines, industries permitted to begin reopening or expand reopening procedures in New York City on Monday include: offices, retailers, restaurants, personal care service facilities, real estate companies, motor vehicle providers, and commercial building management.
The mayor also announced playgrounds across the city would reopen for use with the launch of Phase 2.
Per the state's reopening plan, businesses reopening under Phase 2 in New York City can begin to accept customers at half of their maximum occupancy rates. The same capacity limit applies to offices, which can reopen starting Monday if their operations "core function takes place within an office setting," according to the state's guidelines. Restaurants, previously restricted to takeout and delivery services, may begin to accept customers at half capacity in outdoor seating areas.
All businesses entering Phase 2 are additionally required to abide by ongoing social distancing and sanitation measures. Restaurant and personal care service employees are required to wear face masks, and retail employees are recommended to do the same. Malls, gyms, movie theaters and other large indoor and outdoor gathering spaces remain closed.
Cuomo said the city was cleared to transition into Phase 2 of the state's reopening plan on Monday in an announcement shared to Twitter. The announcement noted that, as of Wednesday, New York City was "on track" to continue lifting restrictions previously applied to businesses, based on decreasing cases, hospitalizations and fatalities related to the novel virus.
Newsweek reached out to de Blasio's office for comments, but did not receive a reply in time for publication.
New York City is the last of the state's regions permitted to enter Phase 2 of reopening. Due to its high concentration of virus cases, as well as related hospitalizations deaths, the city was also New York's final region permitted to reopen under Phase 1 on June 8.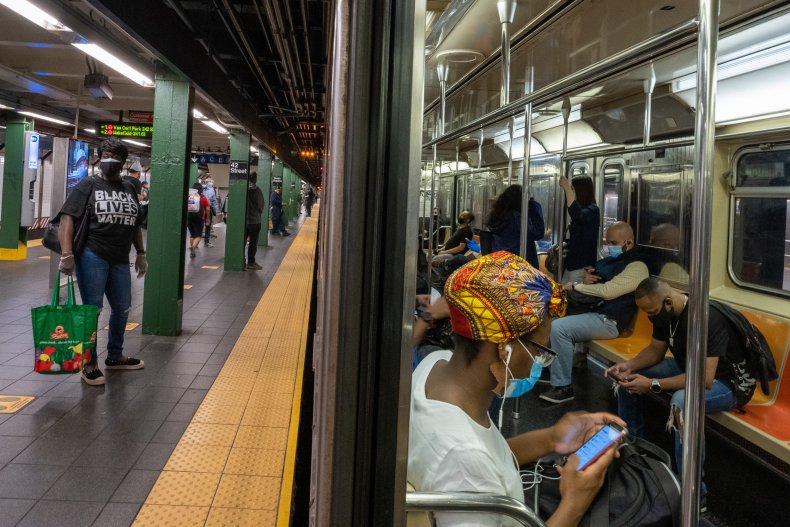 The launch Phase 2 across New York City will come exactly three months after all nonessential business entities statewide were required to close in-person operations under New York's PAUSE order, enacted by Cuomo on March 22. At the time, cases of the novel coronavirus had recently surpassed 15,000 across New York, with related deaths exceeding 100. Its early virus statistics were already higher than those reported by all other U.S. states, in addition to several countries.
New York was quickly designated the epicenter of the national outbreak. By mid-April, New York had confirmed roughly one-third of all cases and 40 percent of deaths reported in the U.S. Those fractions had decreased to about 17 percent of nationwide cases and one-fourth of deaths by Thursday morning, as other U.S. states report outbreak resurgences. According to Johns Hopkins University's tracker, New York has diagnosed 385,142 positive cases, 30,939 deaths and 69,085 recoveries as of Thursday.