What Is the Pineapple Express? Extreme California Rain May Cause Flooding, Mudslides
California has seen the arrival of what meteorologists call an atmospheric river or a Pineapple Express—and what the rest of us call a heck of a lot of rain. Under the weather phenomenon that began on Tuesday, parts of the state are receiving as much as a quarter inch of rain per hour, and the downpour is expected to continue through Thursday.
Local officials have issued warnings about potential flash flooding. Neighborhoods near where severe fires burned within the past year are under mandatory evacuation orders because of worries about how the scarred land will react to the deluge.
Atmospheric rivers carry as much as half of California's annual rainfall totals in just a handful of storms. The name itself comes from the phenomenon's appearance, since it looks like a narrow stream crossing the atmosphere.
"In an instantaneous sense, they're moving more water than the Mississippi River, in the sky, above your head," Daniel Swain, a climate scientist at the University of California Los Angeles, told Vox. "It's a tremendous volume of water already under normal conditions."
The Pineapple Express is just one of these atmospheric rivers that forms occasionally and carries water vapor northeast, from the area around Hawaii up to California. (The Pineapple Express is also usually a stronger phenomenon than other atmospheric rivers—it can produce five inches of rain in a day. It gets its name from its Hawaian origins.)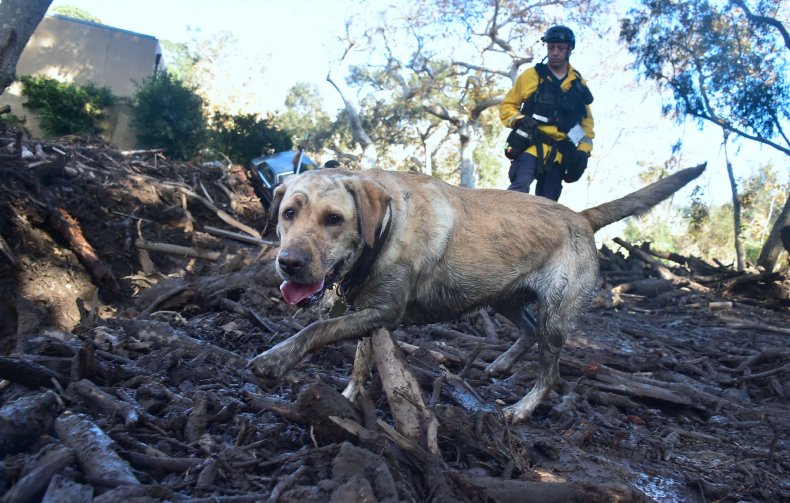 Over the ocean, atmospheric rivers remain stable, but once they hit land they tend to release all that water as rain or snow.
The heavy rainfall is particularly worrisome right now because California saw such a serious wildfire season. "Given the sensitivity to the burn scar areas in particular...it will not necessarily take very heavy rainfall to encourage runoff problems and potential for debris flows or flash flooding," the National Weather Service warned. Trees and other plants help anchor the soil around their roots, but with bare ground there's less protection against this kind of landslide.
As with hurricanes and other meteorological phenomena, scientists think climate change will make the most extreme atmospheric river events still more extreme.