What is a Plea Deal? Former Trump 'Fixer' Michael Cohen Pleads Guilty to Various Charges
President Donald Trump's former longtime personal attorney Michael Cohen accepted a plea deal from federal prosecutors Tuesday afternoon, pleading guilty to eight counts involving campaign finance violations and tax and bank fraud.
Cohen appeared in a federal courtroom in New York to plead guilty to the multiple counts, including five counts of income tax evasion, one count of making false statements to a bank, one count of causing an unlawful corporate contribution and one count of making an excessive campaign contribution. The agreement will reportedly include jail time and a fine.
The judge set Cohen's bail at $500,000. He is scheduled to be sentenced December 12.
In his plea deal, Cohen said "in coordination and at the direction of a candidate for federal office," he withheld information about hush money payments to two women from going public that would have hurt the candidate and his campaign. The "candidate" in reference is presumably then-candidate Trump over Cohen's payments to adult-film actress Stormy Daniels, whose real name is Stephanie Clifford, and former Playboy model Karen McDougal to buy their silence about alleged affairs with Trump.
Cohen was under federal investigation for months after it was revealed he paid Daniels $130,000 to silence her over an alleged affair with the president prior to the 2016 election. The FBI raided his New York office in April on a warrant from Special Counsel Robert Mueller's office.
Cohen's plea deal means the case will not go to trial and prosecutors will agree to a lesser sentence for the man who once called himself Trump's "fixer."
It also suggests that Cohen could be willing to aid Mueller in the ongoing investigation of Russian election interference, although sources have told multiple news outlets that cooperation is not included in the plea deal.
Barbara McQuade, a former U.S. Attorney for the Eastern District of Michigan, told Newsweek Tuesday that Cohen has appeared to have been begging for a plea agreement for quite some time. She said prosecutors most likely wanted to get their arms around the overwhelming amount of documents the FBI seized from Cohen and use it to their advantage.
"Someone like him has a lot of baggage in terms of his believability as a witness, so you'd want to confront him with lots of documents to test his credibility and get him to explain things he wouldn't be willing to volunteer," McQuade said. "Once that's complete, he may be able to be used as a cooperator against Trump or against anyone in the Trump Organization: Jared Kushner, Donald Trump Jr. Any of those people."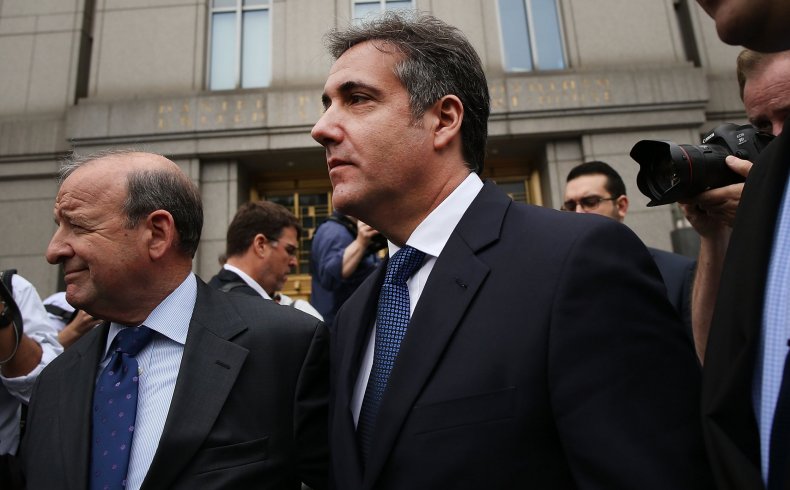 Michael Avenatti, Daniels's attorney in her lawsuit against Cohen and the president, said he wasn't surprised to hear Cohen was accepting a plea deal, only that it "took this long."
"For the first time on MSNBC back in early April I stated that ultimately he was going to be charged and he was going to roll over on the president," Avenatti said on MSNBC Tuesday. "I'm going to maintain that position. I know the likelihood of him providing information damaging about the president is 100 percent."
Last month, a tape was released of a private conversation between Cohen and Trump that Cohen secretly recorded in which the two discussed a payment to McDougal.