What the Polls Say About Amy McGrath vs. Mitch McConnell
Just over two months from the November 3 election, Republican Senate Majority Leader Mitch McConnell looks well positioned to fend off Democratic challenger Amy McGrath to maintain his seat and continue being Kentucky's longest-serving senator.
Although McConnell, 78, has been ranked as the second-most unpopular senator in the country and McGrath, a 45-year-old former Marine fighter pilot, has raised about $10 million more this election cycle, the GOP Senate leader appears to be significantly ahead of his Democratic rival in most recent polls out of Kentucky. The best recent poll for McGrath showed her 3 percentage points behind, while the worst for the Democratic candidate had McConnell 17 points in the lead.
A Quinnipiac University poll carried out from July 30 to August 3 had McConnell up in Kentucky by 5 percentage points, with 49 percent of the southeastern state's voters backing the incumbent Republican while just 44 percent supported McGrath. Another poll conducted from July 24 to August 2 by Morning Consult showed the Republican up 17 percentage points, with McGrath only supported by 36 percent of Kentuckians compared to 53 percent who backed McConnell.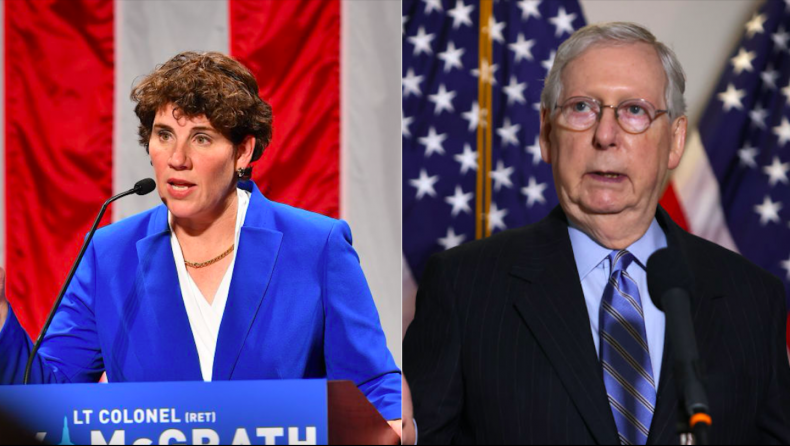 McGrath's best recent poll was carried out from July 25 to 29 by Bluegrass Data Analytics, showing the Demcrat down 3 percentage points. In that survey, McConnell had the backing of 49 percent of Kentucky's voters and McGrath was supported by 46 percent.
Even if Democratic presidential nominee Joe Biden manages to successfully defeat President Donald Trump in the general election, Democrats view unseating McConnell as key to moving forward with their legislative priorities.
McConnell has proudly taken on the nickname "the Grim Reaper," noting in interviews that he has been instrumental in holding up or disregarding a pile of hundreds of bills passed by the Democrat-controlled House of Representatives that he and his party disapprove of. As a result, Democrats have slammed what they've described as McConnell's "legislative graveyard."
Due to the urgency Democrats feel to unseat McConnell, McGrath has managed to build a massive warchest in campaign contributions, raking in some $46 million with $16 million in cash on hand, Business Insider reported. McConnell has brought in a sizable—but considerably smaller—$36 million.
In campaign ads, McGrath has attempted to characterize McConnell as an institutional figure in Washington who has failed Kentucky voters. She has advocated for term limits for senators, pointing to McConnell's decades in the Senate. The GOP lawmaker first entered the upper chamber of Congress 1985. But Kentucky remains to be a deeply conservative state, and the last Democrat to represent the state in the Senate was Wendell H. Ford, who left office more than two decades ago in 1999.
Democrats became more optimistic that McConnell could be defeated following the election of Kentucky's Democratic Governor Andy Beshear last year. However, analysts have pointed out that Republicans largely swept the state's other local offices in that election. They have characterized Beshear's victory as more of a referendum on the deeply unpopular former GOP Governor Matt Bevin than shifting political sentiments in the state. But that reasoning has also led Democrats to hope that a similar effect could lead McGrath to victory over McConnell in November.