As the race for Kentucky's Senate seat forges ahead, recent polling data indicates Democratic candidate Amy McGrath and Republican incumbent Mitch McConnell will run a close competition.
McGrath, a retired Marine pilot, earned her spot against the current Kentucky senator and Senate Majority Leader in November's election on Tuesday, as final results from the state's June 23 primary vote solidified her lead over Democratic lawmaker Charles Booker. Booker's campaign gained considerable momentum over the last several weeks, with some June polls suggesting the Kentucky House representative would overtake McGrath for the Democratic Senate nomination.
While the majority of polls conducted throughout Kentucky's Senate race so far have reflected support for McConnell over McGrath, results of a recent survey showed the Democratic candidate leading by a narrow margin for the first time. The survey, conducted by RMG Research between May 21 and May 24, showed 41 percent of respondents said they supported McGrath versus 40 percent who said they supported McConnell.
When McGrath and McConnell's respective positions on term limits were factored into the RMG Research survey, support for the Democratic candidate increased to 45 percent. Comparatively, support for the Republican incumbent fell to 30 percent. McConnell, who was first elected to the Senate in 1984, opposes congressional term limits, McGrath has said she supports them. The RMG Research report surveyed 500 Kentucky registered voters, who were selected at random and participated in the poll online.
Polls conducted later in June again placed McConnell ahead of McGrath in November's general election. Results of a poll conducted by Data for Progress and Civiqs, which surveyed close to 900 registered Kentucky voters between June 13 and June 15, showed 53 percent of respondents would cast votes for McConnell, compared to 33 percent for McGrath. Another 4 percent of those who participated said their votes would go to Libertarian candidate Brad Barron.
Despite McConnell's re-elections over the last few decades, numerous polls show he is among the least-favored senators in the United States. In a statement released after the results of Kentucky's primary were released on Tuesday, McGrath said she looked forward to a November victory.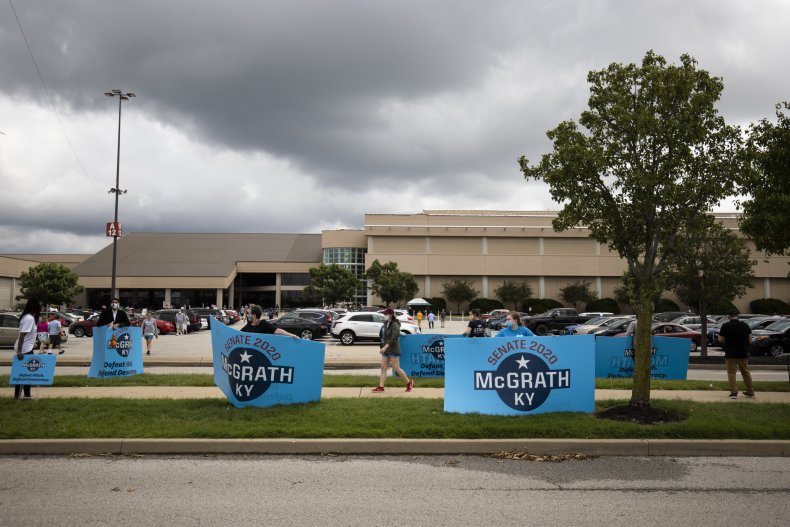 "I'm humbled that Kentucky Democrats have nominated me to take on Mitch McConnell in the general election and can't wait to get started in sending him into retirement and finally draining the toxic Washington political swamp that he built," she said in the statement.
McConnell's campaign also issued a statement in response to McGrath's win on Tuesday, reiterating the senator's positions regarding healthcare access and abortion rights.
"McGrath is just another tool of the Washington Democratic establishment who has no idea what matters most to Kentuckians," the statement read.
Newsweek reached out to McGrath and McConnell's campaigns for additional comments but did not receive replies before publication.